Arts & Culture
Campus & City
Painting in the language of love: Talking to Las Cafeteras at the Edmonton Folk Music Festival
The Chicano fusion band's vocalist Hector Flores believes in folk music's power to unite communities and inspire better futures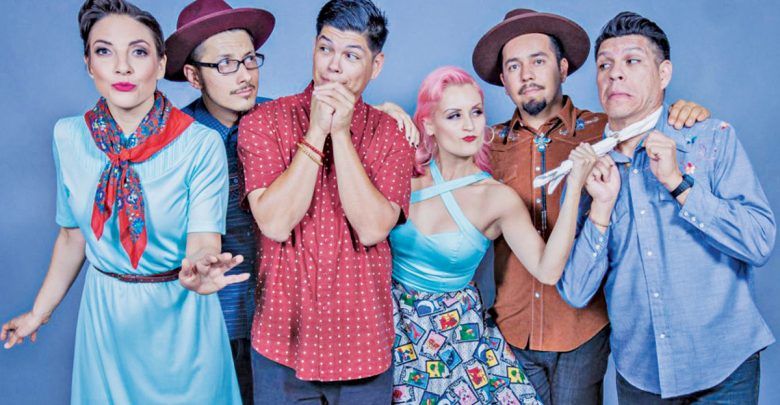 On August 11, 2018, at 2:00 p.m., a vibrant cocktail of sounds erupted on the Edmonton Folk Music Festival main stage.
Las Cafeteras, an East Los Angeles-based band that blends hip hop with the Afro-Mexican folk music tradition of son jarocho, was sharing its eclectic tunes with an energized hill-full of folk festers.
Speaking with vocalist Hector Flores, it's easy to see how Las Cafeteras — which formed in 2005 as a group of friends taking son jarocho classes together at L.A.'s Eastside Café — has made a name for itself as an upbeat, yet reflective coalition of artists. Flores and I met in the Media Services tent at 11 a.m., a mere three hours before he and his bandmates were to take the mainstage by storm. Both easygoing and incisive, Flores (a former community organizer) has an infectious affability and piercing intelligence—qualities that underscore his band's songs, which oscillate between political commentary and dance tunes, and between English and Spanish.
"Not everybody understands English, not everybody understands Spanish, but everybody understands love," Flores said. "We speak in the languages of love and peace."
Writing in the thematic "language of love," Las Cafeteras' lyrics address the world the band wants to see, Flores said, not the world that is. While responding to the actual world, the band wants to paint a desired, better future — and invite others to join them.
"When we're playing music, we're giving other people paintbrushes to do the same," he said. "If you want to see something different in the world, then paint it. Be it. Stop talking shit about it."
Through the band's music, Flores said he wants to give a taste of the present, past, and the future. Flores explains that in the early 1900s, Mexican dictator Porfirio Díaz tried to eliminate African and Indigenous culture. Yet Mexican communities preserved these cultures' music and stories over generations — including son jarocho. That's what called Las Cafeteras to the music — it's a folk tradition handed down through families despite state resistance.
"If people start to share where they come from, then we're gonna start to paint a picture of Canada that looks very colourful," he said. "That's the future: a very colourful place where… relationships aren't confined by… where you came from, but by our common understanding that we all want a dignified life."
While Las Cafeteras promotes love and dignity, it found these values publicly challenged in April 2015, when former band member Annette Torres — Hector and brother/bandmate David Flores' aunt — departed from the group, denouncing her nephews and their other male bandmates for alleged sexist domineering. Las Cafeteras responded to the allegations in a public Facebook post and a community forum.
"In a band, travelling, you… spend an unnatural amount of time together," Flores said. "You're gonna create a natural amount of conflict and tension, and if that's not addressed in healthy ways, you're gonna have unhealthy relationships."
Although Torres and Flores are no longer on speaking terms, Flores said he still loves his aunt and her daughters — no matter what, they're family. While Torres and he have different views on what occurred, Flores said she has her own experience that can't be negated. Reflecting on this incident, he said the bandmates learned they need to share their traumas with each other and share how they want to heal intentionally and collectively.
"We write about love and justice, because I think a lot of us didn't have that growing up," he said. "I feel why we're so fierce in our work is because a lot of us have been traumatized by [a lack of] those things."
Aside from touring's inherent stress, Flores said the constant travel has renewed the bandmates' appreciation of home and family.
'The idea of playing music and travelling was like magic," Flores said. "And now that we're doing it, we've also realized that being home is also magic."