Science students can now check their degree progress on Bear Tracks
Previously, only arts students were able to check online to see if they've fulfilled their degree requirements
Calvin Chan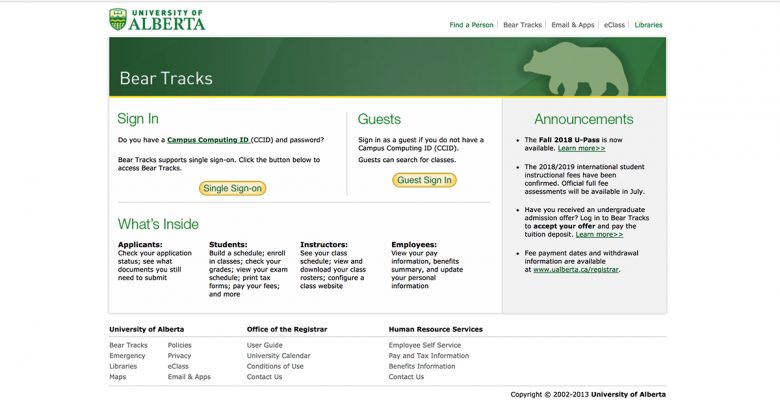 Bachelor of Science (BSc) students can now monitor their degree progress through Bear Tracks, with updates for honours and specialization student coming next year.
General science students will no longer have to wait in line or book appointments to check their degree requirements, the new Bear Tracks tool, launched in early August, now allows science students to monitor fulfilment of their major and minors. Julie Naylor, assistant dean of programs and operations at the faculty of science, said the tool will allow program advisors to spend more time discussing research and internship opportunities with students, rather than checking off courses on transcripts.
"Students will have all their degree information at their fingertips, they don't have to sit there and wait for us to cross off courses and see how many more credits they need to complete their degree," Naylor said.
The online feature was built through the University of Alberta's Information Services and Technology (IST) office and allows students to check how many credits they have earned in their respective majors and minors. The system will highlight regions where students may have too many or insufficient credits, and choose for themselves the courses they wish to take to fulfil the listed requirements.
"It won't tell them which courses to take, [students] still have that choice," Naylor said. "But it will tell them what they might need more of. Maybe they have too many 100-level, or they need to take more courses at a senior level. It will give them that information."
For undeclared students, the program will only list the courses taken and credits earned, but won't provide information on degree progress. But Naylor said the tool can help students map out "what if" scenarios, giving students a better sense of what their degree progress might be like if they choose to declare a specific major and minor, or switch from one to another.
"This way [students] aren't stuck switching their major and then all of a sudden realize they have to take a whole additional year of courses," Naylor said. "They'll be able to see what they're getting into."
Currently, the tool is only available for general science students, but Naylor said the team is about a year away from having it available for specialization and honours programs.
Naylor said the general science program was launched first because it was the largest program in the faculty, but eventually, she hopes the tool can be made to accommodate all students including those in combined degrees such as the five-year specialization in science and education BSc/BEd program.
A similar tool was launched in the faculty of arts last year. Following its success, other faculties including the School of Business are looking to follow suit.