Campus food bank offers new grocery-purchasing program
Students using the program can buy orders of produce and frozen meat at reduced rates
Adam Lachacz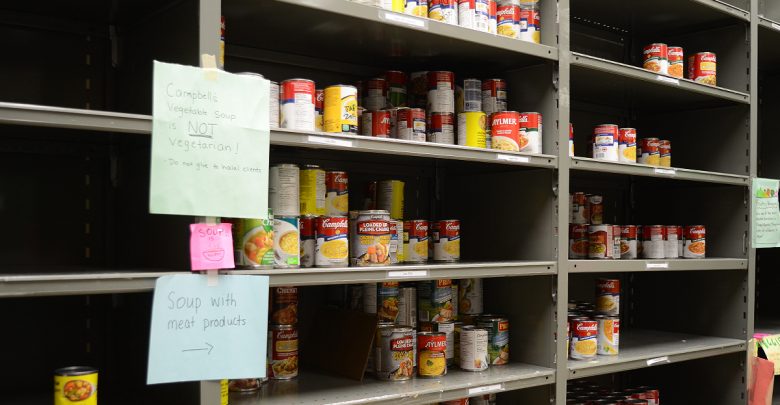 A new food basket program is being added to the University of Alberta Campus Food Bank's list of services, allowing students to receive fresh produce and frozen meat.
The WECAN basket is a grocery-purchasing program. Students will have the ability to buy orders of fresh meat and produce at reduced rates in advanced for the month. Food items offered in the baskets vary each month.
WECAN is a local Edmonton not-for-profit society that seeks to ensure fresh food is never out of reach for anyone. It purchases bulk meat and produce and resells it to individuals participating in the program at a reduced price. Madi Corry, program director at the Campus Food Bank, said they're acting as a distribution depot for WECAN and that no other depots are around the university area.
All participants in the program have to pay a one-time $5 membership fee, which is valid for a year. Meat orders cost $15 and consist of three varieties of frozen meat and recipes. One meat order could consist of portions of things like chicken breasts and drumsticks.
Produce orders are $10 and consist of three kinds of fruit and three kinds of vegetables. Corry said that you can get a couple of meals out of each order.
According to Corry, this is the second time WECAN has been offered on campus. Corry said the program did not reach the desired amount of participants before, but popular demand gave the food bank an incentive to offer it again.
"We are really excited to have this program back on campus," Corry said. "I used it when I was an undergraduate student because it was super affordable. I really enjoyed it."
Corry said that the program is open to anyone who is interested in receiving regular fresh food at an affordable price. According to her, families, U of A community members in lower income situations, or people who just want a good deal can make use of WECAN.
"Money can be tough to budget or tends to disappear near the end of the month," Corry said. "The orders and their payments are due at the start of the month. This means you have a secure source of food that is already paid for the whole month."
WECAN was started in 1993 by two City of Edmonton employees as a grassroots initiative to solve the growing problem of unaffordable food, starting with one depot in the Abbotsfield neighbourhood. The program now has 20, including the one at the U of A.
The U of A program began collecting orders for September over the summer. Around 50 people have already made use of WECAN. Officially, the Campus Food Bank started this initiative as a pilot project for the year. However, according to Corry, it is very likely to continue being offered due to the visible demand.
"Sometimes one cut of meat can cost you $15," Corry said. "This is a good deal for anyone."