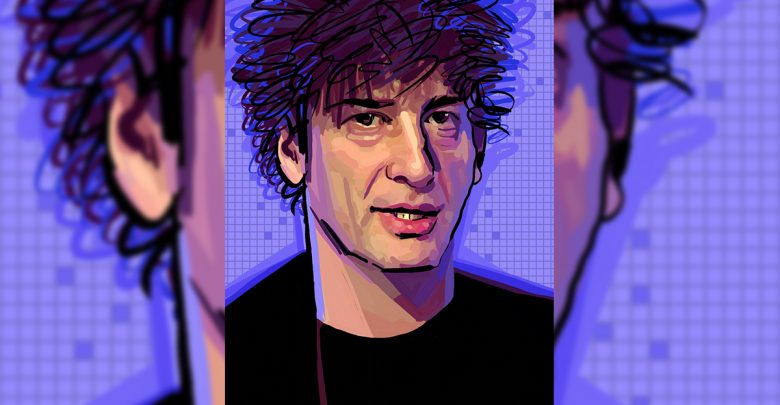 Science fiction and fantasy author Neil Gaiman has amassed many fans over the years, so it's no wonder that tickets for his talk in Edmonton sold out in under 10 minutes last week.
"That was… very fast," Gaiman tweeted out in response to the Edmonton Public Library (EPL) notifying followers that tickets to the event had sold out as soon as they went on sale on September 12.
Partnering with University of Alberta Libraries and the Edmonton Community Foundation, the EPL has invited Gaiman to wrap up 2018's Forward Thinking Speaker Series. The event will take place at the Shaw Conference Centre on November 13.
"Gaiman is so very well known," Kathleen DeLong, Associate University Librarian says. "Both because he is an award-winning author of both children's and adult materials, but also because he is such an advocate and a champion for libraries and of reading."
Gaiman describes himself as "a feral child who was raised in libraries." He is the author of several bestselling books for adults, such as American Gods, Neverwhere, and Stardust, as well as numerous books for children, such as Coraline, The Wolves in the Walls, and The Graveyard Book. He has also written comic books, including Marvel 1602 and cult classic series The Sandman.
In his talk, he will be discussing his writing and creative process, as well as his approach to work in different genres and the impact libraries have had on his life and career.
The Forward Thinking Speaker Series launched in 2014. According to Anna Alfonso, director of marketing and communications at EPL, the series aims to bring "thought leaders" from different industries to share ideas and knowledge on different topics.
"The whole idea around the series was … to help enhance and provoke discussions with our community," Alfonso says.
Proceeds from the series will be going to the Stanley A. Milner Library Revitalization project. Located across from the south side of Churchill Square, the Stanley A. Milner Library is Edmonton's premiere library. City Council approved funding for its renovation in 2014, and the library is closed until its scheduled reopening in 2020.
Other speakers for the series this year include entrepreneur and Dragon's Den TV personality Arlene Dickinson, former Olympic rugby captain Jen Kish, Indigenous comedian and host of The Candy Show Candy Palmater, media critic Anita Sarkeesian, and lawyer Marie Henein. Gaiman will be the sixth and final speaker for the 2018 series.
The University of Alberta hopes their partnership on Gaiman's talk will open the gates for future partnerships on the speaker series. DeLong says Gaiman's values align with the U of A's.
"Neil is a champion for freedom of ideas, freedom of information and of communication, and also is a real champion of reading and freedom to read," DeLong says. "All of those values really are about the public good and how important it is to defend in today's world."