Four councillors removed from Students' Council due to poor attendance
Six councillors were initially removed, but two successfully appealed their removal
Adam Lachacz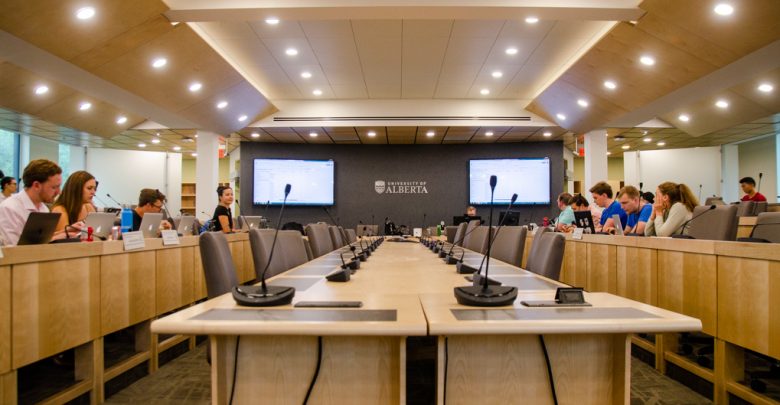 Four councillors have been removed from Students' Council, the governing body of the Students' Union, due to poor attendance at council meetings.
Six councillors were initially removed from council by the Speaker after violating attendance regulations, as specified in Students' Union bylaws. Four appealed to the Discipline, Interpretation, and Enforcement (DIE) Board, with only two appeals being granted. The DIE Board is the judiciary body of the Students' Union responsible for enforcing SU bylaws.
SU bylaw 100 states that councillors must be present for 50 per cent of roll calls per trimester. Normal meetings usually have two to three roll calls.
The following councillors were initially removed from council due to missing too many attendance roll calls:
Abigail Bridarolli (nursing)

Kara Farris (education)

Syed Mustafa Fasih (engineering)

Mariam Hosseiny (arts)

Cindy Liang (engineering)

Brianne St. Hilare (medicine and dentistry)
Four councillors appeal removal, with two restored to council
Bridarolli, Farris, Fasih, and Hosseiny appealed the decision, but only Farris and Hosseiny's appeals were granted by the DIE Board, and will be allowed to continue as councillors.
Despite appealing, Fasih and Bridarolli never appeared to their DIE Board hearing on September 13. The Gateway reached out to both former councillors for comment and never received a response. According to DIE Board Chief Tribune Karamveer Lalh, the two former councillors offered no reason for missing their hearings.
At the hearing, Farris said she received a job at a summer camp where she did not know in advance there would be no cell phone access, preventing her from attending council meetings digitally. She reached out to education councillor Jimmy Thibaudeau to help her find proxies for meetings who was called as a witness during the hearing.
The ruling said that the combination of Thibaudeau's testimony and Farris' council attendance record from her previous term last year were taken into account. Her circumstances were determined to be "extenuating" and her position on council was restored.
"I am really happy with the ruling and I liked that the DIE Board recognized that I took the process seriously," Farris said.
Hosseiny did not appear at her hearing but was in contact with Lalh. Lalh said Hosseiny offered all of her evidence in her written submission. She was contacted by The Gateway but did not wish to comment.
Hosseiny wrote in her submission that she suffered "extenuating circumstances" as she was in a car accident while on a family vacation in Egypt over the summer. She provided original prescriptions of medications offered to her. After verifying her story, the DIE Board ruled Hosseiny's circumstances as valid for not attending meetings or being able to find a proxy.
"The DIE Board grants her appeal and restores her to the Students' Council," the ruling said. "We wish her the best in her recovery."
High attendance requirement was "problematic," said one former councillor 
Liang and St. Hilare did not appeal their removal from Students' Council. Former councillor Liang did not wish to comment, however St. Hilare said she found the "high" attendance requirement was "problematic," and that the attendance policy was poorly explained.
"There was a high attendance requirement, which I found difficult to meet due to the fact this was the summer term, during which time many students are travelling, doing research, [and] working," she said.
Attendance procedures were changed in May so that attendance was recorded through a number of roll calls as opposed to at the beginning and the end of a Students' Council meeting. Students' Council Speaker Jonathan Barraclough said attendance regulations were explained thoroughly to all councillors. Additionally, councillors are able to appoint proxies in their stead if they can't attend a meeting.
SU president Reed Larsen said that attendance regulations for council members are transparent, accessible, and well communicated. He also agreed with the ruling.
"I believe the process to have been fair and the DIE Board's ruling to have followed due process," Larsen said.