Linda Duncan reflects on her time representing Edmonton-Strathcona
Duncan, who was first elected in 2008, announced she will not be running for re-election in 2019
Jonathan Hocnalon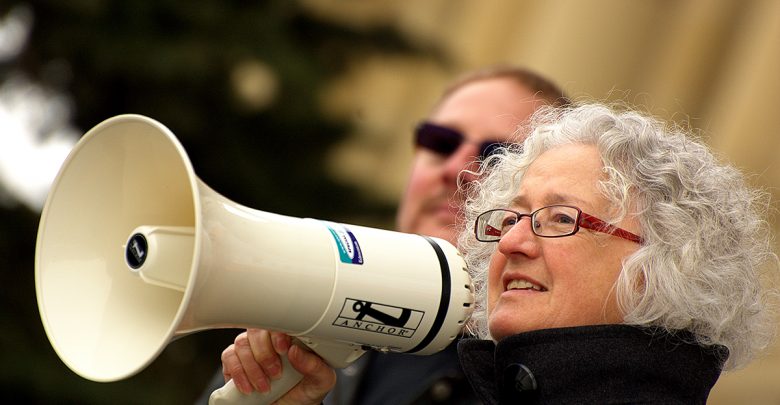 Linda Duncan, the only New Democratic Party MP in Alberta, announced on August 28 that she would not be running in the 2019 federal election. She had been representing the riding since 2008.
With her term as Member of Parliament for Edmonton-Strathcona ending next year, The Gateway sat down with Duncan to reflect on the issues she fought for, and her experience representing her riding.
Edmonton-Strathcona encompasses a variety of small businesses, residences, and universities, including the University of Alberta. Duncan said the toughest challenge representing the area wasn't engaging the community or encouraging initiatives, but the long, regular commutes to Ottawa.
"It's been fantastic since day one. And I say that because and – I brag about this all the time – I represent the most fantastic riding in Canada," she said.
Duncan received her arts and law degrees from the U of A. As an MP, she engaged with student organizations like Engineers Without Borders, the Students' Union, and the Graduate Student Association. She sought grants for university summer jobs, as well as clarified where people could vote and arranged transportation for students to go to advanced polls during election season.
"I do a lot of research to make sure I'm as informed as possible. But that also relies on all the fabulous students at the University of Alberta," she said.
In October 2008, Duncan narrowly defeated Conservative Party candidate Rahim Jaffer for the riding by 463 votes and served as the NDP's critic on various portfolios, including the environment. She also supported lowering tuition, increasing mental health accessibility, rail safety, and Indigenous issues.
Although Duncan acknowledges Alberta and Saskatchewan's reliance on oil in creating jobs and revenue, she hopes to see a long-term strategy where more energy efficient technology is deployed and workers are retrained. She also pushed three times for an environmental bill of rights that would have strengthened environmental regulations but was unable to pass it.
"The government should be held accountable for protecting the environment and putting in place provisions to protect the environment whether water, air, action on climate change and to effectively enforce those laws," she said. "Canadians should have the right and power to hold the government accountable."
With the federal election occurring next year, Duncan said she hopes younger people can overcome their pessimism and not just vote but stay engaged in between elections. She also supports having more diverse candidates, including female, transgender and Indigenous candidates.
"We're very vocal saying to young voters, 'Don't get discouraged, don't get pessimistic, don't get negative about this, still get engaged,'" Duncan said. "It's not enough just to vote. Make sure you make your voice is heard in between elections."
While she has received invitations to join other organizations after her term ends and she remains open to new possibilities, Duncan's top priority is to adopt a dog. Still, she hopes to finish her term strong.
"I want to hear from young constituents, I want to hear from students, I want to hear from grad students," she said. "What are the struggles you are facing, and what can the federal government do to support you?"