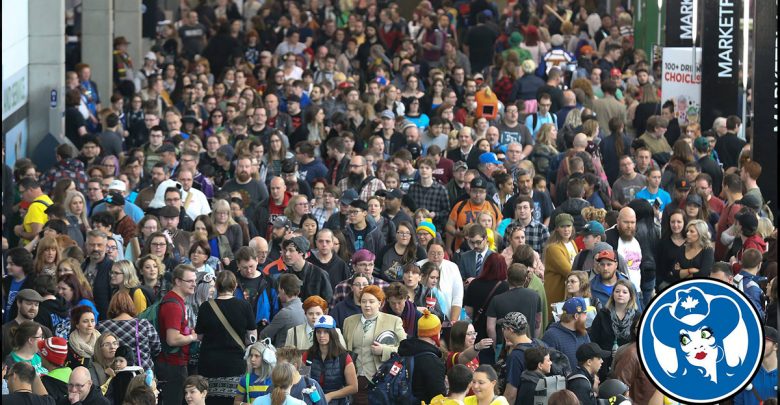 September 21 to 23, nerds, geeks, and dorks of all kinds filled the Edmonton Expo Centre for fan-centric shopping, art, and contests at the 2018 Edmonton Comics and Entertainment Expo.
Of course, I was one of those nerds, and I shamelessly rode the LRT from Southgate to Coliseum in my Doctor Who TARDIS dress. A few more eager Expo-goers joined me on the train, dressed in full cosplay.
That was one of the most endearing aspects of the Expo. Everywhere you looked, someone was dressed up as their favourite character from a book, movie, TV show, or video game. One woman with whom I spoke spent a month crafting her cosplay for that weekend. I love how people can be so dedicated to art they love that they create art of their own.
The arena's main floor was packed with vendors selling everything from old-school video games and consoles to jewelry, swords, and home decor.
You have to examine everything closely, as it's easy to miss hidden gems given Expo's sheer volume of products. I nearly missed out on buying a copy of Princess Mononoke because it was right next to the waifu pillow section (the discomfort those caused me is a subject for another article).
Artists' Alley, another area in the main show floor, was similarly impressive. Dozens of artists managed tables displaying both fan art and original paintings, drawings, and pins. Sporting art ranging in style from cartoonish to hyperrealistic, their dedication shone through their work. A pencil sketch based on Shadow of the Colossus caught my eye. I don't think I've ever wanted to throw my money at something as much as I did when I saw it.
This year, Expo boasted an impressive roster of guests, including Doctor Who fan favourite David Tennant. I made my way to the panel hall to see Tennant 30 minutes early to get a decent seat, only to be ushered outside to the back of the line. Once I got inside, all the seats had been taken. Would I have to stand at the back of the hall for 45 minutes just to see a middle-aged Scottish actor who was on a show I liked 10 years ago? Yes. Did I? Yes, along with several hundred others. Was it worth it? You bet it was.
Now that Expo's over, my wallet may be empty, but my heart is full.