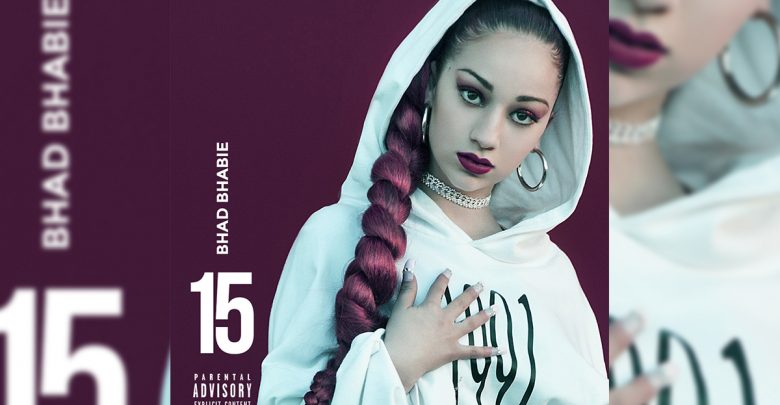 Who is Bhad Bhabie? The artist formerly known as the Cash Me Outside girl (real name Danielle Bregoli) defies description.
She could have been an internet personality but has instead staked a place for herself in mainstream media of which most viral stars could only dream, even making it into the gilded pages of the New York Times. It's unclear if she's more aptly described as a pop star or a hip hop artist, and with hip hop dominating the Hot 100, the distinction is blurred even further. What is certain is that Bhad Bhabie is taking her music career seriously.
One can read her new mixtape, 15, as the culmination of her efforts to stake a new identity for herself beyond Dr. Phil clip infamy. Signed to a multi-album deal with Atlantic Records, she's rejecting the path of YouTube stars who self-produce tracks to give themselves something to do for live shows — but that doesn't mean Bhabie is pretending to be a rap prodigy, either.
Rather, she openly acknowledges she is still learning how to rap, working with producers and writers to craft her music. The development in her flow and skill is clear from listening to the staccato and occasionally clumsy delivery on "Hi Bich" compared to the smooth and self-assured verses of "Geek'd Up."
Bhad Bhabie isn't afraid to share the spotlight, and some of the best moments on the mixtape come when she's working with collaborators. Single "Gucci Flip Flops" (feat. Lil Yachty), an ode to fighting your haters delivered over a haunting retro melody, has become a bona fide hit. "Affiliated," featuring Bhabie's tour mate Asian Doll, picks up the pace with an unrelenting beat, but Asian Doll's unmatchable powerhouse chorus puts Bhabie in the back seat on her own track. "Yung and Bhad" (feat. City Girls) is another standout, the slower pace suiting itself more to Bhabie's flow.
Bhabie's lyrics focus on firing back at "haters." While Bhabie dabbles in classic hip hop posing (she frequently drops references to cars despite not having a license), she stays grounded in her own experiences. Rapping about shopping at Fashion Nova, doing chores, and drama with friends, Bhabie proves she still has typical teenage interests despite her newfound fame.
Closing out the mixtape is "Bhad Bhabie Story (Outro)," in which Bhabie honestly recounts her rise to fame and the mixtape's creation. Unfamiliar fans get a rapid-fire and sympathetic summary of her life, while I was left wondering what could possibly happen next in the Danielle Bregoli saga.
Overall, 15 is an incredible debut mixtape from someone who just two years ago was a caricature of teen misbehaviour. It's an eminently listenable first effort from an artist experimenting to find her style and place in the music industry. The mixtape could have easily veered into the realm of over-manufacturing with a weaker person at the helm, but Bhabie's brash and unapologetic disposition cuts through the tight production.
With few tracks even reaching the three-minute mark, I finished the mixtape wishing there was more verse between the hooks, but this is unfortunately on-trend as hip hop adapts to play the streaming numbers game. That said, the fact that we're still talking about Danielle Bregoli years after the "cash me outside" affair while memes are burning out at ever-faster rates is an achievement in itself.
With 15, Danielle "Bhad Bhabie" Bregoli has successfully carved out a place in the zeitgeist for herself beyond getting in fights with wannabes at The Grove, which is exactly what she needed to do.