Nuit Blanche shines some light on dark issues
The all-night art party's installations were both aesthetic and political
Bree Meiklejohn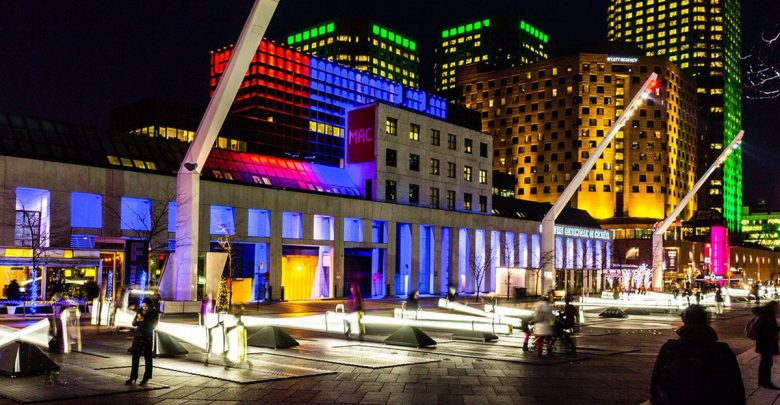 Edmonton's Nuit Blanche was one of the best parties I've been to in recent weeks. People from all over the city took to the streets on a Saturday night to enjoy and support the work of local artists. Most of the art on display was abstract and used a variety of media, such as video, sound, and photography.
After stumbling my way off the LRT and finding a map, I began my journey through downtown Edmonton to try and experience all of what this 12-hour art show had to offer. I was pleasantly surprised to find many of the exhibits were interactive, with the first one I came across being a series of rings that lit up to the rhythm in which you walked through them. It was a nice way to shine some light into the dark.
Continuing onward to Edmonton City Centre, some very Instagram-able installations featured contemporary architecture, while a few pieces carried environmental messages. One sculpture, titled Iceberg, brought attention to climate change, as the sculpture itself seemed to be melting into the floor. Another, called The Story, depicted what would happen if the Earth's rainforests continued to disappear. Most impressively, that interactive piece was created by Annabelle Brown, a nine–year-old artist.
Next, I made my way to the old site of the Harbin Gate for Aiya Collective's Gentrification Party. It was a celebration of Chinese Canadian culture, complete with games of mah jong, burning incense, and pink sculptures of the Harbin Gate lions made of milk jugs. While fun, the party was satirical in tone, dealing with an issue that hits home (in this case quite literally) for Edmonton's Chinatown residents. This event was meant to raise awareness about the removal of the Harbin Gate to make way for the Valley Line LRT without the consent of the Chinese elders who live in the area. A table-sized Rice Krispie cake was made, decorated, and split into three parts to represent the Gate being disassembled for transport. The Harbin Gate now sits between Stadium and Coliseum station on the LRT line, and there's no clear indication of when or if the gate will be restored or replaced.
Art has always been political, and Edmonton's white night was no different. Although some of the art on display was a purely aesthetic way to light up the dark, much of what was being shown had a further, persuasive purpose. Nuit Blanche was a lively celebration of local artists, but it was also a way for people to use their creative talents to broadcast messages about the issues close to their hearts. Plus, that Gentrification Cake was really tasty.