Campus Food Review: Filistix
Asian fusion food vendor is worth the hype
Parul Singh Kanwar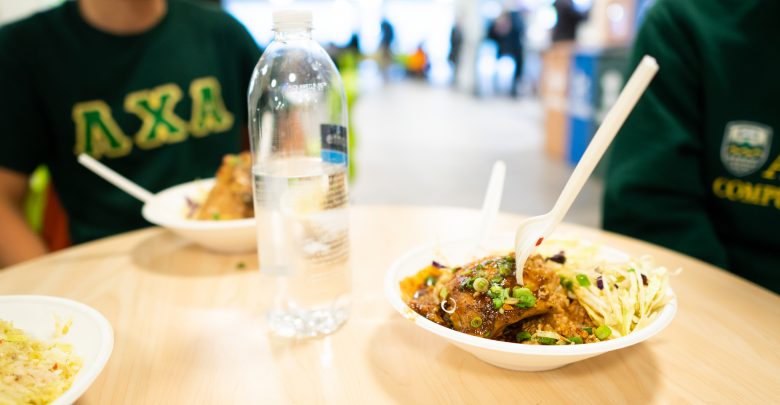 SUB basement just got a savoury upgrade and it is better than anything I could have hoped for.
I had heard a lot about Filistix, but always put off making an effort to actually try it out in its old location in CAB. Unfortunately, I never got the chance due to the vendor's sudden demise at the hands of Aramark.
But this year, after a much-anticipated reopening in SUB, I no longer had an excuse to avoid this food vendor nobody could stop buzzing about. So I wandered into SUB's basement, following the spicy aroma to a line that seemed to grow continuously.
Filistix has gone for very minimalistic decor, focusing primarily on green and white and allowing their food to take precedence over the stylistic choices. The large basement of SUB serves as the seating space.
The Asian fusion menu features a variety of rice bowls and curries. The customers get a lot of choice in their protein as Filistix offers vegan and vegetarian options as well. There is also a choice between the portion size: one can choose between regular or large.
I found the pricing of the food very reasonable, when taking into account the portion size and food quality. One could expect to spend somewhere between 11 and 15 dollars during their visit to Filistix.
Reaching the front of the line, I ordered the Classic Chicken Adobo, a tried and true favourite from the specials section. The staff who greeted me were friendly but busy. But much to my surprise, the service, too, was fast and kept up with the long list of orders without much delay.
Upon getting my food, once again, I was pleasantly surprised by its quantity. Indeed, Filistix's portions are just right: not enough for day-after leftovers, but enough to make for a filling lunch. The dish smelled delectable. The chicken came served on a base of rice with slaw on the side. It was cooked to perfection, the flavour evident but not overpowering. 
I do wish the gravy was thicker because I was left with a bland taste in my mouth at the end of the bite that took away from the dish's enriching flavours and spices. That said, unlike what one would expect from a chain restaurant serving tons of university students every day, the food's quality was remarkable. The ingredients felt fresh and the slaw had an actual crunch to it.
Without a doubt, I can see myself sitting in the basement of SUB during finals season, clinging to the joy that Filistix brings me.