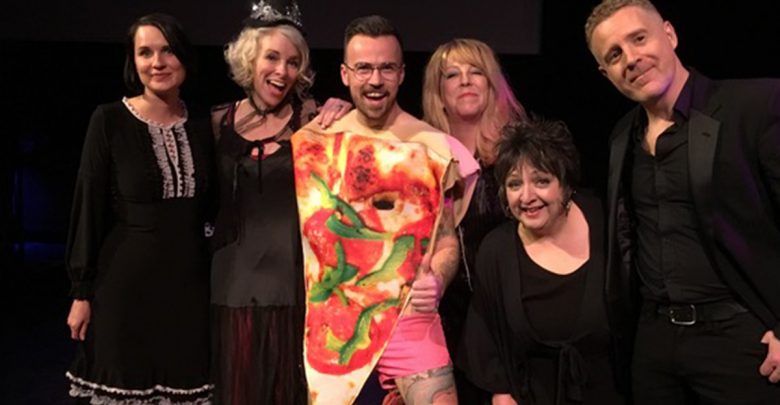 What: Hey Ladies!
When: October 26, 2018; February 1, March 29, and May 10, 2019
Where: The Roxy on Gateway
Who: Davina Stewart, Cathleen Rootsaert, Leona Brausen, Noel Taylor
Tickets: $26 online or at the door 
---
Hey Ladies! is a self-described infotainment, talk, and variety show, and honestly, I couldn't think of a better way to explain it if I tried. The quintessential ladies of the evening are Davina Stewart, Cathleen Rootsaert, and Leona Brausen who, accompanied by Noel Taylor, put out a blisteringly witty performance at the Roxy Theatre on October 26.
The three women host a variety of activities throughout the night, from interviews with people doing cool things in Edmonton to audience participation games, a musical guest, and even a cooking segment. Oh, and prizes. If you've ever wanted to win a bag of doll heads or a bag of crickets, then Hey Ladies! is the show for you.
The first guest was Dale Gienow from Wild North, an animal rescue organization in Edmonton. Amidst plenty of cougar jokes and a debate over the existence of raccoons, Gienow was able to actually give a really good overview of his organization along with some wild stories about cheetahs in station wagons and a cougar (yes, a literal big cat) that once thought him a great mating partner. The interview, in general, had a great balance of humour and actual information.
Next up came the musical guests, the Edmonton folk duo F&M made up of husband and wife Ryan and Rebecca Anderson. They played two songs from their new album, Lessons from Losers: "Clinging to Coldness" and the title track "Lessons from Losers." F&M was fantastic. Their contrasting voices — his low and gravelly, hers soft and lovely — work beautifully together; after such a raucous preface, they served as a delightful pause in the action. They even donated a bottle of wine and a CD to be given away at the end of their performance —  which is fitting, since their music truly makes you feel like you're sitting in front of a fire with a nice glass of red.
Two audience members were then chosen to participate in a matching game alongside Stewart, Taylor, Rootsaert, and the three guests, which Brausen moderated. I'll spare the details of the game's actual mechanics, but I'll just say that I've never heard the phrase "penis plug" before and I'm sure I never will again. It was fun to see performers actively participate with their audience members, and the random draw for participants eliminated the daunting task of volunteering.
During intermission, audience members had the chance to chat with Gienow as well as F&M to learn more about their work. We also got to try samples of a locally made maple whisky. There was even a game called "What is It?" set up where people could guess what a certain object was in order to win it. Guesses ranged from a tiny air mattress to a vaginal cleaning tool (the correct answer was an inflatable wine cooling bag). Having interactive activities in intermission was a new experience for me, and it was great to have an excuse to get off my feet and mingle after an hour of sitting. It eliminated the awkwardness of sitting in a bright, empty theatre and fidgeting with my phone for 20 minutes.
The cooking segment came next, in which Stewart, Taylor, and Rootsaert, who was stricken with meningitis, attempted a recipe for cannabis-infused peanut butter cups (with parsley and oregano standing in for actual cannabis, of course) while Brausen continued to entertain the audience. A microwave was wheeled onto the stage, fitted with cookware and ingredients from the dollar store. Although no one was able to eat the snacks, you know, because of the meningitis, I did learn a lot about the effects of cannabis in the process. There was a teacher (Taylor) on stage, after all.
I didn't really know what to expect heading into this evening, but I was continually surprised and delighted with the absurd jokes and hilarious chemistry between everyone onstage. If you're looking for something to do for "Galentine's Day" this February, I would definitely recommend checking out the next show on February 1.