Theatre Review: Citadel Theatre's "Once"
Folk musical is heartfelt and bittersweet
Adam Lachacz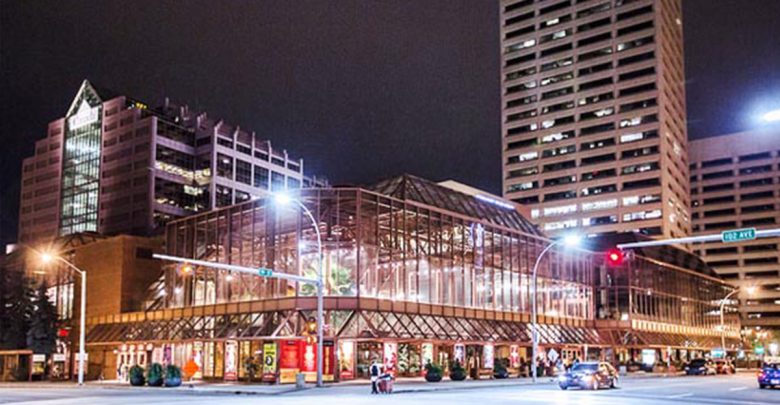 What: Once
When: September 22 to October 14, 2018
Where: The Citadel Theatre
---
Imagine being stuck. As in, working in a job you don't love but can't leave. Or longing for a bygone relationship because it's all you've known for the past while. The Citadel's production of Enda Walsh's folk musical Once — based on John Carney's film of the same name — suggested that being stuck in time doesn't mean you should miss out on the moments in front of you.
Even before I sat in my seat, I knew Once would not be your average musical. The cast was assembled on stage jamming together in character, with members of the audience invited up as well.
The story begins in Dublin, Ireland, with the protagonist Guy (Lawrence Libor), a sometime singer-songwriter and full-time vacuum technician, moping around because his girlfriend —– correction, ex-girlfriend — has moved to New York. He plays a soft ballad called "Leave," singing through his feelings of confusion. Should he celebrate his love's choice to pursue her dreams, or should he mourn the loss of their relationship? By the end of the song, Guy concludes that music, his last connection to his bygone love, should no longer be a part of his life. He snaps his guitar case closed and walks away.
Enter Girl (Emily Dallas), a young Czech woman who hears Guy's voice and is impressed by his talent. She peppers him with personal questions and convinces him to at least not abandon his valuable guitar on the street. She asks him to repair her family's vacuum, and through their ensuing conversation, they discover things about each other, like their love for performing music. Girl is stuck in her life as well; her husband lives a continent away and she yearns to know if he still cares for her.
As Girl reignites Guy's passion for music, Guy and Girl traverse through moments of romance, joy, and longing to fall slowly in love with life again. While the story begins with Girl helping Guy, it soon becomes difficult to tell who is helping the other as they move through the complexity of life.
Libor rocked the Citadel stage with his wide vocal range. His rough-hewn voice sounded like that of a busker outside an LRT station whose talent may induce a double-take as you walk by. His chemistry with Dallas was palpable. Dallas convincingly portrays Girl's Czech identity and easily matches the pace set by the script. Her emotionally loaded performance made my heart feel just as restless as she was. The supporting cast shined as well with sweet character additions, like John Ullyatt's jolts of comedy.
The set design of an Irish pub with a picturesque hillside in the background fuelled the feeling that the musical numbers were genuinely impromptu jam sessions. Guy's progression from singing at local pub open mic nights to recording a demo album in a studio did not just feel real, but looked the part.
The play itself progressed slowly in the first act. With the large amount of exposition, it took some time to warm up to the characters onstage and their situations. However, the show used this foundation to present an emotionally charged and plot-driven second half.
While only a moment in time, the Citadel's production of Once proved to be a heartfelt and bittersweet experience.