Black and Brown Voices United used art for healing
Hosted by writer-in-residence Janet Rogers, evening of performances showcased Black and Indigenous artists
Bree Meiklejohn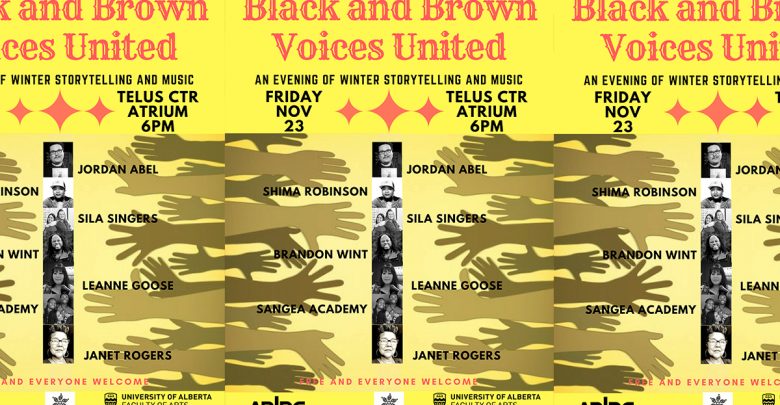 What: Black and Brown Voices United
Who: Janet Rogers, Roxanne Tootoosis, Sila Singers, Shima Robinson, Brandon Wint, Leanne Goose, Sangea Academy, and Jordan Abel
When: November 23, 2018
Where: Telus Centre Atrium
---
For some, art is a way to heal. Poetry and song healed powerfully at Black and Brown Voices United, which set the stage for Black and Indigenous artists to share their craft with an eager audience.
Hosted by department of English and film studies writer-in-residence Janet Rogers, the evening began with an opening prayer from Roxanne Tootoosis in her native language of Plains Cree — a language that is, like other First Nations languages, endangered. Even so, Tootoosis remained hopeful and humble, thanking the Creator that everyone was able to gather together in harmony.
A performance from the Sila Singers, Jenna Broomfield and Malaya Bishop, came next. Together, they shared their unique cultural tradition of Inuit throat singing, which they say is a form of community-building and friendly competition. The singing itself was surreal, as their combined voices sounded like several instruments being played at once. After listening for a few minutes, I could feel myself wanting to move with the beat of their voices. Improvising some songs, the singers remarked that working in harmony is like playing double-dutch jump rope — you have to find the perfect time to jump in.
Several poets — like Brandon Wint, Shima Robinson, and Jordan Abel — performed their own spoken word pieces. While they performed some in a more conventional slam poetry style, Robinson performed over a background hip-hop beat, giving her set a personalized touch, and emphasizing her theme of her and her family's struggles. Each performance had a common thread, focusing on what it means to be Indigenous or Black in Canada.
Leanne Goose performed a poignant song with guitar accompaniment about the loss of a loved one, highlighting the sorrows of the families of missing or murdered Aboriginal women, the pain of which she knows firsthand.  
Near the end of the night, the Sangea Academy performed a few West African drumming songs, accompanied with dance. The drumming quickly compelled me to dance along with the beat, and it was refreshing to see two performers who were as enthusiastic as they were. Their final song, "Anta (Let's Go)," was a call and response that encouraged audience participation, which it was an upbeat way to end the night.
Different artists collaborated throughout the event, showcasing the traditions of different cultures coming together in unity with each other. That was the biggest takeaway of the evening — it was a way to celebrate these artists' communities while illuminating their issues, in the hopes that steps can be taken to help heal them. The artists explored their struggles through their craft inviting others to listen and understand. Most importantly, they came together in hopes of using their strengths to create a better world for everyone.