Breaking the bubble: A student group's attempts to tackle homelessness
Multiplying Equality was created as a means for students to fight social injustice
Claire Song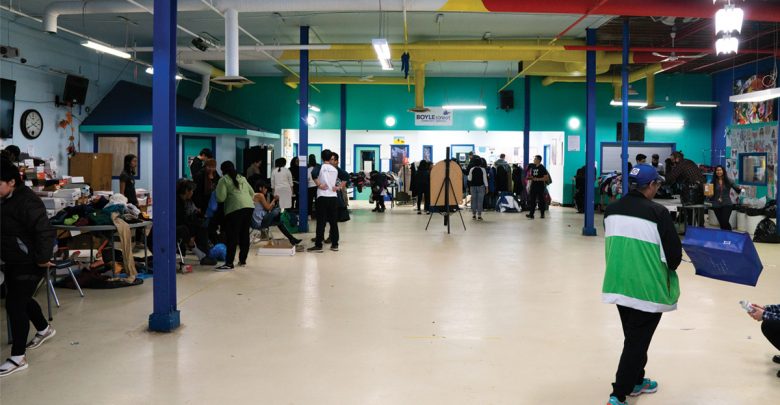 Whether they're huddled over textbooks in the library or having a much-deserved nap on the SUB couches, it can feel like university students are in a bubble. But members of Multiplying Equality (ME), an outreach organization at the University of Alberta, aspire to change that.
Currently in its fourth year, ME was created primarily as a means for students to fight social injustice and realize that they, as people of privilege, could make a difference in their community.
"I've been part of the group since the beginning, and I'm basically emotionally invested," said Kasun Medagedara, a fifth-year science student who is ME's current president. "It delivered something that I didn't find in other groups on campus. There's no fluttery language — I get to see the impacts right in front of me."
One of the club's biggest initiatives is their annual Street Store, an event in collaboration with Boyle Street Community Services. This year's event was held on October 20.
At the one-day pop-up store, the homeless community has the opportunity to choose from clothes donated across the campus and city. This year, ME received a $20,000 donation from Kunitz Shoes, the biggest sponsorship the group has ever received.  
"I think everyone has this idea that homeless people will take anything," Medagedara said. "But they all have different likes and personalities, and it's not like we dish out clothes in rations. They get a choice, and I think that's empowering."
Events like Street Store aim to break common stigmas about the homeless community. But working right alongside them can make some volunteers feel uncomfortable, said Lydia Mutoni, the club's marketing executive and a second-year nursing student. She said it breaks them out of their bubble and strips them of preconceived notions about homeless people.
"When I went to Street Store last year, I just stood in a corner because I didn't know how to do anything and I was scared to talk to most people," she recalled. "But once you do start talking to [members of the homeless community], you realize that this is just a regular person, who unfortunately is in a circumstance that they might not want to be in."
ME also organizes other outreach programs, like collaborating with the Somali Canadian Women and Children Association to educate immigrant families about post-secondary opportunities.
"Many of us in the club are from immigrant families, and we were able to do projects targeting these immigrant families," Mutoni said. "We showed that there are bigger opportunities and that you can chase a dream in Canada. You're not limited to your own cultural background and language barriers."
Other initiatives include Community Clean Cuts, where the Est-elle Academy of Hair Design provides free haircuts and styling to community members.
"You never really think about how a haircut or getting a beard shaved can make an impact," Mutoni said. "You might [just] go into a salon and get it done. For others, not having that opportunity can leave them feeling impoverished, so what they bring out to the world might not be their best foot forward."
They've also put on social events to bring together youth from different communities, including homeless youth, and on Valentine's Day, they sold cards and carnations to support the U of A Sexual Assault Centre.
In addition to the club itself, ME runs a nonprofit apparel line. The line was originally one of the group's main focuses — they were inspired to create something that represented the spirit of volunteering and outreach. Eventually, it became a means to fund ME activities. Every dollar from clothing purchases goes directly into ME's outreach programs, paying for things like underwear for the Street Store. Additionally, for every apparel item sold, ME delivers a "benefit bundle" of hygiene items to the community.  
"It's kind of nice to see some random people wearing our logo at the mall sometimes or out and about as well," Medagedara said. "I think our branding and design is fairly strong; it looks clean and professional, which also draws many people to the group."
In the future, ME hopes to expand from a student-run club into an organization that can provide services across Canada.
"We often complain about homework, while someone else is complaining about not getting enough food," Mutoni said. "There's more to life than complaining about minimal problems — my stomach is filled, I get to take a warm shower every day with warm water and come to a building just to study while someone else is struggling to get a cup of coffee in the morning."
Currently, ME has about 400 general members. Students interested in joining the cause can sign up for the group's mailing list to stay updated on opportunities and general meetings. This year, the club is hoping to have more volunteer outings to connect students with hands-on opportunities off campus.
"I don't know what impact [our volunteering] has on a person. I wish we could see the long-term impact on these people because what we think they need, as privileged people, could be completely different from what they actually need," Mutoni said. "There's always room for improvement."