iClickers to be phased out of classroom use by 2019
In it's place, the university will be implementing a new platform for instructors to use called ePoll
Adam Lachacz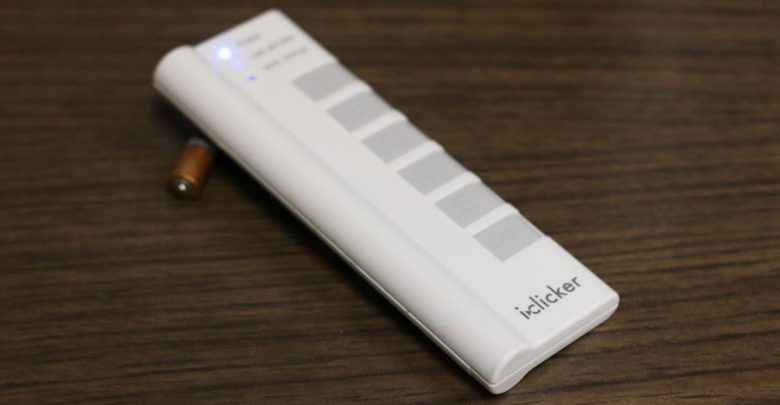 Starting in July of 2019, iClickers will no longer be supported or sold at the University of Alberta.
According to Information Services and Technology (IST), iClicker base stations will be removed from labs and classrooms across campus starting in July 2019. Technical support for the platform will no longer be offered in the 2019-20 academic year.
iClickers are handheld devices that students have to purchase to use for classes where professors use them to record individual answers for interactive questions or class participation. An iClicker unit usually costs $40 to $60 depending on the version and additional software licenses bundled in.
IST said in a statement that a new platform built into eClass called ePoll will be offered to professors to use instead of iClickers, to ensure they can still incorporate these elements in classes, albeit for free. It will be accessible on mobile, tablet, and laptop devices. eClass will be updated from version 3.1 to 3.4 at the end of the term to incorporate the necessary software.
"This decision has been made based off of feedback to replace iClickers with a web-accessible system that is free to use," IST said. "[This] does not require students to purchase a separate device."
Students' Union vice-president (academic) Akanksha Bhatnagar said she is "incredibly happy" to see iClickers removed from classrooms.
"They were essentially a device that cost around $60 for possibly 10 per cent of a participation grade for a class," she said. "No one should have to pay to receive 10 per cent, or any per cent, towards a grade."
According to Bhatnagar, U of A administrators in the past justified the use of iClickers because they were easy for students and professors to use.
Bhatnagar said the change in iClicker use at the U of A was discussed "internally" by the U of A. It was not an official policy that was voted on.
Training sessions will be offered to professors and instructors on how to maximize not only the use of ePoll but eClass as a whole. Bhatnagar added that the university will be monitoring and evaluating the change through ongoing consultation with students and faculty.
Bhatnagar said it is "unfair" that students have had to pay for an additional device in order to achieve a desirable grade. She hopes this is one further step towards making university more affordable for students.
"I never liked using them," Bhatnagar said. "Using eClass and ePoll is an effective, affordable, and easy solution for everyone."