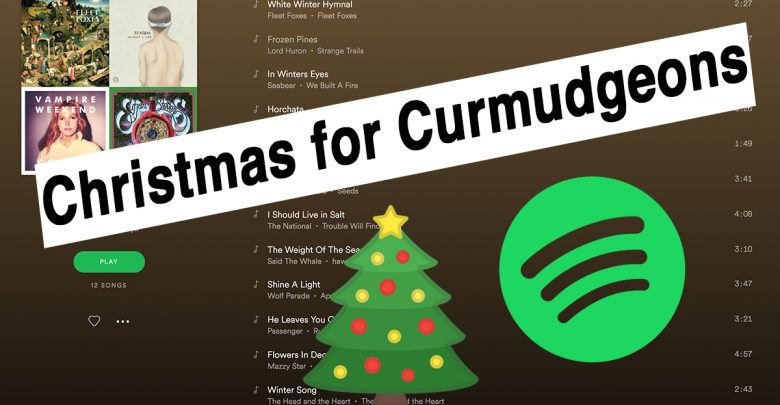 Link (Spotify):
Tracklist:
"White Winter Hymnal" by Fleet Foxes
"Frozen Pines" by Lord Huron
"In Winter's Eyes" by Seabear
"Horchata" by Vampire Weekend
"Mr. Frosty Man" by Sufjan Stevens
"Winter" by TV On the Radio
"I Should Live in Salt" by The National
The Weight of the Season
"Shine a Light" by Wolf Parade
"He Leaves You Cold" by Passenger
"Flowers in December" by Mazzy Star
"Winter Song" by The Head in the Heart
I've made this playlist as an ode to all of you.
You who work retail and endure the eight-hour cycle of Michael Bublé and Mariah Carey. You who would never be caught dead "Rockin' Around the Christmas Tree." You who would rather eat your own hands than hear another bell jingling in the background. You Scrooges, and Grinches, and Christmas Curmudgeons alike.
I see you, I hear you, and I am one of you.
I like Christmas. I swear. It's one of my favourite holidays. I love giving gifts and spending time with friends and family. I love cooking Christmas dinner and doing (most) outdoor winter activities; I really do! I just think the typical holiday soundtrack is a little… sparse? The Christmas music canon hasn't really evolved much over the years, which seems absolutely bananas to me!
I'm sorry, but we don't need to listen to nothing but covers of 10 set songs! Christmas happens every single year. It's not a surprise: there are literally 11 months to write and record new Christmas songs!
This is something with which I'll credit Sufjan Stevens: his Christmas albums are actually very funny and sweet. I'm really not asking for a lot here. Maybe just go a little easier on the background jingle bells, stick to more of a generic winter theme for longevity's sake, and just be a little original. Please.
In any case, I hope these songs put you in a wintery mood without making you go crazy under the constant bombardment of Reindeer, sleighs, and smoochin' under some weird poisonous plant.
My frustrations with the holiday genre tend to distract me from everything I love about winter in Edmonton. Even if it can, at times, be incredibly bleak — and our boots are stained from all the salt they spread on black ice to prevent us from slipping and dying — you have to admit we have it pretty good here. We get actual Hallmark movie-style snowfalls, there are some fantastic spots to skate or play hockey outdoors, and Whyte Ave looks absolutely stunning at night when the trees are all strung with lights.
So I'm truly not here hatin' on Christmas. I'm just providing some options for the holiday-weary to get involved in our worst, but most iconic, season.