Campus Life
News
First-year business student forms Black Students' Association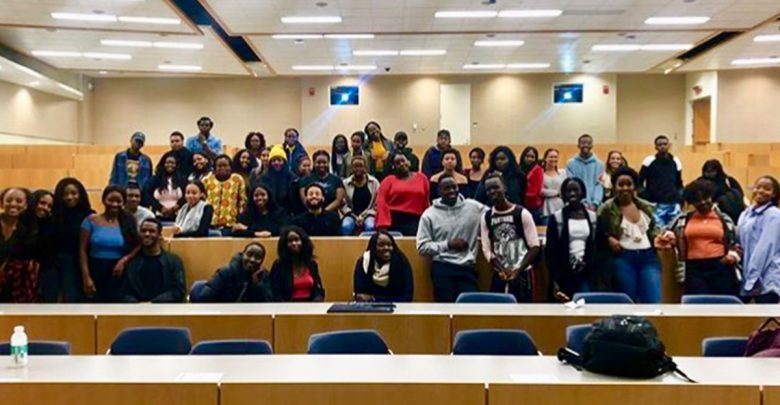 Seeing the success of black students associations in the United States, a few students at the U of A created the first of its kind here on campus.

The U of A Black Students' Association (BSA) was started in September to help gather a community together and to serve as a safe space for black students on campus where they can find support, both academically and socially, among their fellow peers. Hanna Daniels, the president of the association and a first-year business student, was born in the States and has seen the success of BSA's and the importance of having a supportive community like those on campus.

"I think it's easy as a minority group to kind of feel disconnected from the world around you especially when it's hard to see representation in the places that you go on campus," she said. "To have that space where you feel safe, that you can talk about the experiences you've had, talk about what you have in common with others I think that's a really powerful thing."

The group has been in development since spring 2018 but came to fruition earlier last year. Daniels helped start the group with a few friends on campus including Miles Washington, a second-year economics student and media representative for the group. They shared the same goal of creating a place to connect all black students on campus together.

"We saw that there was something missing: a place or a group that connected all of the black students on campus," Daniels said. "Regardless of what specific diaspora they connect with, we kind of took inspiration from that and said that it was time that somebody took initiative to start a group that really brought everybody together."

Meetings so far have included short discussion panels, movie nights, volunteering at the Bissell Centre, and other socially-oriented activities to allow students to get to know each other. Currently, the group is planning events for Black History Month. In collaboration with the Sudanese, Ethiopian, and Nicaraguan student groups, they hope to have an event each week of February — ending with a gala at the end of the month with food, music and art from the variety of ethnic backgrounds in the BSA.

Washington hopes the BSA will foster that sense of community for years to come.

"If there's a way I could imagine the place for people, a way so that black people don't have to automatically be alone at U of A. That's what I think our jump is ultimately," he said. "The whole idea of why we needed this was we were trying to aggregate all the races together in a sense. There's a strength in numbers."