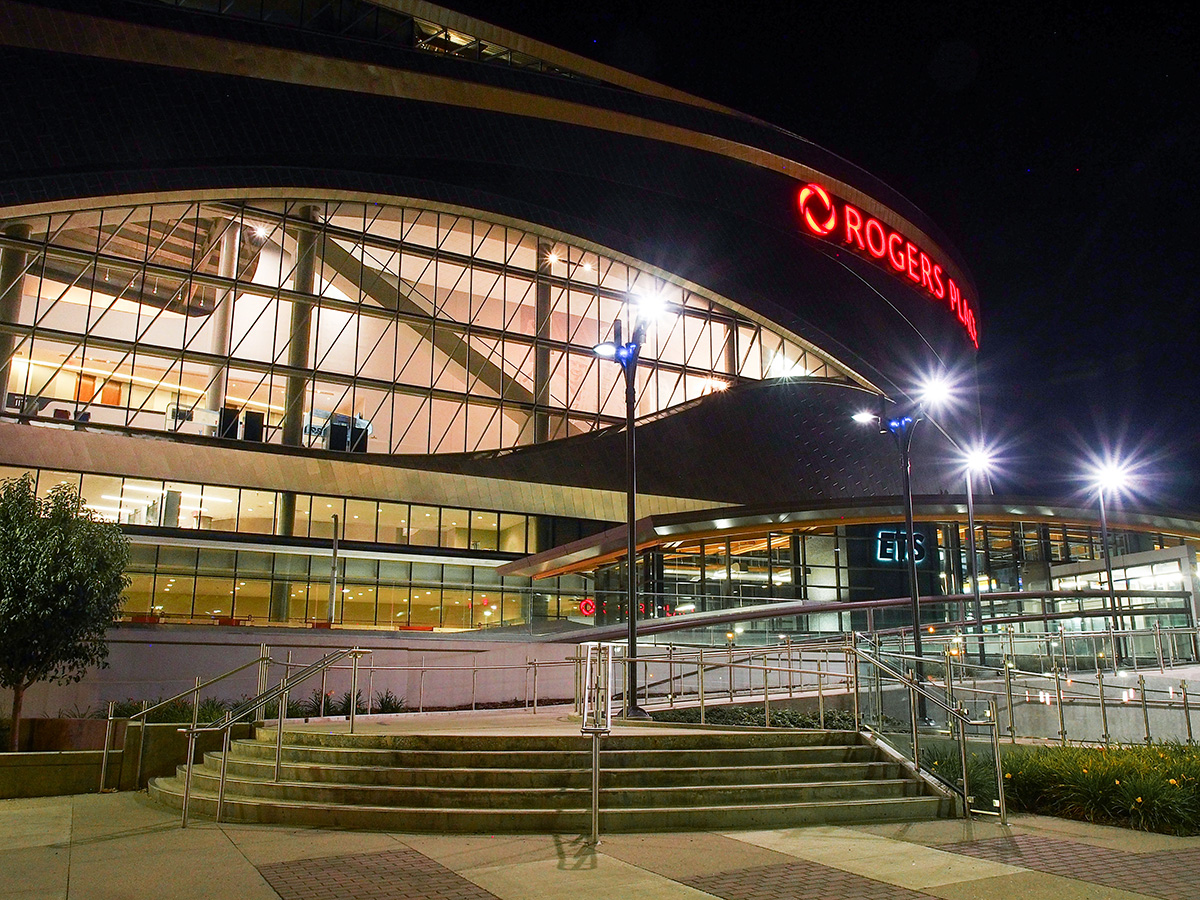 What: Rally Cry Tour
Who: Arkells with special guest Lord Huron
When: Thursday, January 31, 2019
Where: Rogers Place

Midway through Arkells' performance at Rogers Place on Thursday night, frontman Max Kerman reminisced about the band's first show in Edmonton. He remarked, "The first time we played here, we played for 13 people in the basement of the Starlite Room."

With a rising fanbase built from heavy touring and a growing repertoire of Canadian radio hits, Kerman and his Hamilton-based pop-rock band have come a long way since those days playing the Starlite. Edmonton is their first stop in a massive arena trek across Canada in support of their latest album, Rally Cry.

I had yet to see Arkells perform live before but one of my friends, Carter Behm, who invited me to see the show, is a longtime fan of the band. For Carter — who has been going to Arkells shows since the early days of the band's musical journey — seeing the group take the Rogers Place stage was a rewarding moment as a fan. The first time he saw them was in Banff when they came for the 2010 Olympics and played on main street.

"At the time, I barely knew who they were, they were only just a small band," Carter recalls. "But they were so engaging, even for a crowd of random people in Banff."

After seeing Arkells several times after that at different venues, Carter noticed how the band always treated its audience to the same interactive, immersive, and intensely energizing experience.

"Even if they're playing for a small crowd or thousands and thousands of people, they find a way to connect with each and every person at the concert."

Thursday night was no exception, and Arkells definitely lived up to my friend's hype. With a glimmering disco ball hanging above the stage, a sleek band logo behind glowing with various fluorescent colours, a set of brass instruments, and even a keytar at one point, Arkells infused the arena with its staple ecstatic energy.
Playing mostly songs from Rally Cry such as "Relentless" and "Saturday Night" but with some classics from older EPs like Morning Report and Jackson Square, the group kept the audience dancing, singing along, and on their feet for most of the show. Highlights included a crowd-pleasing performance of their made-for-stadium anthem, "Knocking at the Door," and a dazzlingly fun rendition of ABBA's "Dancing Queen" for their encore.

Throughout the show, Kerman danced around the stage with a seemingly impossible amount of energy that he made sure to enthuse in everyone in the building, leaving the stage several times to roam through the crowd and walk up and down the stairs of the arena.
With a magnetic level of charisma and sturdy vocal chops that lasted the night, he was both frontman and hype man for the show. He even humorously handed out doctor's notes to audience members in case they were worried about partying too hard at the show and having to get up for work or school the next morning.

The level of involvement Arkells had with the audience was an interesting contrast to other shows I've recently attended. Kerman and his bandmates were performers in service of the arena audience rather than performers basking as idols in front of the arena audience.

It was a refreshing change that gave the show an inclusive and feel-good quality. And it's a quality, of course, that they've been known to possess throughout their career and one I hope they still have the next time I see them.

"They have not let success go to their heads at all," Carter notes. "At this show, you could tell how much humility the band had, how honoured they were that everyone was singing along with their songs."
After Arkells finished playing its final song, "Hand Me Downs," the audience continued singing its vocal riff as it gave the group a standing ovation. As the voices of their fans boomed their song in unison back at them, the bandmates stood listening like it had never happened before. Arkells is a band whose members haven't forgotten their origins. They truly love what they do, and they're able to pass that love on to their audience every time.