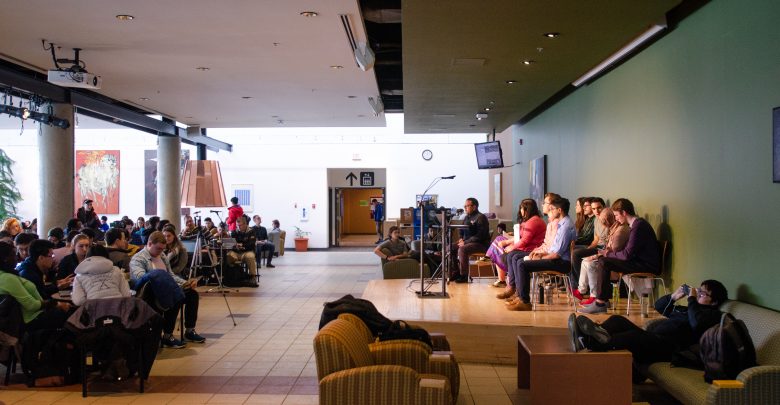 Presidential candidates discuss each other's track records
The presidential candidates challenged each other at the first SUBStage forum about international student tuition and what their biggest successes and failures were in the past year as Students' Union executives.

Both candidates running for president are current Students' Union executives. Akanksha Bhatnagar is the vice-president (academic) and a fourth-year political science and sociology student while Andre Bourgeois is the vice-president (student life) and a sixth-year sociology student.

Science councillor Michelle Kim asked what the candidates did this past year as executives to alleviate increasing international student tuition. She also wanted to know what they would continue to do, if elected.

Bourgeois said he was not involved in discussions surrounding international student tuition this year as it did not fall in his portfolio. But that he was "busy" helping address security concerns in HUB.

"I supported international students living in HUB Mall… to get their doors locked up [with OneCard access]," he said.

Bourgeois added that once elected, he would work to address the legislation of Bill 19 which he said provides little protection for international students. He said he wants Bill 19 to guarantee international students the same things that domestic students get.

Bhatnagar said her role this year was limited to communicating what Bill 19 offered to international students. If elected, she said she would advocate to the provincial government that international student tuition be frozen.

"[We] need to ensure there is predictability for [international] students for their entire degree," she said.
The presidential candidates were also asked if they could identify what their opponent's biggest success and failure were as a vice-president this year.
Bhatnagar said Bourgeois' biggest success this year was getting the university to commit to spending money on security upgrades on campus and in the HUB residence specifically. She added that while this happened during Bourgeois' tenure, it was part of a larger advocacy effort spanning years.
"[This] has been worked on for years and years by the HUB community association that was just really lucky that the candidate was able to complete this [project]," she said.
Bhatnagar went on to say that Bourgeois failed to get the university to hire a sexual assault coordinator.

In response to the question, Bourgeois said Bhatnagar succeeded in removing iClickers from university classrooms, but said it was lucky for his opponent to have finished this project within a year. Bourgeois said Bhatnagar's largest failure was continuing GovWeek.

"The biggest failure for my opponent is… bringing GovWeek back and leaving it under the portfolio of vice-president (academic)," he said. "As student representatives it is not our role to provide programming opportunities for students because it eats up a ton of our time."
— Adam Lachacz
Student life candidates asked what to do when budgets are cut
Issues of sexual violence and defending students when budget cuts are made dominated discussion for the three vice-president (student life) candidates.

Candidates were asked how they would combat sexual violence on campus. Candidate Jared Larsen, a fourth-year business student and current president of the HUB Community Association, said he wants to increase education about sexual violence by working with the Sexual Assault Centre of Edmonton (SACE).

Candidate Rory Storm, a sixth-year drama student and former president of the U of A Interfraternity Council, said he wants to provide motivations for students to attend workshops about sexual violence.

"We're not really incentivizing students to go to these workshops," Storm said. "I really hate to say this, but we need to provide more incentives for students to attend workshops in order to build an anti-sexual assault culture on campus."

Candidate Shuaa Rizvi, a fifth-year science student and current science councillor, said she would specifically address the U of A Sexual Assault Centre's 10 asks that were expressed in a protest earlier this semester. Rizvi also said she would look into creating a sexual assault centre at Augustana.

When a question was asked about why candidates would be the best person to represent students when budget cuts are made to student services, Storm said he was not sure specifically why he would be the best candidate, but would like to introduce workshops to educate students on what they can and cannot do.

Larsen said he would focus on refining current initiatives instead of creating new ones. He provided an example of incorporating more mental health workshops into Week of Welcome. He also said he would provide greater support for current organizations like the Peer Support Centre and The Landing.

"I think it's important to bring in community-based working models to provide a warm and inclusive environment on campus," Larsen said. "I also want to expand clinical and counselling services, so that even if you do see budget cuts, then we can still survive and thrive in the long run."

Rizvi said she would increase access to various resources, such as mental health services, in a similar fashion to how the STRIDE program operated to increase the quality of student experiences.

"The point of an SU is not to be an incubator for future politicians. We're here to fight for things we're passionate about," Rizvi said. "One of the reasons I joined the SU was because we got programming which encouraged a variety of people to seek these resources. It's scary being up here, but you've got to know that you're not alone."

— Faramarz Jabbari-zadeh
Questions emerge over proposed Aboriginal Student Council fee
Questions emerged from audience members about how Aboriginal Student Council (ASC) would properly administer the money that would be coming from the new fee.

The proposed opt-outable fee is $1.00 per term for full-time students and $0.50 per term for part-time students. Katherine Belcourt, president of ASC, explained the intended uses for the proposed fees, such as increased community awards and the creation of a childcare subsidy for Aboriginal and non-Aboriginal students.
Several questions were directed to Belcourt, including from former ASC president Deirdra Cutarm, asking what work has been done in structuring the fee, how the finances from the fees will be managed, and what consultation ASC has done with other campus organizations.
Belcourt said there has been consultation with the Students' Union and First Peoples' House about managing ASC's finances, but said that no information sessions were held about the fee with students.
However, she said she's serious about getting the fee passed.

"I'm taking a huge part of this responsibility on. I've withdrawn from my classes and I'll be working on this to ensure it does get passed [and that] everything will be in place by September," she said.

— Mindy Quang

Sole candidate for academic race grilled on student research
Joel Agarwal, a fifth-year biology student and uncontested vice-president (academic) candidate, answered questions about making services more accessible, encouraging student involvement in research, and implementing Indigenous content.

In his introduction speech, Agarwal discussed the need to get students involved in research. The SU, he said, gives out grants every year but none of them are for research, and he wants to ensure students are "well-rounded" in experiential learning.

Current Board of Governors representative Levi Flaman asked what the biggest barriers to academic success are. Agarwal said he thinks students don't know about the supports that exist, and the costs associated with accessing some of those services are also barriers. He said he will be pushing for advertising those services and getting them to students when they need them.

"I think that [paying for these services] is ridiculous and I'm going to work tirelessly and effortlessly to get rid of those fees so that it's accessible to all students," he said.

Agarwal also discussed the implementation of more Indigenous content into courses. In answer to a question from native studies councillor Nathan Sunday about making Indigenous students feel welcome, Agarwal said he would work to bridge the gaps with the Indigenous community.
"I think it's important to work with faculty associations to have more Indigenous content, specifically in faculties that may not have them already, like engineering, science," he said.

In response to another question about the specific ways to implement more Indigenous content, he said it can't happen overnight.

"[I would also] work with Indigenous students and elders and Indigenous professors to actually have the voice in their hands," he added.

— Kate Turner

Relaxed day for both plebiscites
During the forum, both the Student Legal Services and CJSR plebiscites reiterated what their services do for students and why people should vote yes for their campaigns.

Law student Sarah McFadyen, representing the "Yes" side for the Student Legal Services plebiscite, explained that any student paying the $0.75 fee per term bypasses the income requirements for accessing SLS.

Carter Gorzitza, representing the CJSR "Yes" side campaign, described his involvement with the campus radio station during the introductory speech and reiterated that the fees go toward equipment and supporting student radio programming. The fees are $2.18 per term for full-time students and $0.78 per term for part-time students.
— Mindy Quang