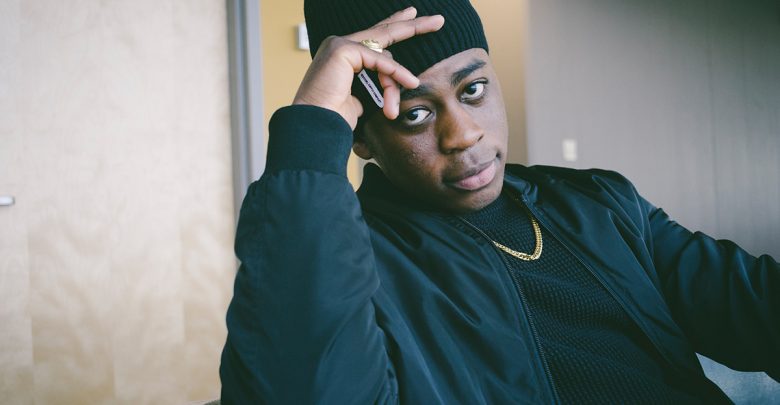 How a University of Alberta student maintains full-time studies and a blossoming career in the hip-hop industry
Local hip-hop artist, entrepreneur, and comedian King Kontoh, a.k.a. Michael Kontoh, was lying on his bed and eating cereal one afternoon during the summer of 2017.
It was near the end of the summer, and the beginning of a new school year loomed just beyond the horizon. He'd been watching Everyday Struggle, a series on which Joe Budden and guests discuss the recent happenings in the hip-hop industry.
Russ, a hip-hop artist, was speaking about illegitimacy within the scene: musicians buying social media followers to increase their perceived clout, then being unable to sell out venues they book. He spoke of his beginnings as an artist, rapping in his basement and producing his own beats at 14, and progressing to go on and release multiple platinum-certified albums.
The words struck a chord with Kontoh, and he soon found himself lyricising for hours, strategizing how to re-emerge onto Edmonton's hip-hop scene.
"I got slapped with inspiration," Kontoh says. "I realized life is short and nothing is guaranteed, and I got right back into the game."
Kontoh's beginnings as a hip-hop artist can be traced back to his high school days, when he gained a respect for the craft that would stay with him for years to come. In developing his own sound, Kontoh took inspiration from artists like Drake, Big Sean, and J. Cole.
He cut his teeth at some open mics around Edmonton, and in late 2015 completed work on his first EP, Exit, which was released on May 31 of the following year (which just so happens to be his birthday). However, just prior to the release of the EP, Kontoh decided to put his music career on the backburner to focus entirely on his studies.
"Rap [had been] more of a hobby for me, and in late 2015 I just kind of quit it to become more focused on school and my aspirations of going into law," Kontoh says.
However, unable to completely turn his back on performance, Kontoh soon found himself back on the stage — only this time, as a comedian. He had always had a deep admiration for stand-up comedy, and found that the transition from writing rap to writing comedy sets happened naturally.
He gained experience performing in some of Edmonton's local comedy venues, such as The Grindstone, making connections that would prove to bolster his career in the years to come. Working in comedy sharpened his writing skills, making the lyrics he'd pen in his eventual return to rap all the more eloquent.
"Some of my favorite raps have punchlines," Kontoh says. "Learning to write comedy taught me how to put punchlines into my raps, so inserting jokes into my lyrics is a [goal] of mine."
Kontoh ensured his break from music wouldn't be permanent before it began: he included a line advertising his next project, Realism, in the outro to Exit. In 2017, he returned to the hip-hop scene and rebranded both his music and himself as an artist. He developed newfound focuses on professionalism, making a point of learning the business side of the industry.
"For a long time the music was such a narrow focus for me. I had to understand that's like [half] of what's important to your brand and the industry," Kontoh says. "It's all about presentation. Half the time, people won't even look at a product if it isn't presented well."
Kontoh's inspiration for Realism, his first LP-length release, came largely from France's Realism movement in art of the mid-to-late 1800s. In this period, French art shifted from fantastical representations of the human experience to representations that bore a true resemblance to reality. This inspired Kontoh to lyricize genuine accounts of his own life, such as his move from Ghana at a young age and the impact such a transition can have on a child.
"I believe music as an art [form] should represent our genuine way of life," Kontoh says. "So Realism is simply me telling my own life stories without any exaggeration."
Presently, Kontoh endeavours to balance his studies at the U of A with work on his upcoming LP Set Me Free, as well as maintaining the startup he co-owns, Inspired Minds. Kontoh cites deep care for both his academics and music career as a motivating force behind his ability to maintain each venture.
"Both areas inspire each other: I have to make sure my schoolwork is done so I can get this rap shit done," Kontoh says. "And being in Arts, I'm learning a lot about society, and that's influencing the kind of content I put in my raps."
Set Me Free is slated to be released on February 13 of this year. Kontoh selected "Desperation Day" for his release, since it's a day when people supposedly want romance more than ever, before couples flaunt it the day after. The album contrasts Hollywood's portrayals of romance with the reality of relationships and heartbreaks.
"It's a story of heartbreak and the types of things you do to get over it," Kontoh says. "The whole idea came from Hollywood's representation of love and how real life is nothing like that."
Kontoh's other major project, Inspired Minds, is an organization founded by Kontoh and a small group of other independent artists hoping to grow their brand into a recording label and clothing line. The group's objective is to inspire others to realize their artistic potential. To spread its message, the group intends to start selling clothing and merchandise early in the year, and has already completed preliminary wardrobe designs.
"Our idea, our vision, is that we're all individually inspired to do what we do, and we've come together to inspire minds," Kontoh says. "Our slogan is inspired minds, inspire minds."
To those with aspirations of entering the hip-hop scene, Kontoh stresses the value of knowing oneself. He advises that one's music is ultimately a reflection of who one is as a person and that bearing that in mind during the creative process can help to hone an original artistic style.
"Music is a state of mind. Make sure you get your state of mind right, because if [it isn't], whatever comes out of your mouth isn't gonna feel right," Kontoh says. "Just keep climbing; don't ever stop, because there's a lot of doubt that comes from within and [from] society, so just keep going."

Original Photography by Ljlal Amir