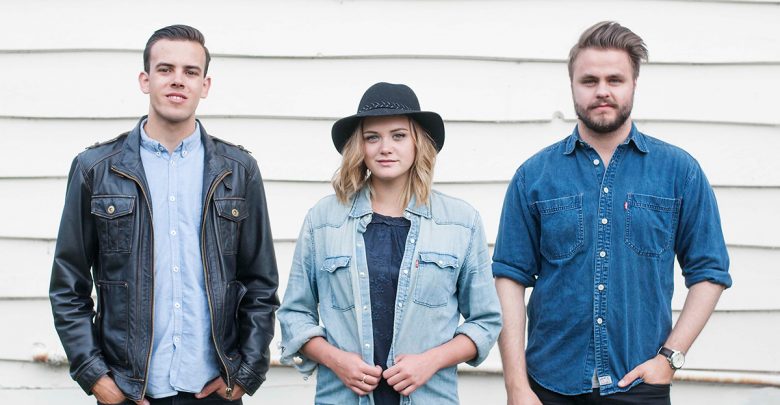 Paul Cournoyer and Steph Blais are lighting up the Canadian indie music scene
When I talked to Paul Cournoyer, one half of Edmonton-based band Post Script, it had been a busy week for the Franco-Albertan duo.

On February 1, he and Steph Blais had released the single "Miles Away" as a lead-up to their new EP, The Light I Can't Block Out. The record came out on February 8, both on Spotify and on vinyl. In a couple of days, they were heading out to tour eastern Canada.
"It's always a bit nerve-racking going to places where you don't necessarily have as big of an audience, but we're excited to get back to Montreal and Toronto," Cournoyer says.
Since 2013, the two artists have been finding their voice together, both in English and in French. They began with a three-song EP, and then released their first album, If Not for You, in 2015. Now, after gigging for the last few years and releasing a couple of singles, their new five-track EP is their longest record since If Not for You. According to Cournoyer, the band's grown organically rather than by force.

"It's really just snowballed from [our first meeting], and it's been one step after the other," Cournoyer says. "The catalyst was just that first show [opening for Justin Blais, Steph's brother]: it was just kind of a request, almost a favour, that turned into something bigger."
In all this time, the two artists have consistently tapped into their identities and interests to enrich their music. They're also a romantic couple, which may explain why they have such strong chemistry. Their indie folk sound, with tinges of country, speaks not only to their own musical tastes, but also to their Franco-Albertan identity.
"We straddle a couple of different universes," Cournoyer says. "There's definitely a good country influence [in our music], a sort of Americana country, but I think indie folk is still a good label."

By working both in French and English, Cournoyer says he and Blais have expressed themselves in unique ways, and their listeners have responded positively.
"[Bilingualism] is just a facet of our identity, and we've had great support from both the Edmonton community and the Francophone community at large," Cournoyer says. "We really feel lucky to be able to do that."

While the two are inspired by many artists, musical genres, and life experiences, they try to maintain simplicity and accessibility in their craft. At the same time, they also strive to stay true to who they are and how they feel. The result is a sincere and precise sound, which is bound to resonate with listeners far and wide.
"A lot of the artists that we really love have an overt simplicity that's really quite beautiful, and so we try to channel a lot of that in our writing," Cournoyer says.
Although Cournoyer and Blais are leaving to tour just as their new EP gets released, they'll be back in Edmonton to celebrate the event with a March 21 concert at the Empress Ale House. They're also working on a French-language EP for the near future, which bodes well for Post Script's bilingual identity. That said, Cournoyer says what matters most is that he and Blais enjoy themselves and feels accomplished in their work, no matter what language they're using.
"We try to write music that we enjoy, and so that's the biggest benchmark for releasing a song or writing a song," Cournoyer says. "At the end of the day, we do it for ourselves."