U of A survey finds poor quality of sleep among Albertans
Kate Turner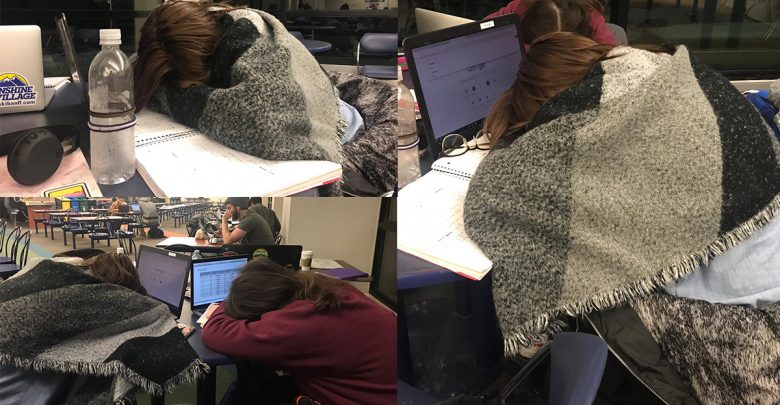 While the majority of Albertans are getting enough sleep, many are not sleeping well due to a sedentary lifestyle and poor sleep routines, says a new study from the University of Alberta.

The survey, conducted by U of A's Centre for Active Living in June and July 2018, was released on January 14. It collected data from 1,200 Albertans over the age of 18 across the province and found that while 75 per cent of Albertans are getting the prescribed amount of sleep per night, seven to nine hours, many are not getting the quality of sleep they need to be well rested. The study says this is due to the presence of devices in their bedrooms and people using devices less than 30 minutes before going to sleep.

The survey was given to 400 adults in Edmonton, 400 in Calgary, and 400 throughout the rest of the province. Sixty-five per cent of Albertans surveyed said they have an electronic device in their bedroom and use it within 30 minutes of going to sleep. Nora Johnston, director of the Centre for Active Living, said this disrupts how long it takes people to fall asleep, meaning it takes them longer to get into restful sleep.
For students especially, the quality of their sleep can affect their performance in school. Poor sleep quality means weaker memory and cognitive skills, and that they are more likely to make mistakes.

To get better quality sleep, Johnston recommended a sleep environment that is quiet, dark, and not too hot. Some new habits include putting electronic devices away 30 minutes before going to sleep, limiting caffeine intake in the evening, and being physically active during the day.

Included in the survey were questions surrounding physical activity, which is a factor in sleep quality. It found 64 per cent of Albertans are physically active enough to get health benefits in the form of chronic and cardiovascular disease prevention, reduced risk of stroke, breast and colon cancer, as well as helping with depression and anxiety.

Johnston said sedentary behaviours are an enemy of restful sleep, but Albertans still sit nine and a half hours per day on weekdays and eight point eight hours a day on weekends.

"It's a bit of a vicious circle," she said. "If you're not sleeping well, you're probably not as active because you're tired, but if you are physically active, you'll have better restful sleep, and then you'll have more energy and are able to be more alert during the day."

For students who spend lots of time sitting in lectures and seminars, Johnston recommends sitting in a place where they can stand up if they want to, and breaking up sedentary time with activity. Instead of finding somewhere to sit between classes, there are ways to include movement into everyday activities.

"If you're wanting to go grab a coffee, maybe ask your friend to go for a walk with you, rather than just going and sitting on the comfy chairs in SUB," she suggested.

There are also lots of options to get active on campus, Johnston said, from rock climbing in the Wilson Climbing Centre, to pick-up basketball and more. Intramurals are another great way to get in some activity, Johnston said, while also being social and meeting new people.

"We have fantastic physical activity facilities, there's such a variety of activities you can do," she said.

"It is amazing what physical activity can do, and I think it's an under-used or too-much-ignored thing that can really improve your physical health plus your mental health," she added.