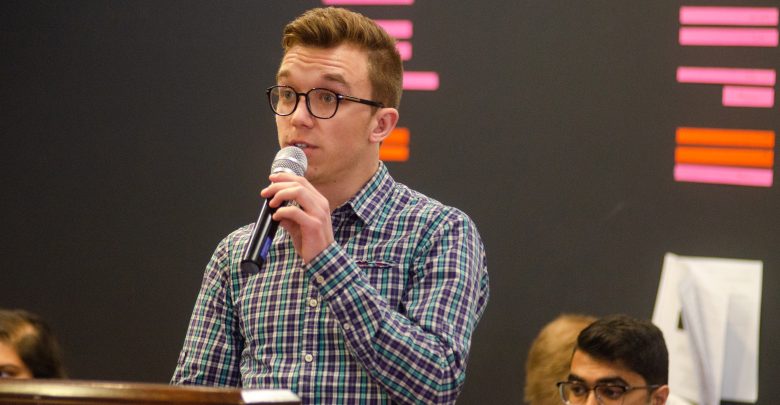 Unlike a majority of the candidates at the CSJ forum, presidential hopefuls Akanksha Bhatnagar and Andre Bourgeois did their homework in regards to CSJ-specific issues. After the forum, though, Bourgeois is likely to have the CSJ bloc behind him.
The very first question asked to the presidential candidates was why they did or didn't translate their campaign materials — including their platforms — into French. Bhatnagar, who has both her posters and platform in English and French, said that putting in the translation work is the minimum a presidential candidate should do.

Bourgeois, of course, was the primary target of this question. None of his campaign materials have French translations; he cited the $800 cost of translating his 22-page platform alone as a the main reason. He did shoot back by stating that unlike Bhatnagar, his platform outlines multiple points around CSJ.

This is true; Bourgeois does mention CSJ multiple times in his platform, and was also able to produce a bold and unique platform point at the forum that didn't simply build off of his previous accomplishments as vice-president (student life).

That point? The slashing of the SU fee for students at CSJ.

His rationale for putting this point forward is that the SU has failed, and continues to fail, to provide many of its essential services at CSJ. Thus, they shouldn't have to pay the full fee, at least not until the SU manages to get services and communications to where they need to be. It's a bold statement, one that gestures beyond committing to helping CSJ to recognize the failures of the SU in regards to working with CSJ and advocating for their needs.

Bourgeois did claim that all the SU executive portfolio's could still be supported with reduced revenue from fees. I believe him, to an extent, but I'd like to see the breakdown of how much revenue the SU would lose, and how much this would affect the day-to-day runnings of the SU.

All this isn't to say that Bhatnagar was ignorant of CSJ's issues. As vice-president (academic), she's worked with the Dean of Faculte Saint-Jean (FSJ) and the president of the AUFSJ to work on academic advisory issues like FSJ credits transferring to other programs, as well as providing more options for the French science major. This, however, was her central talking point; other smaller points about supporting CSJ were pulled from work done this year by the current SU executive. While they were satisfactory points to bring up, they pale in comparison to the boldness of Bourgeois.

After one week of forums, the presidential candidates have dealt each other decisive blows. They're on relatively even ground coming into next week's Meyer Horowitz forum; if either of them bring to the MyHo the same kind of fire that Bourgeois brought to CSJ, we'll see an explosive final battle.
Correction: A previous version of this article stated that Augustana students pay reduced SU fees. This was incorrect. Augustana and CSJ students pay SU fees in full, but about 57 per cent of those fees are transferred to their respective faculty associations to aid them in providing services in lieu of the SU providing them. The Gateway regrets this error.