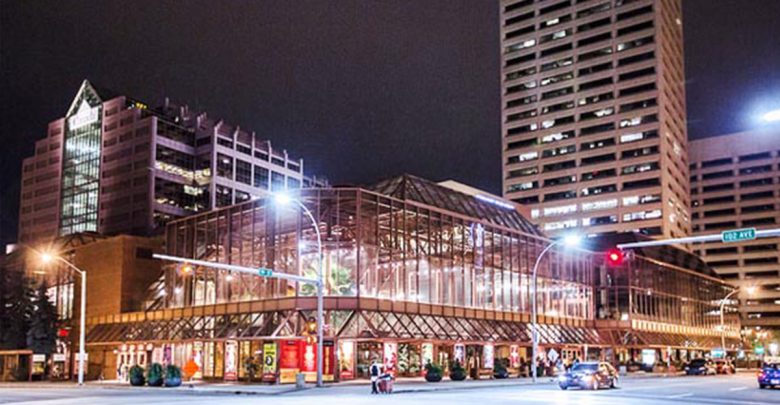 What: Roald Dahl's Matilda the Musical
When: February 16 to March 17
Where: Shoctor Theatre at The Citadel (co-production with Arts Club Theatre Company of Vancouver and the Royal Manitoba Theatre Centre of Winnipeg)
Tickets: Starting at $30 (plus fees & GST)
Recommended Ages: 6+
Runtime: 2h 45 min., including intermission
---
Book: Dennis Kelly (based on the 1988 novel by Roald Dahl)
Music and Lyrics: Tim Minchin
Director: Daryl Cloran
Music Director: Don Horsburgh
Cast: Anna Anderson-Epp, Lauren Bowler, Sharon Crandall, Ben Elliott, Alison MacDonald, Harmony Nalunga, Lilla Solymos, John Ullyatt, and more
---
Brilliantly twisted and whimsical, the Citadel's production of Roald Dahl's Matilda the Musical is a rambunctious celebration of intrepidity, curiosity, and standing up for what's right.
While the musical is family-friendly, it's not afraid to indulge in the grotesque. John Ullyatt's gleefully over-the-top performance as the awful headmistress Mrs. Trunchbull makes her the highlight of every scene she's in.
Crop in hand, Ullyatt's Trunchbull yells her way through most of the play, belting a delightfully excessive barrage of threats and insults. When she isn't yelling her discontent, she's voicing it in full song and dance — which, considering she's a giant buffoon of a villainess, makes for a hilarious spectacle indeed.
Even against Ullyatt's magnetic performance, protagonist Matilda succeeds in holding her ground. Played by Lilla Solymos on the night I attended but alternately played by Anna Anderson-Epp, the titular character is intelligent and righteous. She endures all sorts of abuse and discrimination at the hands of many of the adults in her life, including her own parents, yet she manages to come out of this experience with her integrity and empathy preserved.
And she's not just a victim, either: it's very clear that Matilda's ingenuity saves the day here. Solymos plays the character with childlike charm and cheekiness — she's hilarious in the comedic scenes and truly touching in the dramatic ones. If I had kids, I think I'd want them to see this play so they could be inspired by Matilda to be more kind and inquisitive.
But it's not just the central performances that are captivating. The ensemble cast of talented children and adults own the stage in elaborate musical sequences. These are sweeping and original, though sometimes the bustle of their many moving parts makes it hard to focus on any one thing.
In one sequence, for instance, multiple families all simultaneously proclaim the uniqueness of their children, creating a cacophony of praises. While this moment does succeed in mocking the vanity and excessive egos of these characters, the sensory overload isn't the most pleasant experience for a viewer.
In another musical sequence, the older students of Crunchem Hall warn the new arrivals about Trunchbull in the form of an alphabet-like song: from A(ble) to (phys)Zed. It's a wildly creative song and dance, where all the letters are displayed on books which the actors must race around the set to grab and then show to the audience at the exact same time as the respective letter is sung. However, the whole thing happens so fast that it's hard to appreciate it fully.
If, like me, you're easily distracted, you'll probably miss one or more of the musical's creative lyrics. With so much going on throughout — from the elaborate choreography, to the live orchestra, to the many eye-catching set changes — it's easy to lose grasp of the bigger picture. You might find yourself lost in the smaller details, like witnessing Michael Wormwood (Corben Kushneryk) dab. What an icon.
If Matilda feels at times cluttered and overwhelming, this only speaks to its immense creativity and originality. The energy of the artists was infectious, making it a joy to experience their work. There's so much going on in every moment of the musical: so much to feel, to see, and to hear. Even if you don't catch every little detail, you'll still get a memorable show.