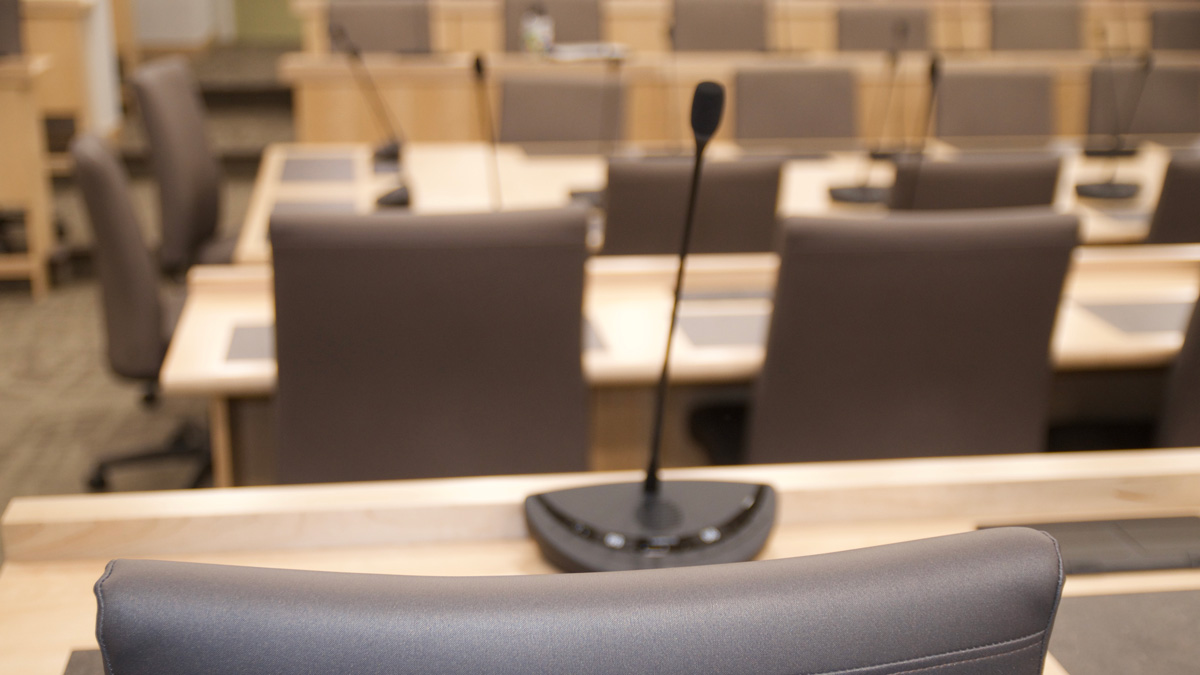 This is part two of a four-part series.
Of the 33 seats on Students' Council, six of them are reserved for student representatives from the faculty of science.
This year, seven science students are running for a spot on Students' Council: Adarsh Badesha, Simran Kaur Dhillon, Genna DiPinto, Ian Gatera, Mohamad Jamaleddine, Rojine McVea, and Amber Sayed.
To help readers determine who they want to represent them, we asked each of the candidates why they want to be on council and how they might handle difficult situations if elected. Voting takes place on March 20 and 21.
While questions were sent to all candidates, neither Simran Kaur Dhillon or Genna DiPinto responded. Answers have been edited for length and clarity.
---
Adarsh Badesha

Ian Gatera

Mohamad Jamaleddine

Rojine McVea

Amber Sayed
1. Why do you want to be on Students' Council?
Adarsh Badesha: For the past three years I have been involved on campus in many ways, from an executive on a student club to a senior volunteer with the SU to conducting research. Over time, I have noticed many issues with the operations on campus, within the faculty of science specifically, and have found that many of my peers share the same beliefs. Rather than endure these shortcomings, I wish to help enact change on campus so that I can work to create a better university, not just for myself but for the students to come.
Ian Gatera: Like many students, I entered university terrified and with the mindset that making the most of my experience meant accepting the academic environment without challenge.
However, over the past three years, I had the opportunity to expand my experiences by volunteering with the Students' Union in a variety of capacities. These opportunities have impacted the way I see our academic experience. I would love to bring my experiences as a science student to improve the university experience for all students.
Mohamad Jamaleddine: I wish to expand my engagement in the campus community, and to encourage the importance of this to my fellow science students. I also wish to relay the concerns expressed by my fellow students to an organization that is intended to serve them. I want to remind students [that] representatives should be of utmost importance.
Rojine McVea: Having sat in on the majority of Students' Council meetings last year, I understand the authority and significance it has on the student body. I want to be on Students' Council because there are many obstacles science students and our campus face as a whole. These obstacles include unsustainable practices within SUB and CAB cafeterias, unaffordability of class materials, and lack of mental health support.
I truly believe my experience on campus as a sustainability ambassador with SustainSU and my completion of STRIDE would add valuable knowledge making the body more efficient.
Amber Sayed: Over the last year, I have gotten the opportunity to get to know SU through participating in STRIDE, volunteering on multiple executive campaigns, and attending council meetings. I learned just how important the decisions [the SU] makes really are, and I grew to appreciate just how much effort goes into their advocacy. I want to help further all the amazing work I have seen them accomplish by bringing forward issues such as the resource discrepancies between departments within the faculty, the lack of integration of new teaching materials and classes, and the inaccessibility of existing scholarships. I have gotten to know councillors and the executive team this year, and [I] felt this was something I needed to be a part of to make the change I have heard so many science students talk about but never felt like they could accomplish.
2. If elected, how will you stay accountable to your constituents?
Badesha: I plan to stay accountable by being completely transparent with the student body. This includes making sure students are aware of certain motions that are going through and making my stances on these issues clear. By this, I don't mean shouting from the roof-top of SUB saying 'look at what I did.' Rather, I would like to make my thoughts and stances
on issues that are brought to council; providing enough information to students so they can initiate conversation with me so I can actually hear what my constituents have to say and take that into consideration before making a decision.
Gatera: If elected, I will make myself accountable to my constituents by consulting them on issues relevant to the faculty, and the ways they believe certain motions could aid those issues . This two-way dialogue between myself and my constituents would be maintained by continuing to make myself readily available to them [while] remaining both present and active on campus.
Jamaleddine: I aim to stay accountable to my constituents through student knowledge-sharing platforms, such as my councillor's Facebook page, which will be active throughout my term. At the end of every council meeting, constituents can expect highlights of the meeting.
McVea: I think it's vital councillors are effectively representing their constituents. The best way to ensure this is to maintain contact with them. I plan on posting regular updates on my social media pages and keeping my inbox open to the opinions of my constituents. I also think it's important to remain in constant contact with Interdepartmental Science Students' Society (ISSS) to strengthen our ties and maintain a relationship .
Sayed: The main way I want to stay accountable to constituents is by simply staying engaged. Keeping up with students through online bi-weekly updates is my main way to keep a consistent connection with the university community. Furthermore, I want to have a feedback form available online for any science students to ask questions or let me know about something they want brought to council. I will also always be available [for] students to message throughout the year and am willing to meet with anyone who has any concerns about my work on council.
3. How would you respond if there was a difficult motion before Students' Council?
Badesha: From my past experiences, I have learned that the best way to address something is to know what you're talking about, speak up and make sure you're heard. If there is a difficult motion that comes before Students' Council, I will work diligently to gain any background knowledge about the issue and the possible consequences if it is to pass. Once I have done my work and feel comfortable that I have a solid grasp on the issue at hand, I would advocate my position to the rest of council and make sure I am heard. Ultimately I want to do whatever is best for students and I would not be comfortable doing a half-ass job for something that could have profound implications for our student body.
Gatera: I would take my time to listen to and reflect on the thoughts held by everyone in meetings, on top of considering my own. As well, I would make sure to make myself more knowledgeable on different aspects pertinent to this motion, before responding. In short, I believe slower and more thoroughly discussed decision making, especially when dealing with a difficult motion, would result in decisions that better protect students.
Jamaleddine: If there was a difficult motion before Students' Council, I would definitely be discussing it with my fellow science councillors to determine how to vote based on what is in the best interest of our constituents. As it is imperative that students are made aware of decisions made by their student representatives, I will utilize methods such as surveys and town halls where students can provide input.
McVea: I think it's as simple as consistently ensuring that the students' needs are being met. For a difficult motion, I will team up with my fellow councillors and survey our constituents in person and online. I would collect the prominent voices and act according to them in council.
Sayed: It is always important to remember that when something difficult or controversial comes to council, our personal views do not matter. I would make sure to hold engagement sessions in collaboration with other science councillors [so] we are not just a bubble of the opinions of councillors or executives. students are busy and do not have time to constantly be asked what they think, so making sure that initial data we have is accurate and any new data we collect is done efficiently is key to making the right decisions on council. What it really comes down to is [that] we just have to vote for what the students want.
4. Why should students trust you to uphold your commitment as a councillor, if elected?
Badesha: The people who sit on Students' Council are just that, students. To some degree, I understand why people are not able to make it to everything, however students should not have to worry about if their representative is representing them in meetings and on council. Students deserve a councillor who is present and active, someone who is willing to work tirelessly for their best interests. I believe I can provide that. I've volunteered hundreds of hours with the SU, [and] countless hours researching and volunteering with other organizations, while also being in a full course load. Scheduling is something that I've had to be on-top of for the majority of my university career, and I do not plan on deviating from it.
Gatera: I can assure students that throughout my three years at here at U of A, I have seen through every commitment I have made and fulfilled my roles within those commitments. This notably includes my roles as a team facilitator in Week of Welcome and as an events crew volunteer, which have both been year long commitments within the Students Union. This new opportunity, which arguably carries the greatest responsibility of any roles I've had at the university, would be no different and upholding my commitment as a councillor would a top priority..
Jamaleddine: When attending meetings as a guest last year, I noticed there was a lack of attendance by several councillors. This was one of the reasons that prompted me to consider running. I believe that if one is elected as a student representative, they have a duty to carry out the responsibilities that come with that role. This includes attending council consistently and being attentive in the meetings. As a person that finds importance in planning ahead of time, this characteristic will extend to my role as a councillor [by] ensuring that meetings are in my schedule months ahead, and, if an emergency arises, I can plan ahead and schedule a proxy to attend on my behalf.
McVea: I think my commitment is best represented through my actions this past semester. Without being a councillor, I have already sat in on the majority of council meetings as a guest and have successfully presented to council – which resulted in them taking on more sustainable practices. To do so, I had to coordinate meetings with a number of councillors and executives. It was an arduous process, but I didn't mind because of the positive change it would create. I will transfer this drive to continuing to advocate for science students' needs and ensure that I will stand by them and support them tirelessly just as I have done before.
Sayed: Over the course of this last year, I attended a number of council meetings simply as a student wanting to learn more. I took it upon myself to learn about the processes, registered to speak and voice my opinions, and spent time listening and learning. Other councillors have commented on my dedication to council without having been elected. This may seem like a lot of work, but to me, it is worth it because of the importance of advocacy. Rest assured this dedication will only be strengthened if I am elected.
5. How do you think you'll interact with Students' Union executives, and what would you do if you were in conflict with them on an issue?
Badesha: I plan to work closely with the executive team, especially with our newly elected vice-president (academic) Joel Agarwal. Both Joel and I want to increase opportunities in research the SU provides to students and we actually see eye to eye.
If I was to conflict, I would make sure they are aware of the needs and concerns affecting science [students].
Gatera: I believe creating and maintaining a comfortable working relationship and dialogue with the executives will make for a smooth and productive year. I intend to interact positively with the executives over the course the year by remaining sincere and professional. Essentially, I believe conflict can be mitigated if [a] two-way stream of dialogue is respected to assure that the intentions of both parties remain clear.
Jamaleddine: Prior to meetings, I will thoroughly read the agenda and pose any questions I have during question period to the executives. Additionally, if an issue is contentious I will schedule a meeting with the relevant SU executive or attend their office hours.
McVea: I am already familiar with the majority of our executives this year, meeting them through STRIDE or in council recesses. However, I don't believe in personal friendships inhibiting the agenda of the student body, and it is the responsibility of council to keep executives accountable. I would first reach out to science students and department associations to ensure I was representing their views accurately and then meet with the executive alongside other science councillors to persuade the executive to change their stance. If the issue is being voted on, I would ask for support from councillors of other faculties to fail the motion.
Sayed: The executives are meant to be held accountable by the Students' Council. I am more than willing to argue with them if they are not following a course of action best for students. Since the executive team has historically consisted of few science students, our needs can sometimes be undermined in the executive vision. After engaging with students, I'm willing to meet with the executives and discuss changes to any course of action. It is also key to remember that as a councillor, our collective vote has the ultimate say on which actions are taken and which are not; we can reject a decision that executive brings forward.