Throwback: The Beginning of The Gateway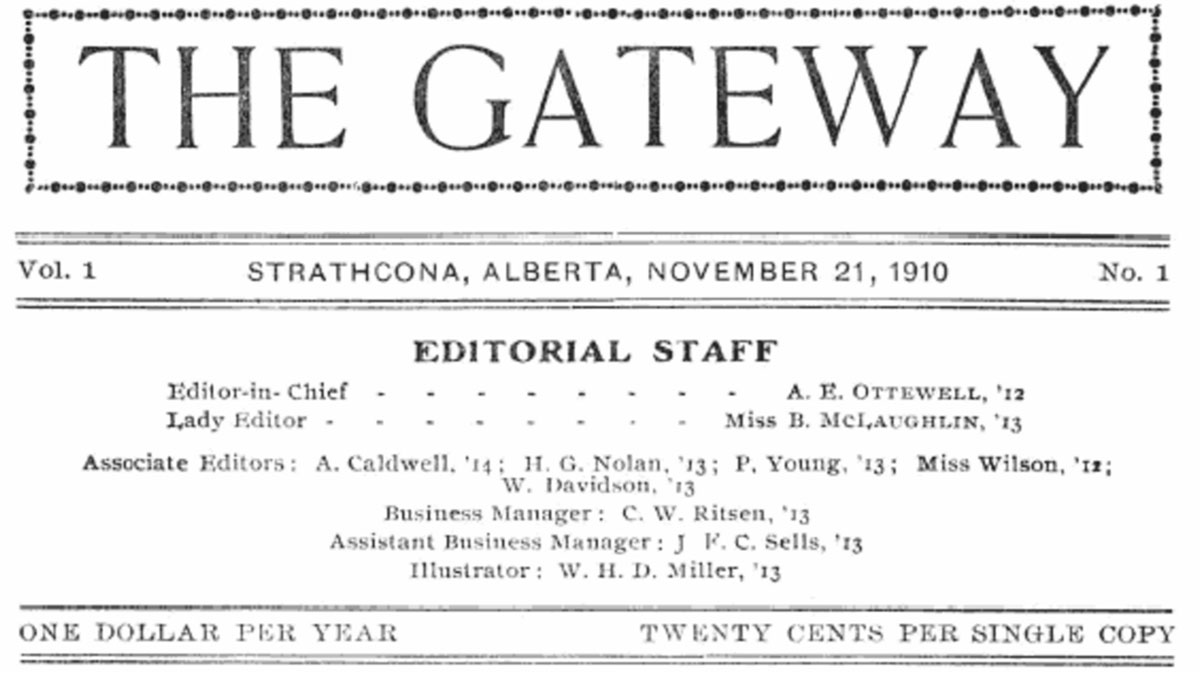 In Throwback, we find interesting, fun, or just plain weird articles from Gateway past. This article is an editorial from the very first issue of The Gateway on November 21, 1910, outlining why the paper was founded. The Gateway will turn 105 years old this Saturday, November 21, 2015.
What We Think
To the number of troubles under which a long-suffering student body labors is to be added yet another with the publication of this, the first issue of "The Gateway." As the name suggests, there is something unique about our position in this institution, the university farthest north in America and farthest West in Canada, standing at the portal of a great undeveloped and practically unknown region, rich in potentialities of future greatness. The University of Alberta may justly be considered as the entrance to a great opportunity. Here too is afforded the sons and daughters of Alberta, many of whom would otherwise be unable to realize it, of securing a training which shall qualify them for worthy citizenship in this splendid new country.
The launching of this enterprise marks a step in advance. Two years ago we began with an enrolment of about forty and to-day well over one hundred are in attendance. Then the production of such a journal as the one now being published was regarded as a remote contingency but the time has come when a medium of some sort which will act as a register of student public opinion has become a necessity. The aim of the management shall be to promote the most cordial relation between faculty and students and in every legitimate way to advance the interests of the University. We believe that this journal will fill a real need and that it will more and more make its influence felt as a factor in student life. That it will at once be all that could be wished is hardly to be expected, but an honest effort will be made toward constant improvement.
During the term in addition to the usual items of purely local interest several contributions on topics of wider significance will be published. The editor wishes it distinctly understood that the "Gateway" assumes no responsibility for personal opinions expressed in contributions of this sort, as of necessity in the treatment of any question the writer must be allowed enough scope to impress upon it the stamp of his own individuality.
To those who have co-operated with us in making this venture a possible reality we take this opportunity at the outset of expressing our appreciation. We heartily commend them to our readers who may be intending purchasers as worthy of their confidence and patronage. We bespeak the continued support of those interested and particularly of the students in the attempt to produce a publication worthy of the institution, the gateway of the Last West and of opportunity.