Design student unveils sculpture influenced by grandpa's memory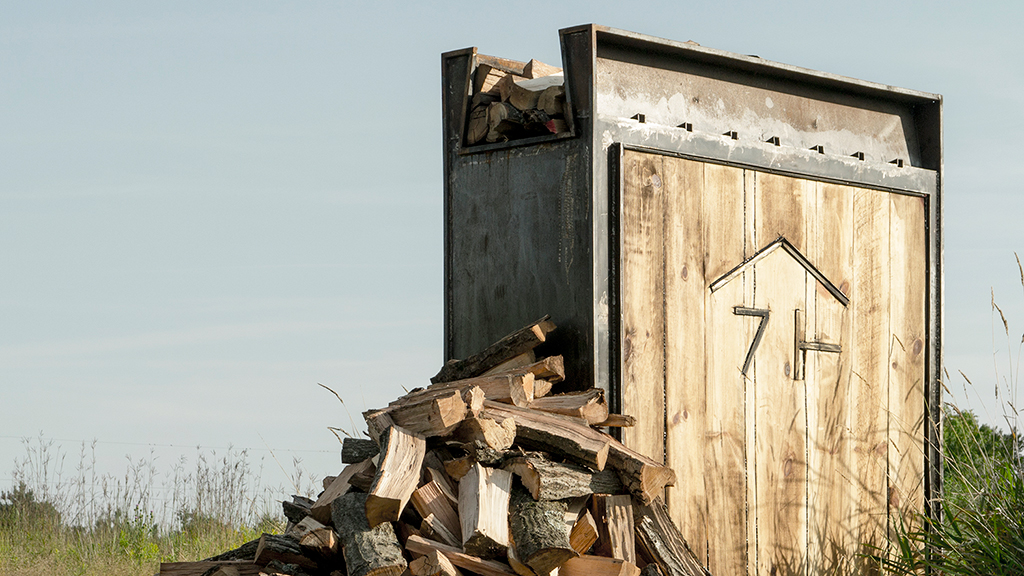 When design student Carson Tarnasky began his program at the University of Alberta, he didn't know the impact the concept of "influence" would have on his artistic process.
Now in his fourth year, Tarnasky said his own art style was influenced by one of his first-year professors, Royden Mills, who specializes in abstract art. But it wasn't until an opportunity in the U.S. came up that Tarnasky took the chance to pay homage to one of his greatest influences — his grandfather.
Tarnasky undertook a two-month summer internship in 2013 at the Franconia Sculpture Park in Minnesota, where he built a sculpture in memory of his grandfather.
The sculpture contains elements symbolic of his grandfather's intrinsic and extrinsic influences on his family, Tarnasky said.
"The interaction with the object is representative of the ways I think of lineage and influence," he said.
He explained that he called the sculpture Influence as a result of both his educational experiences and his memories of his grandfather.
The rustic sculpture took the form of a shed-like structure with wood and steel elements. Tarnasky said he used lumber and split firewood to represent the materials his grandfather used as a carpenter.
After his job as a carpenter, Tarnasky's grandfather moved to Rimbey, Alberta, and started his own cattle ranch — represented on the sculpture by a symbol that was used to brand his cattle, Tarnasky said.
"The symbol is actually a roof shape, the number seven and a letter 'T' under the roof," he said. "It represents the seven Tarnasky's under one roof — which was my dad's family."
The sculpture has a window on one side and a door on the other. The "peep-hole" window looks into what represents the heart of the sculpture. The latter allows you to enter the sculpture, lock yourself in, and contemplate, he said.
"I was trying to communicate, in abstract ways, how (my grandfather) influenced me through the example he set in his life, and the memories I have of him," he said.
While at the 40-acre sculpture park, which hosts over 160 installations, Tarnasky also worked on several other projects where he helped professional artists, in exchange for free accommodation.
While there, Tarnasky also taught children different workshops on making sculptures, and provided tours around the park for people of all ages.
When Tarnasky thought back to when he took his Art Fundamentals class, he said that some of professor Royden Mills's style and experience seeped into his education.
He said his professor had previously worked at the Franconia Sculpture Park as a professional artist, and suggested that Tarnasky consider taking a student internship.
But Tarnasky only realized that it was something he wanted to do in 2013, when it dawned on him that his interest in art and sculpture had grown.
On his last day of the job, with a complete project under his belt, Tarnasky said it was fascinating to see people who came up and interacted with the piece.
"It was rewarding to see the curiosity, especially with kids," he said.
But the challenge of developing an idea from start to finish was the true lesson, Tarnasky said. He added the experience gave him a better understanding of how art works professionally, as opposed to a hobby.
"I knew it was going to be a difficult experience that needed hard work, but I was still surprised by how difficult it actually was," he said.
"It was definitely a learning experience."