Incoming president David Turpin visits School of Public Health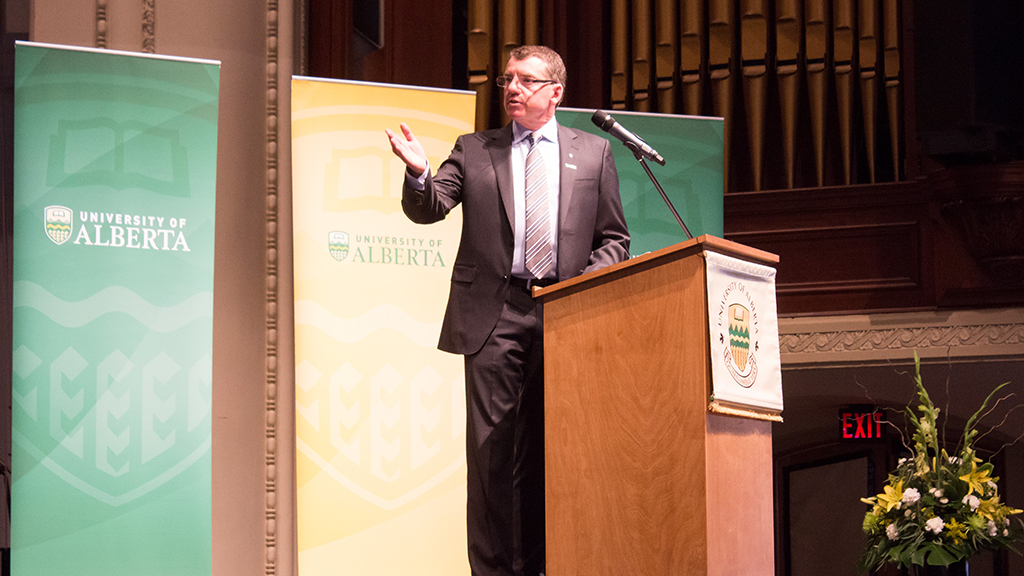 Incoming University of Alberta President and Vice-Chancellor David Turpin held a town hall meeting with faculty, staff and students in the School of Public Health on Feb. 10, where he discussed the school's presence in the community.
The audience raised concerns regarding sustainability, connections between the public sector and businesses with the School of Public Health and linking the school with employers in the community.
"There is a changing nature in Alberta that we can respond to and articulate," Turpin said. "There may be a big move in the advancement of public health given its benefits to society."
Turpin said there are great opportunities for partnering up with various institutions in the community. But in order to do this, the university needs to be able to respond to those as they come up, he added.
Some difficulties that arise in seizing opportunities include funding. Turpin said in some cases, the university has to deal with international competition for the best students — which has to be done within the constraints of the funds available.
He said exploring this area more might lead to developing some "new and interesting" programs.
"In my experience, the best ways to facilitate engagement with the private and the public sector on any issue is to support students on any level," he said.
He also raised the question of what audience members thought of more shared services within the department, noting that the university is highly decentralized, which evoked crowd responses that focused on increasing efficiency.
Turpin said he will be spending time on campus talking to individuals and groups in the coming months. However, he noted that he will do so without making any commitments since he isn't highly involved in governance just yet.
"I want to start to learn about this amazing institution," he said.
"I am very much enjoying diving in and getting to meet people."