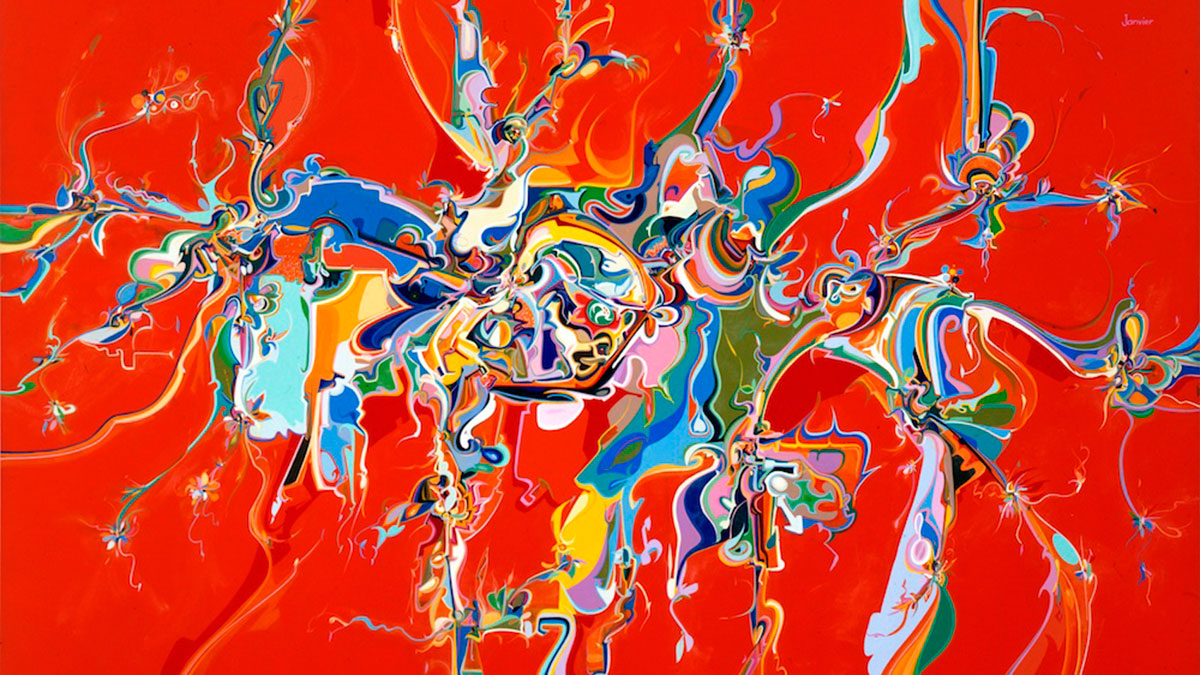 If anyone was to receive the largest artistic grant in Edmonton's history, Alex Janvier was most deserving. He and his work are indelible links between past and present, and the history imbued in his art deserves to be in the public eye.
As announced by the Edmonton Arts Council last week, Janvier was granted $700,000 to create a 1,600-square-foot mosaic in Rogers Arena. Called Tsa tsa ke k'e (Iron Foot Place), the work will be inlaid into the floor of the Winter Garden and feature Janvier's abstract, modernist style. Funding for the project comes from the Percent for Art Program, whereby 1% of all funds for construction projects coming from City of Edmonton coffers must be funnelled into public art projects. Though the City could just as easily have commissioned any creator to install such a piece, their choice of Janvier resonates with the city and province on a deeper level.
Born in 1935 on Le Goff Reserve in the Cold Lake First Nation, Janvier was sent to a residential school near St. Paul. After being encouraged to pursue his artistic interest, Janvier graduated from what is now the Alberta College of Art and design with Honours in 1960. Since then, he has gone on to create works for Expo 67, the Canadian Museum of History, and multiple galleries in Canada and abroad.
As one of the first Aboriginal Canadian artists to go through a formal education, Janvier was instrumental in the preservation of Aboriginal style and artistic history. As a founding member of the now-defunct "Indian Group of Seven," Janvier advocated for the art of his peers to be considered for artistic value first and "indigenous" value second. Going as far as signing work with his Treaty Number, Janvier has worked for years on bringing the struggle of his people into the public eye.
Though the group officially disbanded in 1975, Janvier has continued to work for the recognition of indigenous art in the greater artistic community. From lecturing at the University of Alberta to encouraging young artists to develop their own style, he is a leader in the not only the Indigenous art community, but the Canadian artistic scene as a whole.
Despite his being exhibited in multiple international shows and exhibits, Janvier quotes his work that remains in Canada as career highlights. Morning Star, an immense, four-sectioned mural on the ceiling of the Canadian Museum of History, explodes with Janvier's signature vibrant colours. Representing the role of Indigenous Peoples in history, the 4,500-square-foot work commemorates the turmoil and violence as well as reconciliation process between First Nations and European settlers. His gallery sits on the reservation where he was born, and was built to house his work by noted Aboriginal architect Douglas Cardinal.
Janvier is a living record of the place of First Nations peoples in Alberta, and for that reason, he is the ideal person to install a work of this magnitude. Janvier's work acts as both a link to the past and the people whose homeland upon which the arena sits, as well as looking forward to the future of the area. Most importantly, there aren't many ways to make a picture of a hockey player look tasteful and artistic, and Janvier is certainly successful in that regard.