Philip Muz looks back fondly on The Artery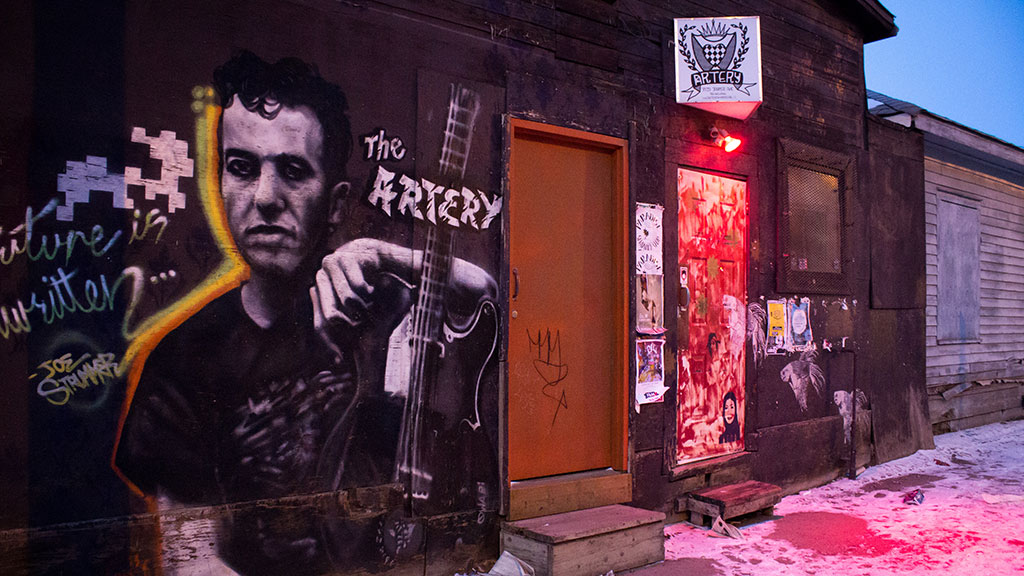 When Philip Muz first experienced The Artery to see his friend's band play, he phoned his Mom to tell her that he had found the venue of his dreams.
Working as an event promoter and bartender at the time, the idea of owning and running a concert space seemed like something that could only happen in the distant future.
"I couldn't believe that something like this exists in the city," Muz says. "A wonderful space with so much opportunity."
The Artery stands on the east end of Jasper Avenue, past the sleazy nightclubs and cougar bars. Behind a small but busy liquor store is the iconic red door that leads into a venue with a rich history of blacksmithing, theatre productions, live music, and general shenanigans.
The Artery and the rest of the arts community suffered a major blow on Feb. 25 when Muz received a phone call from the City of Edmonton that declared the building to be structurally unsound. The building, which hosts the music venue, a dance studio, and is home for four of The Artery's staff members, must be vacated by March 31.
"I was told by my landlord that I would be able to resign the lease," Muz says. "After a series of miscommunication and failed efforts to re-sign, I found out that I have until the end of March to vacate, and that's about it."
Among the outpouring of patrons' favourite memories of the venue on social media, Muz looks back fondly on his history with The Artery.
After first discovering that running The Artery was a viable dream, Muz worked enthusiastically while running various art shows and concerts at the venue until he finally presented his first show on March 24, 2012 as The Artery's official owner.
"It was an art show," Philip gushes. "We wanted rock, so we had Noble Thiefs, the Sorels and J. Eygenraam. We had art by Mike Boldt, Kevin Green and Jared Robinson."
The star-studded lineup was the first of many shows that blurred together during a very hectic year of learning how to run a music venue.
"That first year, I was never at home," Muz recollects, "I was there seven nights a week. I was up until six in the morning working, making connections, talking to people. There were always a minimum of five people staying after every show. That's networking, making it inclusive, getting all of these people from different communities. Bringing people together."
After realizing that he would be able to make a living running The Artery, his focus shifted from just keeping his business afloat to encouraging an atmosphere that was welcoming for art lovers from any walk of life. For the next two years, The Artery flourished as a cultural centre of Edmonton.
"I turned it into a place that was open all the time," Muz describes. "You could depend on there being shows. This was a place for people to meet other people. Everyone's welcome. We do every genre, we mash genres. We're bringing everyone together."
By the time the news was delivered that the venue had 34 days to vacate, there were more than 80 shows lined up between the first of April and February of next year. While many of those shows had to scramble to make new arrangements, several had to cancel their shows entirely.
Despite all of the pandemonium, Muz is staying positive while making big plans for his next venue.
"The new venue is going to be really good," Muz insists. "It feels like a fresh page. With my brother's carpentry skills and with the help of several tradesmen in the Edmonton arts scene, we're going to get this place done up."
Thanks to the positivity of Muz and the rest of The Artery gang, as well as the support from the arts community, the final month of The Artery is being treated more like a celebration than a funeral. With events happening nearly every night until doors close, there are many more chances for people to gain precious memories of one of the most culturally significant venues in Edmonton.
For Philip Muz, the past three years have been the best learning experience that he could have ever asked for, as he looks forward to starting fresh and creating an even better space for the Edmonton arts community to persevere.