Thomas and Asselstine earn gold medals at CIS Wrestling Championship
Maddie Payette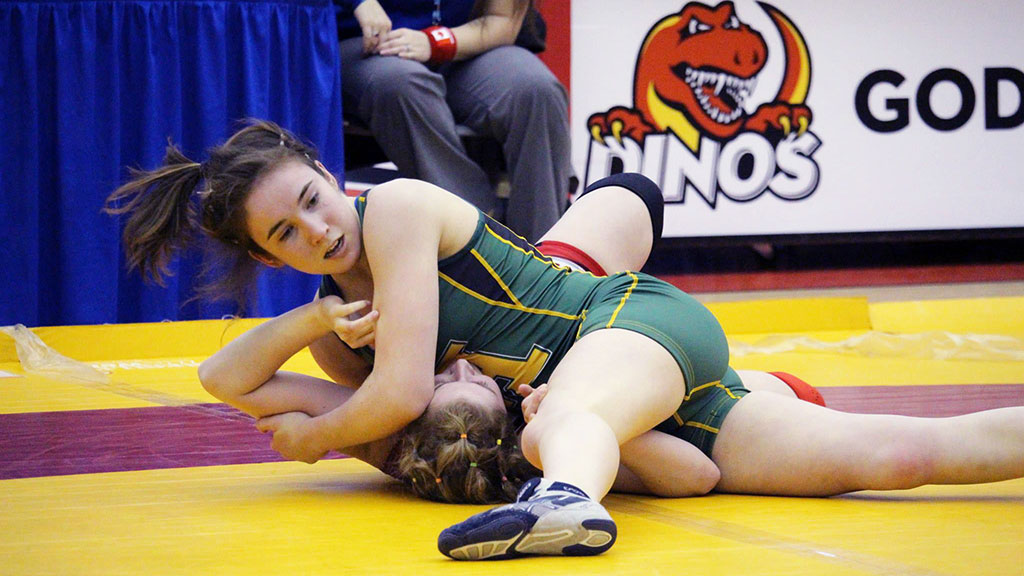 To start off the best day of her wrestling career, fifth-year Pandas wrestler Hayley Thomas took part in her normal daily routine — by grabbing her wrestling boots and going off to coach five to eight year old kids at the Edmonton Wrestling Club.
The CIS finalist spent her morning warming up with the kids and doing what she loves.
"I love working with our elementary kids. It's one of my favourite parts of the week," said Thomas, who wasn't going to let her own CIS tournament get in the way of giving back to her wrestling community.
Before she had the chance to compete herself, Thomas, along with the rest of the University of Alberta Bears and Pandas wrestling squad, spent the majority of the day cheering on the bronze medal matches. This included Marlen Figueroa (82 kilograms), Brandy Perry (67 kilograms) and Drew Belanger (68 kilograms), who were able to fight back from previous losses and capture themselves a third place finish.
After competing in the CIS Championships three years previously and never quite being able to catch a podium finish, Thomas found herself in the 51 kilogram women's gold medal match against competitor Emily Schafer representing Brock University.
Surrounded by her family and friends, Thomas skillfully defeated her opponent with a 8-0 difference by the end of the match. Having won her first CIS championship and last varsity match, this win was emotional and rewarding to say the least.
"Winning that match was the most amazing thing," she said. "I won gold at my university with all my family, friends and team mates watching. That was the best."
When her hand was raised and the realization of her success set in, Thomas ran off into the stands and jumped into her dad's arms, where they celebrated and shed a few tears.
Later that night, at the 2015 CIS Wrestling banquet, she was surprised to receive the Most Outstanding Female Wrestler award.
"That was the icing on top of the best day of my wrestling career," Thomas said.
Mike Asselstine also won his weight class this past weekend, his second consecutive CIS Championship at 61 kg this year and was also awarded the Most Outstanding Male Wrestler award. He expressed gratitude towards his home crowd for giving him the push he needed in his gold medal match.
"Competing at home was unreal, having all my friends and family there watching me means a lot." he said. "Having that little extra emotional boost was nice this time around."
Knowing his opponent, Jason Buckle from McMaster, was going to be a tough match, Asselstine stayed calm and kept to his game plan. This lead Asselstine to a ten point difference (12-2) technical win over Buckle and the second CIS championship of his career.
At the end of CIS championships on Saturday, the Bears finished fourth overall, while the Pandas finished third. Despite the strong showing by the Bears and Pandas, the Brock Badgers wrestling team took home both the men's and women's titles. In doing so, the Badgers became the first team in CIS history to sweep the titles in consecutive years.