Shakespeare given modern edge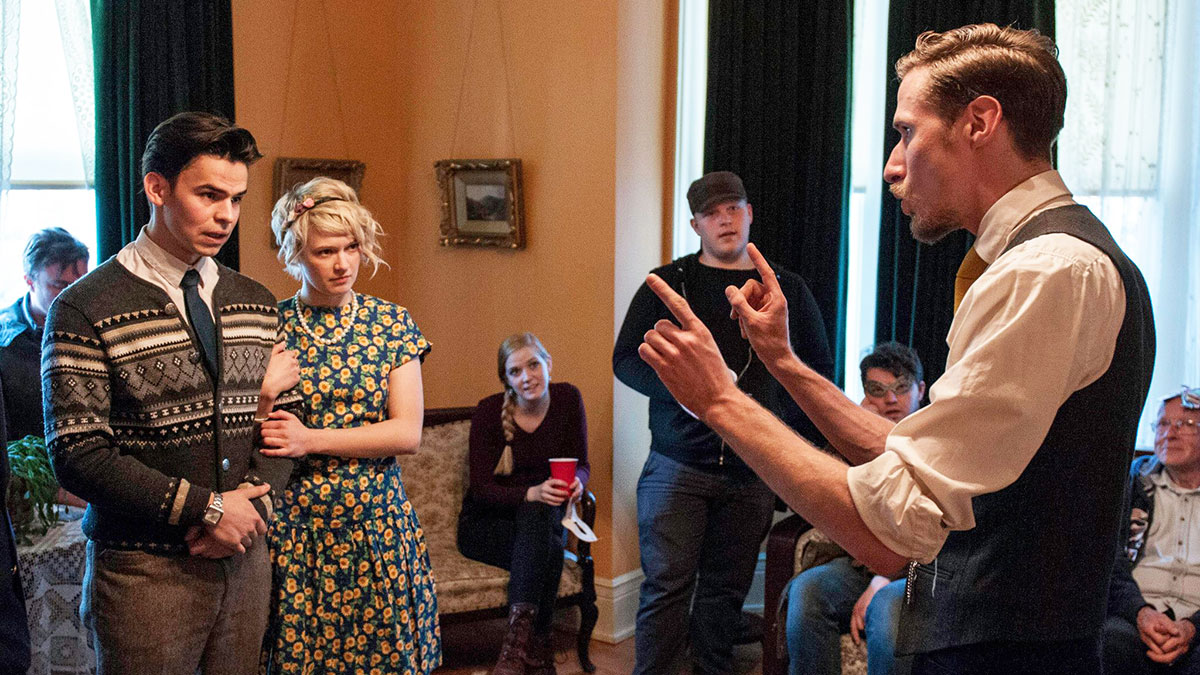 What: Thou Art Here Theatre presents Much Ado About Nothing
When: May 20-31 at 7:30 p.m.
Where: Rutherford House (11153 Saskatchewan Drive)
Starring: Gianna Vacirca and Ben Stevens
Directed by: Andrew Ritchie
Cost: $20
thouartheretheatre.com/
What would a Shakespearean play look like if performed in a modern bar, a WW1 era house, or a playground? Thou Art Here Theatre, a site-sympathetic Shakespearean group, has been answering this question since the company's creation in 2011. With 7 full productions on their resume—some of which, like this months' _Much Ado About Nothing_, have been remounted for a second time—the troupe has carved out a niche in the world of Shakespeare, by bringing classics like _Henry IV_ and _A Midsummer Night's Dream_ into a more contemporary setting. As Artistic Associate Ben Stevens says, it's all about making Shakespeare relatable.
For the Edmonton-based group, formed four years ago by Co-Artistic Directors Neil Kuefler and Andrew Ritchie, unconventional spaces make up the shows' stages, which is what site-sympathetic theatre is all about.
"It's about working with the venue. It's about trying to make a thing that is as much for the venue as it is the venue working for us," says Stevens.
Jumping from floor to floor in the University of Alberta's Fine Arts Buildings or strolling through the basketball courts and park at the Strathcona Centre Community League are just a of couple ways the company has made use of unusual spaces during their performances. The spatially interactive style allows for Shakespeare to come to life in a new way that, as Stevens mentions, is unlike the Shakespeare you learned about in high school.
"What I like about Shakespeare […] is the characters are really relatable, and the things these people are going through are very much human problems, and human joys. And I think what we do is by putting these people right in front of you, in the same room with you, making them speak directly to you, I think it reminds people that life is always kind of the same."
Audience members of Thou Art Here productions get up close and personal with the play's characters. The absence of a fourth wall creates an unusual theatrical dynamic, with the viewers fluctuating back and forth between audience members, plot devices, and even occasionally players themselves.
"The audience is right there in front of you; they're right there in the room with you. They're feet away from you and you can't ignore them. The audience is now a part of the show, and we often like to play with that and in most of our shows there's a moment of audience participation."
Despite Thou Art Here's unconventional take on performance spaces, they try to stay as close as they can to the original script.
"It's all Shakespeare, but sometimes we veer off course a bit," says Stevens, in reference to the pruning of dialogue and characters needed to keep the show at a reasonable length.
Part of producing site-sympathetic works is adapting things like time period, costumes, and location to fit the venue. For this month's _Much Ado About Nothing_, Strathcona and Garneau replace Sicily as the play's setting, and costumes match the house's early 1900's look rather than the traditional tights and ruffled collars you might expect from the Elizabethan era playwright. But all of the changes serve to enliven the story, and reinvent it in a way that modern audiences can relate to.
"I feel like [Thou Art Here's productions are] of now—they're of our time. Shakespeare can be really hard to engage with now a days. People hear Shakespeare and they have an idea of what that means, and what it is and what it's going to be like—and that idea is often your grade 9 English class. It's not very fun."
Thou Art Here offers a new way to experience Shakespeare. And whether you're handed a bible with a few lines in it to read as the Priest, or trooping through Rutherford House cocktail in hand while Beatrice and Benedick dance around the admission of their interest in one another, it's unlikely you'll think of Shakespeare as stuffy or impenetrable by the end.
"Even though it was written 400 years ago, they're still humans like we are now and they still have the same problems and the same petty jealousies and the same everything. I think it makes Shakespeare more exciting and more engageable to a contemporary audience."