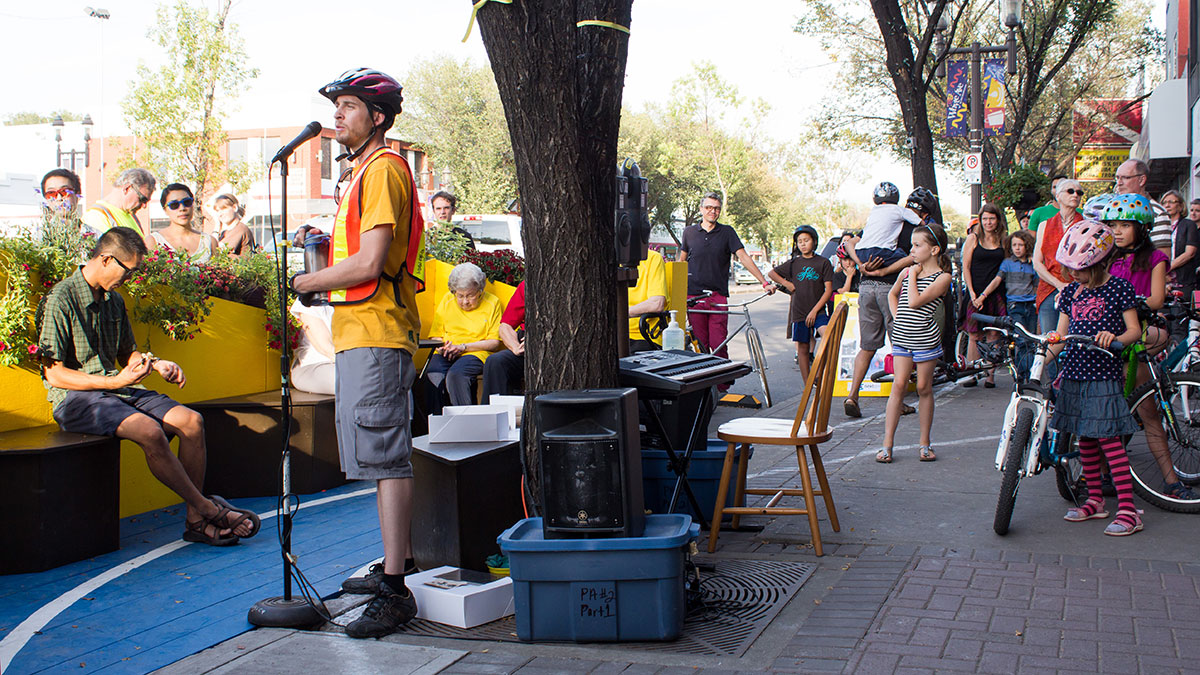 This time of year is always hard for David Falk.
It marks the day when Isaak Kornelsen, his friend and University of Alberta Golden Bear Track & Field teammate, lost control of his bicycle on Aug. 27, 2012 after being struck by the mirror of a parked truck on Whyte Avenue and 101 Street. Kornelsen was then run over by a cement truck, which killed him instantly.
In 2014, a temporary commemorative parklet was set up on Whyte Ave. in memory if Kornelsen's life. This year's installment of the temporary memorial parklet featured the same design on Aug. 28.
Every element in the parklet's design paid homage to Kornelsen in some way. The angular, jagged yellow walls — Kornelsen's favourite colour — represented mountains and a sense of discovery and exploration, which was something Kornelsen exhibited intensely, Behnke said. An array of flowers and vegetation which sprouted over the walls symbolized life overcoming the solemnity of Kornelsen's death.
The blue floor of the parklet was reminiscent of Foote Field, where Kornelsen spent countless hours training and competing as a runner for the Golden Bears track and field team. The combination of the blue floor and the yellow walls also represented Sweden, a country and culture Kornelsen felt passionate about.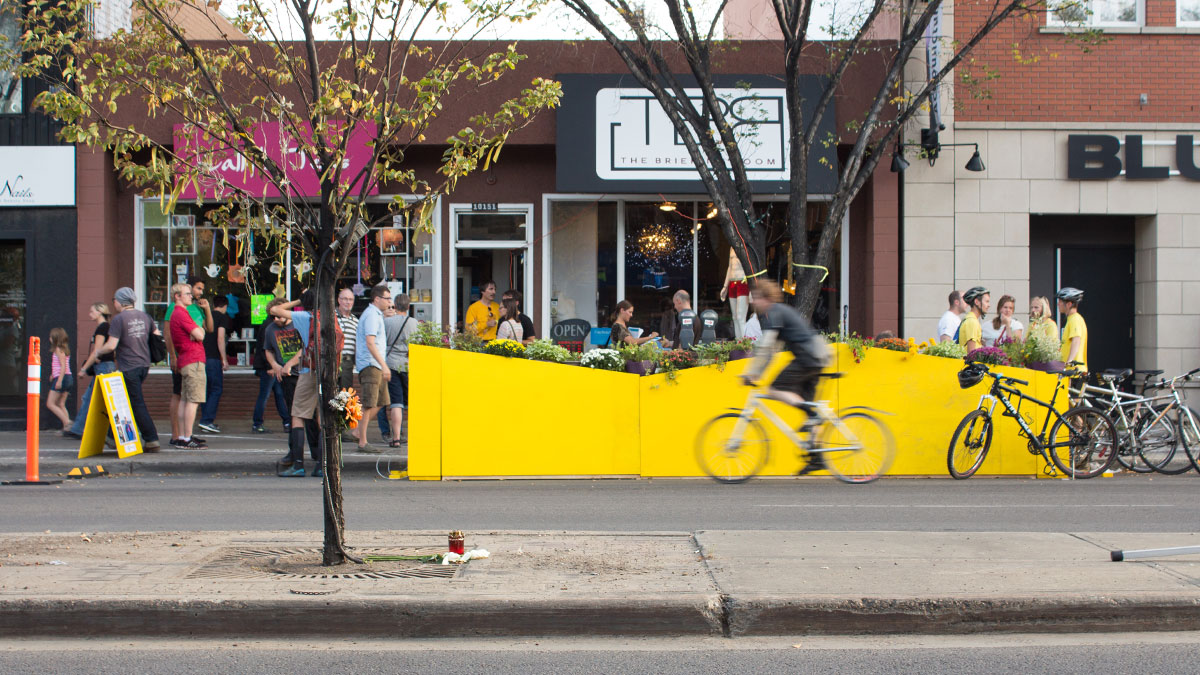 There were two goals set out with the parklet: to pay tribute to Kornelsen's life and to create change on Whyte Ave. and make it safer for pedestrians, drivers and cyclists.
Falk, who cycles to his office in the industrial area of Edmonton everyday, said he has two to three "close calls" on what he calls "one of the worst areas to bike through."
"I try and be careful and try to do what I do and keep safe," Falk said of his daily commute on bicycle. "But humanity is uncertain. (The parklet) really makes people aware. Sometimes you don't even think of other people on the road."
Jonathan Behnke, another friend and varsity teammate of Kornelsen, piloted the project last year after approaching the City of Edmonton with his design and initiative. The first goal of honouring Kornelsen's life is a given, but the second goal, which calls for safety on city streets, saw a larger push this year.
Aidan Rowe, an associate professor in the U of A Department of Art and Design, was present at the parklet memorial with his family in a bicycle convoy. Rowe has been cycling for 30 years, eight of which in Edmonton, and said recent changes in the conversations surrounding road safety have been "huge."
"To see the amount of people biking or interested in biking has been awesome," Rowe said. "It's interesting, exciting to have that robust, adult conversation about roads, who uses them and how safe they are is awesome."
But more actions needs to be taken, says one lobby group in the area.
The Whyte Avenue Reboot Committee called the popular three-kilometer stretch on 82nd Ave. "unacceptably dangerous," and provided Edmonton City Council with data that noted 205 serious injuries and deaths to pedestrians between 96th and 112th street from 2004 to 2014. They are requesting a "design reboot" of Whyte Ave. according to Edmonton's Complete Streets Guidelines. The committee also organized an "awareness walk" on Whyte Ave. alongside the parklet memorial, as well as a minute of silence.
In that minute of silence, Behnke said he reminisced on what he truly wants to come out of the parklet memorial, for Kornelsen's memory and those who share the road on public transporation, walking, driving or cycling.
"I went to (Kornelsen's) memorial service and I really saw how he impacted his friends, family and the community, and how much of a hole was left here without him," Behnke said. "Really, to continue on with the story is to make the street safer.
"Isaak may not be here anymore, but we can do something to make his death mean something."