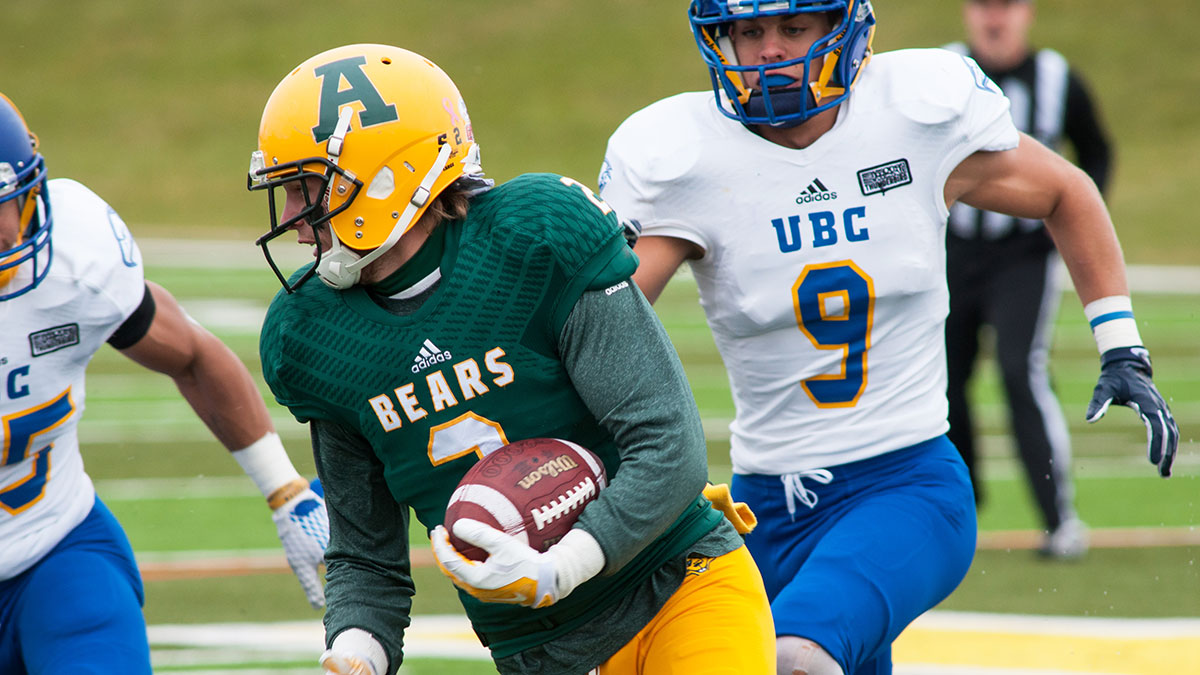 It was a cold day at Foote Field on Saturday, and the Golden Bears football team had a start that matched the weather, allowing 21 consecutive points to start the game, en route to their third straight loss.
The Bears looked tight to start the game to say the least, amassing only 63 yards of total offence in the first quarter, while surrendering 18 points.
The Thunderbirds built a 5-0 lead early in the first quarter on a safety and a field goal, while holding the Bears at bay. Their first big score came in the form of an Alex Morrison 20-yard touchdown reception. Running back Brandon Deschampes followed that up with a five-yard touchdown run to stretch the lead to 18-0.
Head coach Chris Morris spoke about his team's slow start, and how it ultimately cost them the game.
"I was shocked at how we came out," Morris said. "We were flat at the beginning, we really didn't give ourselves a chance to play today."
Many of the Bears defensive woes were due to Thunderbirds quarterback Michael O'Connor, who seemed to be able to pick apart his opponent's defence at will, throwing for 203 yards and two touchdowns while completing 21 of 32 passes.
O'Connor, who transferred from Penn State after red shirting in his first year, showed the pedigree that had him ranked as the sixth best quarterback of ESPN's entire 2014 recruiting class. Morris spoke about O'Connor's success against his defence.
"You can't leave him unaccounted for, he's a very good player," Morris said. "He did a lot of things to us today, he threw the ball well, he ran the ball well, we've got to look at our defensive schemes to see if there's a way we can contain him a little bit better the next time we play them."
The Bears looked to gain a little momentum in the second quarter, but rookie quarterback Ben Kopczynski left the game with an injury after falling victim to a horse collar tackle from a UBC defender. His status remains up in the air for the Bears Oct. 17 rematch against the Thunderbirds.
Fellow rookie Brad Baker stepped in and promptly shoveled a pass to running back Ed Ilnicki, who scampered six yards for a touchdown, getting the Bears on the board and making the score 21-7.
Baker said he was excited to get some game time. "On my behalf, it was exciting to get in (the game)," Baker said. "I've been waiting for an opportunity to get into games, and I found an opportunity and took it."
The Bears couldn't build off that however, as the Thunderbirds responded with two field goals before Baker scored on a quarterback sneak to make the score 27-14. O'Conner struck back with a touchdown pass of his own to Ben Cummings to push their lead to 34-14 heading into the fourth quarter.
Baker passed for his second touchdown of the day in the fourth, a 15-yarder to Jimmy Ralph, but by then the game was well in UBC's hands. The final ended up being 39-21 in the Thunderbirds' favour.
Kopczynski was 10 of 15 for 109 yards before his injury, while Baker completed 20 of 33 for 207 yards with two touchdowns in the air and one on the ground. Running back Ed Ilnicki turned in another solid performance, rushing for 92 yards on 18 attempts.
On UBC's side of the ball, O'Conner spread the ball around to his receiving core, with Will Watson leading the receiving attack with a modest 54 yards on five receptions, but did most of him damage on the ground, racking up 72 yards on just two carries. Running back Brandon Deschampes rolled for 88 yards on 16 carries.
Morris said the Bears would have to make some adjustments if they hoped to beat the Thunderbirds in the back end of their home-and-home series.
"We need to get a little bit more of a pass rush," Morris said. "If we let (O'Connor) sit back all day long and throw the ball it becomes very difficult."
Morris also said his offence would need to be better. "We need to start moving the ball offensively, it's been a game and a half where we haven't done much," Morris said. "We can make excuses for guys we've got hurt, but that doesn't change anything, and we need to be more productive on the offensive side of the ball."
With the loss, the Bears fall out of a four-way tie for second in Canada West, and into a tie for third with the Saskatchewan Huskies. The Thunderbirds meanwhile, move into a tie for second place with the Manitoba Bisons.
All teams will be off for the thanksgiving weekend, and the Bears will be back at it against the very same Thunderbirds, this time at UBC, on Saturday, Oct. 17.