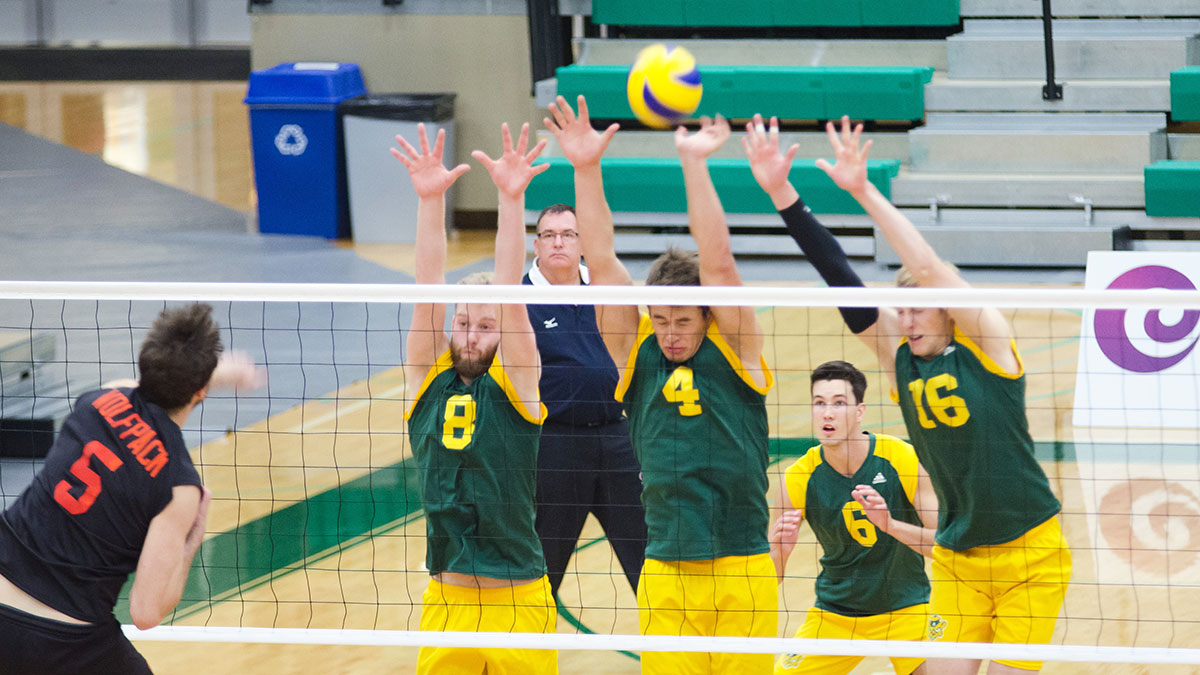 As their 2014-15 CIS Championship Banner was unveiled, the Bears Volleyball team were looking to start another great season at last weekend's home opener series.
Winning Friday and Saturday, the volley Bears confirmed their No. 2 CIS ranking with two dominant victories over a talented Wolfpack squad.
On Friday, a back and forth battle saw the offensive combination of TRU's Brad Gunter and Daniel Eikeland Rod combine for 39 kills. Though no set was decided by more than four points, the Bears maintained a monumental .407 team attack percentage. This, in combination with TRU's 4.0 team blocks to the Bears' 11.0, sealed the victory for the U of A.
Fourth-year outside hitter Ryan Nickifor led the team with 21 kills, as well as a .500 hitting percentage. Setter Brett Walsh had another great performance, as his 52 assists tied him with Bears great and now Assistant Coach Brock Davidiuk for most all time in a Bears uniform.
"All in all, I think it was a good first step," Head Coach Terry Danyluk said. "Some of the guys who haven't played many matches got a chance to really get into a rhythym."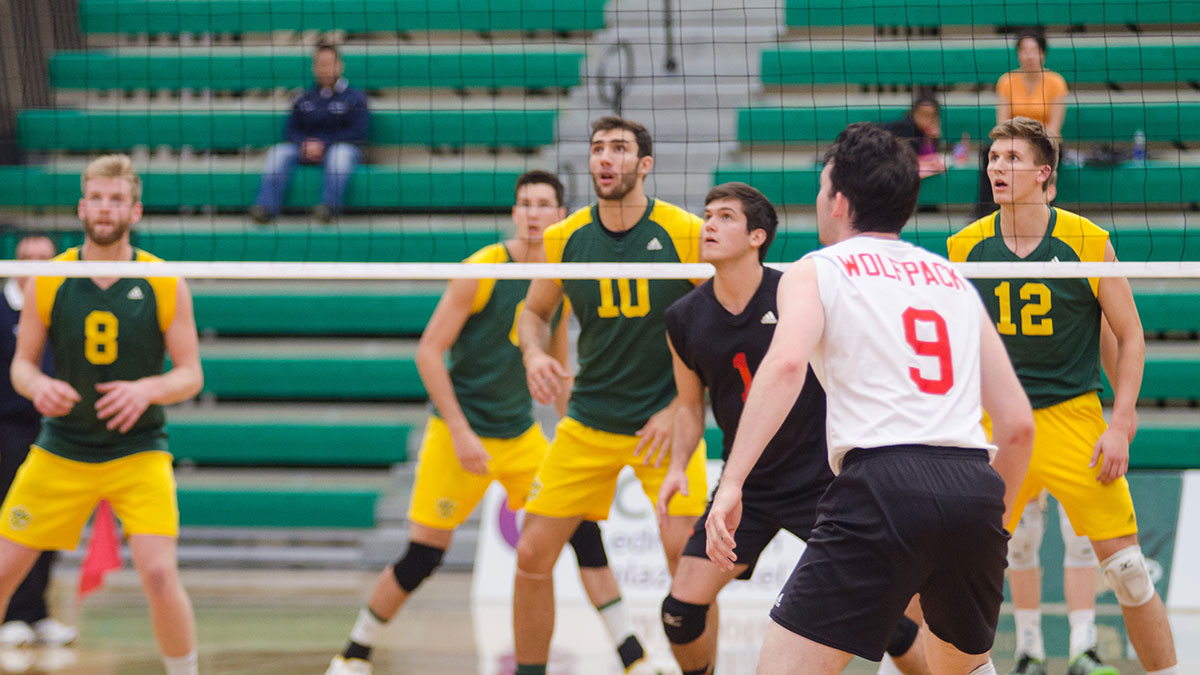 Saturday saw the Bears keep their momentum rolling, with a 3-0 win. Holding Gunter, the former CIS Player of the Year, to only 13 kills and Eikeland Rod to only four. That, in addition to outhitting the Wolfpack to the tune of .253 to .316, ensured a straight-sets victory.
"A guy like Gunter demands more attention, that's pretty clear," Walsh said. "But they have a bunch of good players that you have to worry about too. At the core of it, you have to shut everyone down."
Walsh ran up 38 more assists, putting him into sole possession of first all time in Golden Bears volleyball. When asked about the record, Walsh was quick to credit his experience for bringing him to this point.
"The amount of matches that I've had the opportunity to play in here has been nothing but beneficial," Walsh said. "It's really an honour to have your name up there with all the great U of A setters from the past."
With the loss of Right Side Kevin Proudfoot, Nickifor, as well as fifth year outside Ryley Barnes will be expected to shoulder much of the offensive load for the Bears. Also expect sophomore outside Alex McMullin to see far more court time in Proudfoot's absence. For Danyluk, his players have adapted to the new roster very well.
"I think all good teams need depth," Danyluk said, "it gives your guys a chance to be really pushed in practice. It also makes players ready when they get their shot."
With a strong recruiting class including middle Mason Fairless, libero Brandon Zukowski, and left side Carter McIntyre, Danyluk said he hopes his program will be strong for years to come.
"You can see these guys have a really good head for the game," Danyluk said. "They all have the right attitude, and we really like all of these new guys."
The Bears will get a bye next week, and will have two weeks to prepare for their Oct. 30 and 31 matches on the road against Mount Royal.