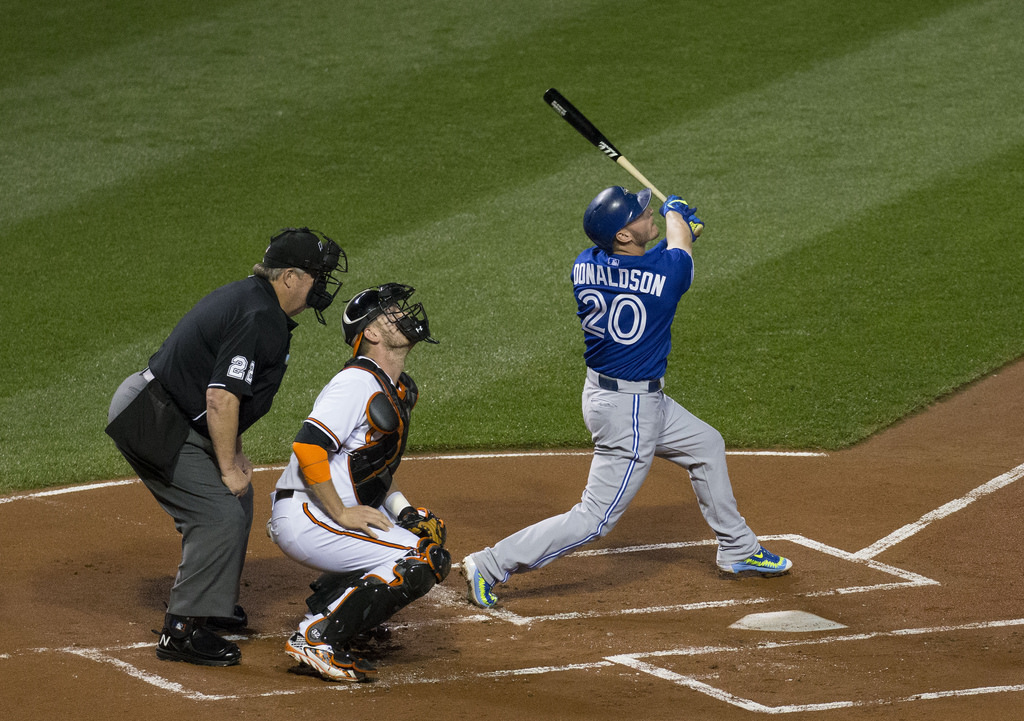 Okay, so let's say that Major League Baseball got in touch with The Gateway and decided that we had a vote in this year's individual player awards. Here's who we would cast out ballots for and why:
NL MVP
Zach's Ballot
3. Giancarlo Stanton: The Marlins were terrible this year, there's no disputing that. I don't think they would've even come close to the playoffs if Stanton hadn't missed half the season, but his impact on the team is indisputable. In 74 games played, he still managed to lead his team in home runs, and was still second in RBIs. He ended up hitting 27 home runs while driving in 67 runs in only 74 games, so he would've had a massive season if he had been healthy. The fact that he still managed to put up the most productive offensive season on his team despite missing more than half the season speaks enough to his value. Maybe the Marlins can reward him for his hard work by actually making the playoffs sometime in the next decade.
2. A.J. Pollock: Pollock's 2015 season bears more than a passing resemblance to Andrew McCutchen's 2013 MVP season, so there's at least a little bit of precedence here. Pollock smacked 20 home runs, drove in 76 runs, scored 111 runs, and stole 39 bases. He did it all for a team that didn't really play relevant baseball the entire season in the Arizona Diamondbacks. His teammate Paul Goldschmidt actually did get nominated for the MVP award this year, and I'd bet that more often than not, he got the chance to drive in extra runs because Pollock got on base so often. Pollock also plays a premium position in centre field, and won his first career gold glove this year. If he continues to produce at this level, his team could be playing meaningful baseball sooner than later. Too bad he can't pitch as well.
1. Bryce Harper: OK, so maybe this one is a little obvious, but then again, you'd be crazy not to acknowledge Harper's downright historic season at the plate. See his .460 on base percentage, .330 batting average, and 9.5 wins above replacement. On a team that was fraught with turmoil over the course of the season, Harper was one of the only players that could be counted on to produce regularly. No amount of Jonathan Papelbon assaults can take away from that.
Cam's Ballot
3. Joey Votto: I have a hard time voting for players on teams as bad as the Cincinnati Reds were, but this is the Most Valuable Player Award, not the Best Player on the Best Team Award. Anyways, Joey Votto was downright incredible this season for the Reds. He was worth 7.4 wins above replacement thanks to slashing a .314 batting average and producing 172 weighted runs. He also managed a 20.6 per cent base on balls rate, meaning he took a walk every fifth time he came to the plate.The Reds only won 64 games this season, and I imagine if they didn't have Votto that number would have been cut in half.
2. Paul Goldschmidt: Same story as Votto, but not quite as lonely. Goldschmidt was a beacon of light on an otherwise frustrating Arizona Diamondbacks squad, but at least he had some other players around him that made showing up to the ballpark every afternoon worthwhile. Goldschmidt was equal to Votto in terms of wins above replacement, but added more with his glove and his baselining, making him a stronger all around player. Honestly, all of this points to the fact Votto is probably a better candidate for the MVP than Goldschmidt because if you take Votto away from the Reds would be as detrimental to the team as forcing them to hold their bats upside down. Whatever, we all know who the winner is going to be anyway so it's moot.
1. Bryce Harper: Blah blah blah Bryce Harper had a historical season, he was worth 9.5 wins, he produced nearly 200 weighted runs, and his isolated power rating was higher than nearly everybody in baseball's batting average, so what are we even talking about here? Harper wins the National league MVP, and it isn't close. I don't care how big of a tire fire the Nationals were, it certainly wasn't his fault, and their descent into madness would have been a lot more dramatic without him.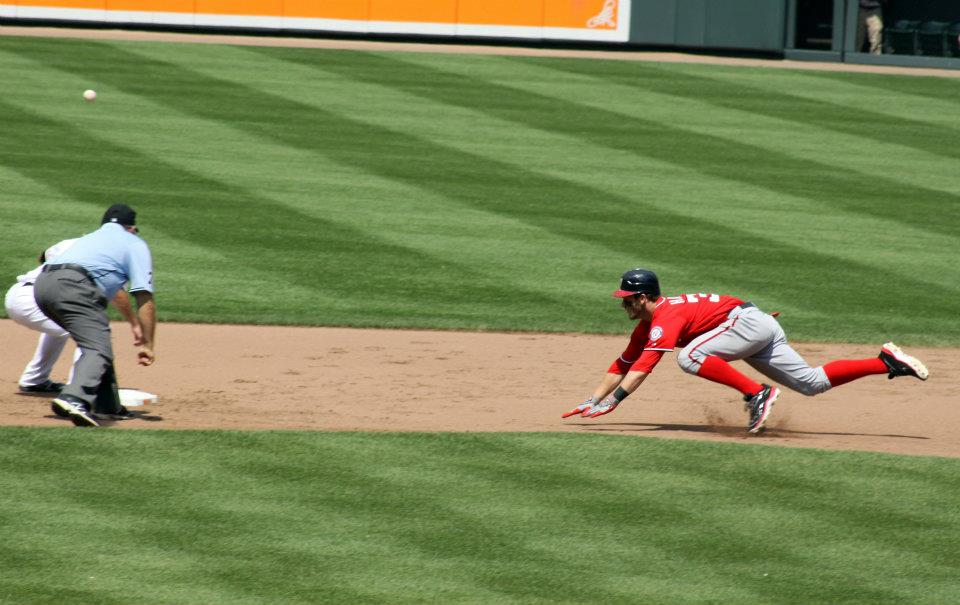 AL MVP
Zach's Ballot
3. Jose Altuve: I don't think Jose Altuve is the best player on the Astros, but he did perform a valuable service for the team this year that might've garnered him MVP consideration if we resided in a bizarre parallel universe. Consider this, Altuve hit .313 this year, by far the highest mark on his team. The next highest average on the team from a player who played at least 100 games was .279, and there were a staggering six players on the team who played at least 100 games and batted below .250. Basically, Altuve deserves consideration for single handedly ensuring that Houston's team batting average wasn't .240. He also hit 15 home runs and stole 38 bases, so he's a pretty good player as well.
2. Adrian Beltre: This selection is even more left field (pun fully intended), but Beltre also deserves some recognition for still putting up some excellent numbers despite looking like he injures himself on every single swing and fielding play. Every time I saw him swing the bat I cringed, because it seemed like he was just one false move from tearing every single ligament in his legs and being wheelchair bound for the rest of his life. The fact that he still finished 11th in the league in wins above replacement, ahead of players like Jose Bautista and Adam Jones just further emphasizes how much of a physical wonder he is. I expect him to be playing baseball well into his 50's, while still going down to a knee on every third swing and miss.
1. Manny Machado: Baseball is difficult. It's a struggle playing for seven straight months with only a handful of time off, which is why we thought so much of Cal Ripken's consecutive games streak. Sooner or later, you're not going to be able to play every day. Nobody played in all 162 games this season, except for Orioles third baseman Manny Machado. And it wasn't a pedestrian 162 games either, Machado finished third in the American League with a 6.8 wins above replacement, while also smacking 35 home runs and stealing 20 bases for an Orioles team that wasn't playing for much during the last two weeks of the season. He probably could have sat out a game or two when they were officially eliminated, but he didn't, he played them all. Hats off to you, Manny.
Cam's Ballot
3. Kevin Kiermaier: This award is supposed to go to somebody who provided the most amount of value to the team, right? Well, Kevin Kiermaier made the revolving door of mediocre Devil Ray pitchers better with his otherworld defence in centre field this season, so it's fair to say that nobody else had that amount of value. Kiermaier was worth 5.5 wins above replacement completely on his glove, as he managed to save 42 runs defensively. Nobody else came close to that, as the next best guy had 25. Sure, his bat didn't add much to the lineup, but when you're the Tampa Bay Rays and most of your pitchers have fielding independent pitching numbers that are vastly higher than their actual earned run averages, you can thank your legendary centre fielder. 
2. Mike Trout: Whatever, Mike Trout. At the rate he's going he'll be enshrined in Cooperstown before he turns 25 because his numbers are on par with the likes of Babe Ruth and Ty Cobb. He was worth 9.0 wins above replacement this year because he's got an elite glove and bat combination and he's essentially what Ken Griffey Jr. would look like if he was a white guy who grew up on a farm. When it's all said and done, Mike Trout will have 10 MVP awards to his name, so let's spread the love around a little before we give him his second (sorry Miggy, should be third) in a row.
1. Josh Donaldson: Fuck yeah. Josh Donaldson was the spark the Toronto Blue Jays needed to end their 22-year playoff hiatus, with his consistent workmanlike effort and knack for hitting home runs that gave the team the lead in late game, high pressure situations. Unfortunately, he ran out of magic by the time the sixth game of the American League Championship Series rolled around, but if it weren't for him, the Jays wouldn't have been there anyway. He was worth 8.7 wins thanks to a combination of a power bat, a high average, and good defence. His season will go down as one of the best ever in Jays history and an MVP trophy would be a perfect accolade to wrap up what was a beautiful performance.