Puck Bears' captain Reddick gains valuable experience from exhibition with Canadian World Junior hopefuls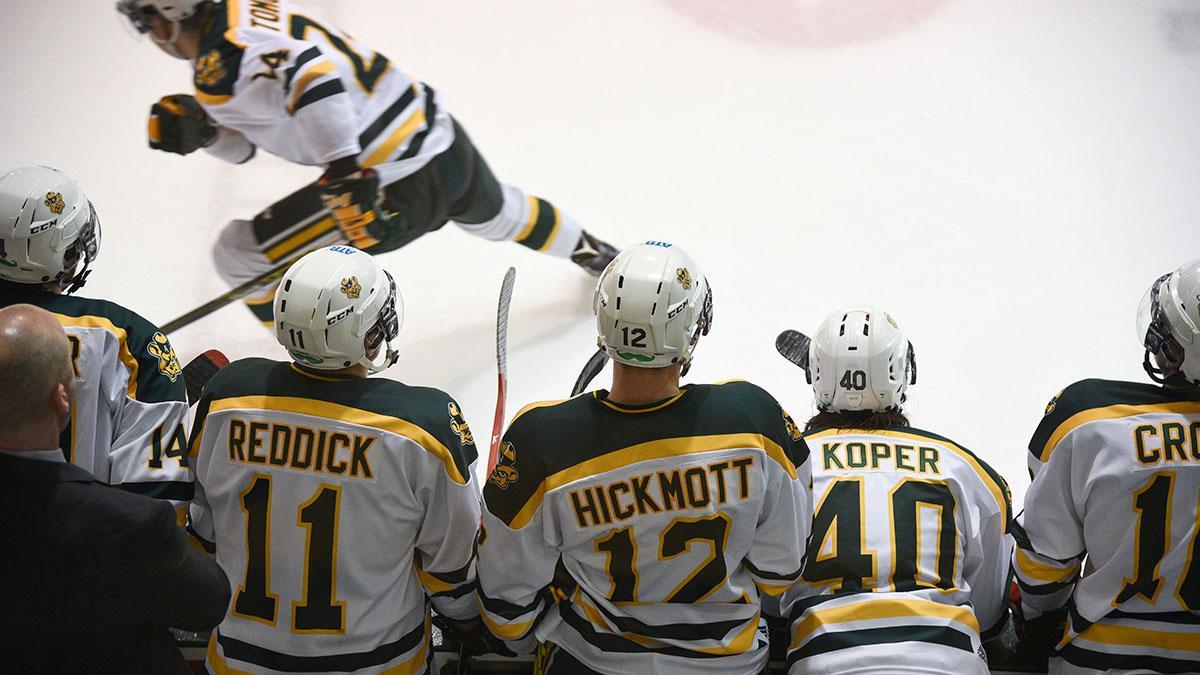 Golden Bears hockey captain Kruise Reddick wore a different jersey this past weekend, but it still had the "C" on it.
Reddick was one of 23 players chosen for the CIS all-star team that took on the Canada National Junior prospects this past weekend in an exhibition series in Toronto.
"I felt lucky to be even named on the team, but to be named captain was just the cherry on top," Reddick said.
"It was a huge honour and I was very excited for it."
CIS all-stars head coach Shawn Camp believed that Reddick was the ideal choice for the captaincy.
"Kruise was an easy choice as our captain because he's an excellent player and an outstanding person who makes everyone around him better," Camp said.
"We were lucky have him with us as he competed so hard this past weekend."
In terms of his leadership style, Reddick kept things simple.
"I didn't have to do too much. When you bring a team together like this, everyone's a leader in their own way," he said.
"I just tried to be respectful off the ice to everyone, and work as hard as I could on the ice, and hopefully lead by a good example."
The games took place Friday and Saturday, with the all-stars winning the first game 5-4 in a shootout, but getting shut out in the second game 5-0.
Eric Locke and Alex Saulnier did the majority of the damage on offence for the CIS, both finishing with three points. Defenceman Spencer Abraham scored the only goal of the shootout to seal the win.
It was a different story on Saturday, as the Juniors were able to ride a four goal second period to a convincing victory. New York Islanders draft pick Anthony Beauvillier tallied a hat trick in the victory, while Samuel Montembeault stopped all 33 shots he faced for the shutout.
Despite the loss on Saturday, Reddick said he had a very positive experience over the weekend.
"We were treated first class by both the CIS and Hockey Canada, so it was really a good experience," he said.
"I think we represented the CIS well, and gave the juniors two really good games."
Canada West was well represented on the weekend, with six players on the squad, including Reddick's Golden Bears teammate Jordan Rowley. It's an interesting dynamic for the players, as rivals became teammates over the course of the weekend, but it was an experience that Reddick enjoyed.
"It's nice to put away the rivalries for a bit and just get to know each other as friends," he said.
"Just the chance to hear what goes on at other schools, and get to hear their stories, it was just a great experience."
The Canadian Juniors will start their pre-tournament schedule against Belarus this Saturday, with the tournament starting on Boxing Day. Meanwhile, Reddick, Rowley and the rest of the Golden Bears will return to conference play on Jan 8, when they take on the Manitoba Bisons.