Klondykes explores gender issues during the Yukon Gold Rush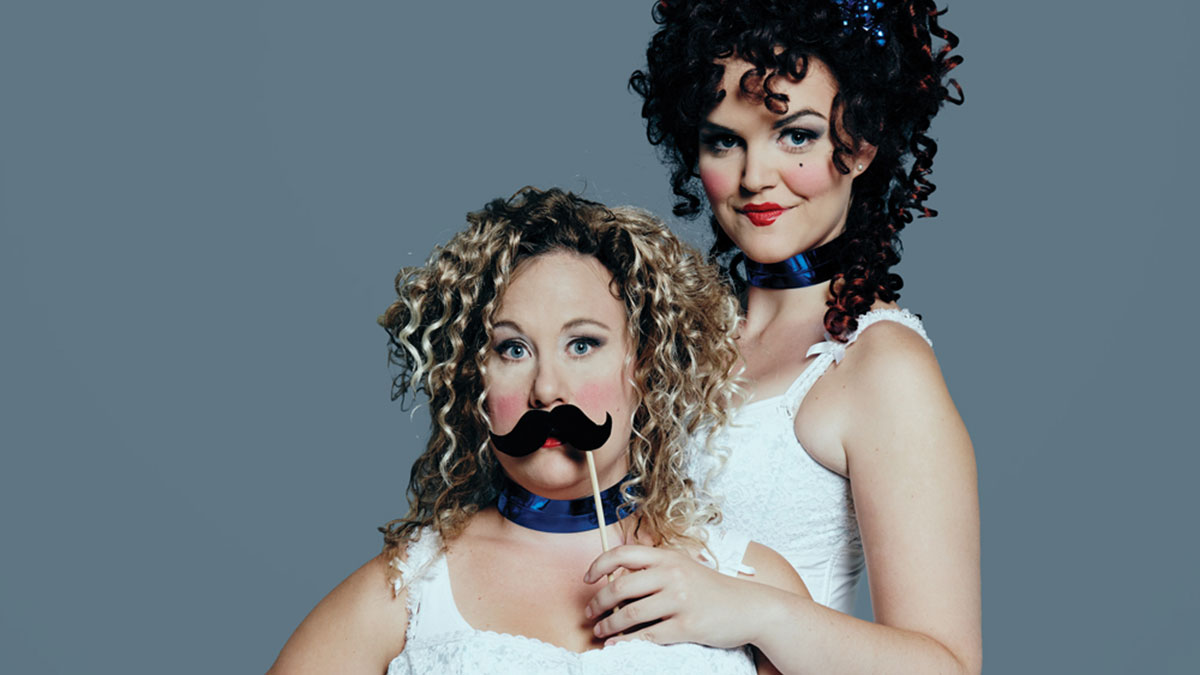 Klondykes
Tuesday to Saturday at 8 p.m.  Sunday Matinees at 2 p.m. Feb. 4 to 21
The Roxy on Gateway, 8529 Gateway Blvd
Trevor Schmidt and Darrin Hagen
Rebecca Ann Merkley, Amanda Neufeld & Mackenzie Reurink with Nick Samoil
$24 – $30 available online (theatrenetwork.ca)
From seasoned Edmonton Theater professionals Trevor Schmidt and Darrin Hagen comes a musical that blurs the line of gender, and celebrates diversity, self-exploration and applauds entrepreneurial spirit. Klondykes, presented by Guys in Disguise is a poignant, yet witty musical about two women who wish to enter the Yukon Territory to try their luck in the Klondike Gold Rush. However, there is a catch: single women are not allowed into the Yukon — they have to be accompanied by a man.
This does not stop the two spirited, persistant characters of Hattie and Lucy. Hattie decides to reject her femininity and present as a man so the two characters can reap the benefits of the Klondike Gold Rush.
A source of inspiration for Hagen and Schmidt was the story of Klondike Kate — the fearless woman from Washington that disguised herself as a man to enter the Yukon and later become famous as a vaudeville star and dancer during the Klondike Gold Rush.
"I love this idea of women doing drag to get into a man's world," says Hagen.
Schmidt elaborates on the multitudes of stories that arose of women bending the rules in order to survive in the Yukon.
"There were very strong willed, entrepreneurial women in the Yukon that thrived," Schmidt explains.
During writing and conceptualizing of Klondykes two years ago, Schmidt and Hagen took a trip to the Yukon to conduct research and stimulate their inspiration and ideas for writing.
"The Chilkoot pass from Skegway to Whitehorse is one of the deadliest parts of that journey. We got to see the environment that the people in the Gold Rush would have had to travel through, which is staggeringly beautiful yet so rugged. It's fascinating," says Hagen.
Fast forward to fall of 2015, Hagen and Schmidt solidify their deal and it was a long winter of writing and finalizing for the opening, which is happening Febuary 2-21 2016 at the Roxy Theater. Working with the cast has been incredibly rewarding for both men, as they see the play coming together, in a way that has been different, yet organic for the two writers.
"I feel like the play is a lot about self-discovery. One of the characters, Hattie, gets thrown out of her home for behaving in a way that is not traditionally female," Schmidt says. "She finds a great freedom in male clothing that is a lack of the restriction that she felt as a woman."
Schmidt elaborates that concluding the play, Hattie finds empowerment in another characters reassurance that she has made it into the Yukon, and she does not have to pretend any longer — she can be whatever kind of woman she wants to be. She can be a woman that loves other woman, and a woman that is masculine.
"Hattie no longer has to be a man to have the freedom that she discovered," Schmidt muses. "I hope that this production really speaks to the LGBTQ community in Edmonton, because anywhere on the spectrum, you can find your place. It's self- acceptance, as opposed to seeking the acceptance of others."
Schmidt and Hagen are excited for the play to begin. They feel that is exciting to do something that is out of their comfort zone. "It is feminist, it is inclusive and it is a wholly Canadian story."