MFA alumnus brings math department under the lights, on stage
Mitch Sorensen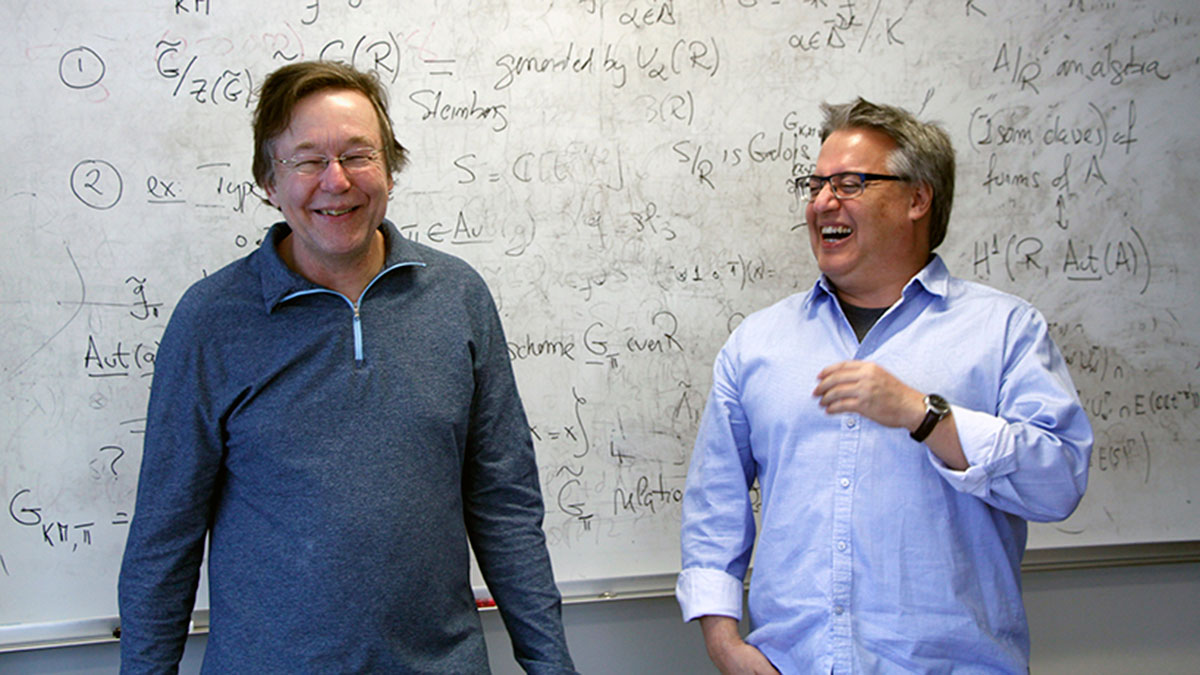 Those who study string theory and complex calculus may not typically inspire stage productions, but that's exactly what Kenneth T. Williams was looking for.
Now an alumnus, Williams was the first Aboriginal person to receive his MFA in Playwriting from the University of Alberta. Now, he is part of the "This is YEG: New Plays for a Changing City" project, which will see eight playwrights embedded in a variety of communities across the city, and attempt to portray those communities on stage.
Performances will take place in April, featuring settings including the University of Alberta's Department of Mathematical and Statistical Sciences, the Valley Zoo and the Glenrose Rehab facility. All eight plays will run from April 21 to 26 at L'UniThéâtre as part of the Workshop West Playwrights' Theatre
"The big thing is that it would be a challenge," Williams said of writing the play. "If I don't know something, I want to go find out about it, and this was a great opportunity to do that."
That curiosity about the cutting edge of mathematical innovation led Williams to the math department at the U of A, where he had the opportunity to meet many of the professors.
Williams wanted to get to know the department's mathematicians on an informal basis, so he met them over dinner or drinks. One of those mathematicians was Associate Professor Vincent Bouchard, who specializes in string theory and mathematical physics.
"My initial thought was, 'Why does (Williams) want to be in the Math department?'" Bouchard said. "My understanding was that he didn't want to sit in classes, he was more interested in social interaction."
That interaction, for Bouchard, is something a lot of outside observers might be unaware of. Math is neither a stereotypical solitary pursuit nor highly competitive, Bouchard said.
"If you look at movies about mathematics, it's always a guy who is a little crazy doing it without anyone," Bouchard said. "That's not the way we work at all, it's an extremely collaborative process."
Bouchard said that a large part of that disconnect between the public's view of mathematics and what really goes on is attributable to the field itself.
"We're not communicating very well with the public. If you were to ask someone on the street what we do, they'd have no idea" Bouchard said. "I hope with these kinds of initiatives that people can get a feeling for our work."
One of the first steps in bridging the divide for Bouchard is addressing the "language barrier" surrounding mathematics.
"People know what a painting is or what music sounds like," Bouchard said. "People don't know mathematics and the language around it as well."
Williams said the process of writing a play and solving a complex math problem were similar in principle, but different in language.
"We are dealing with this abstract thing," he said. "I don't know where my play will end up, and they don't know how they'll get to the end of this thing they're trying to solve."
Though many mathematicians deal with concepts that can't be visualized or applied until physics might require them, Williams said that he wanted to showcase the importance of their work.
"These are really, really complex puzzles that drive them crazy," Williams said, "Solving it is the goal."
Williams added that he's not sure how the play will end up when he's finished.
"I don't know what the life of this is going to be," he said. "That's my own little puzzle, my own conjecture that I'm trying to solve."