NFC Championship Preview — Arizona Cardinals at Carolina Panthers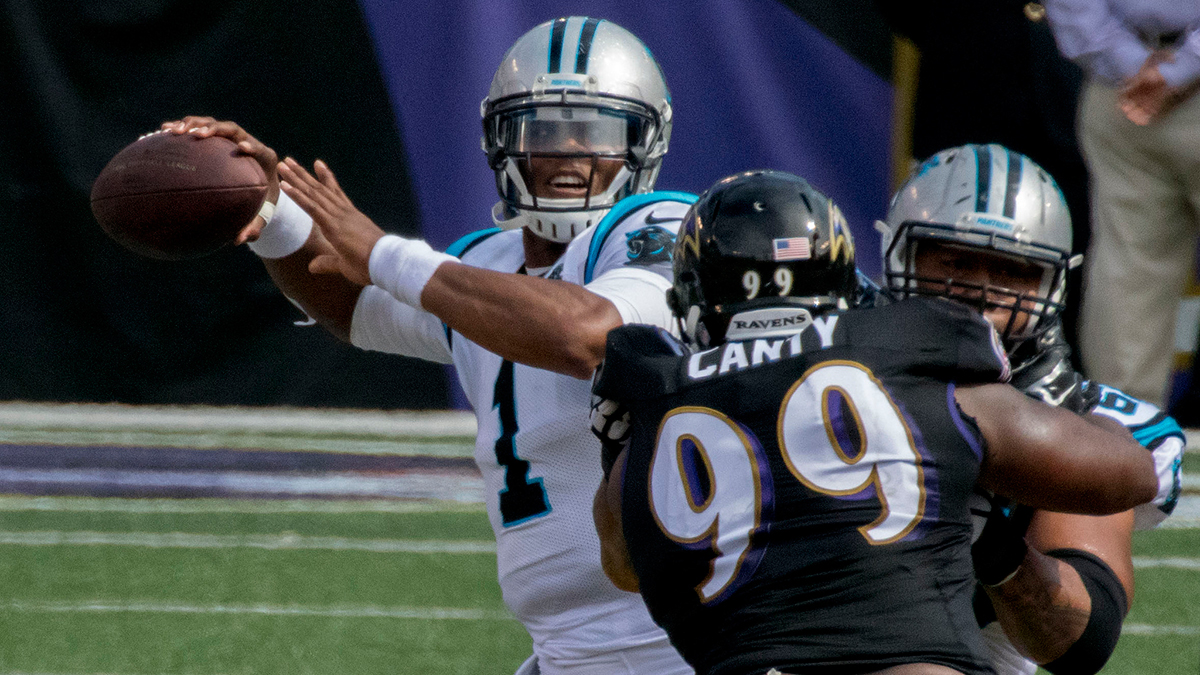 Unexpected narratives dominated the 2016 NFL season. The Minnesota Vikings dethroned the mighty Green Bay Packers atop the NFC North. The revamped Indianapolis Colts and star quarterback Andrew Luck struggled out of the gate in the easiest division in football, eventually conceding to the lowly Houston Texans. The Super Bowl favourite Seattle Seahawks were contending with the plebian San Francisco 49ers for the NFC West basement in week 11.
But as the NFL playoff picture started to settle, there were no surprises.
This weekend's AFC and NFC Championships will feature the four best records in football. Picking chalk may seem boring, but there's as many storylines this Sunday to fill an entire season. Let's take a look and breakdown each matchup.
NFC Championship Preview — Arizona Cardinals at Carolina Panthers
Tom Brady and Peyton Manning are arguably the two best quarterbacks of all time, so no wonder their head-to-head matchup has been stealing Sunday's spotlight. But this year's NFC matchup will feature the two best quarterbacks of 2015.
Cam Newton and Carson Palmer are sure bets to finish number one and two in this season's NFL MVP voting. Newton and Palmer have led their respective teams to the two best records in the NFL at 15-1 and 13-3, respectively. The two also lead the two most dominant offences in the NFL, with 31.2 points per game and 30.6 points per game, respectively.
The Panthers and the Cardinals have been heralded as the two best NFC teams all season, and the two best in the league. With thrilling wins over the formidable Seahawks and Packers last weekend, the two neck-and-neck NFC titans might give fans the "real" Super Bowl.
This game should solidify which former number one overall draft pick is the top NFL QB this season.
Carolina Panthers (15-1)
Why the Panthers will win
Cam Newton has taken the next step as an NFL franchise quarterback. In his first four NFL seasons, Newton had been deemed a "one-dimensional running quarterback," but a damn good one at that. According to ESPN Stats & Information, Newton was a on average a 58.5 per cent passer from the start of his career in 2011 and week 9 this season, the fifth worst among eligible quarterbacks. But after week 9, Newton has completed a blistering 65.9 per cent of his passes. From week 1 to week 9, Newton was throwing completing just 53.7 per cent of his passes. This comes without his number one wide receiver Kelvin Benjamin, who tore his ACL in the offseason. Over that same span, Newton threw 21 touchdowns from weeks 10 to 17, in comparison to just 14 in weeks 1 to 9.
On top of that, Newton ran for 636 yards on the ground along with 10 rushing touchdowns, both tops among quarterbacks. Many questioned Newton when the Panthers selected him first overall in 2011 and again when he signed a long-term deal last summer, but his performance this season proves he's among the upper echelon of NFL quarterbacks.
While Newton has been delegated as the Panthers unofficial lead running back, Jonathan Stewart, who lived in DeAngelo Williams shadow for much of his career, has blossomed into one of the game's best. Stewart has always been highly regarded, as his talent warrants him a place among the top 10 or 15 backs in the game, but stuck in a by-committee approach with another top back. Stewart ran for 989 in yards in 13 starts this season, but was sidelined for the Panthers' final three contests. He returned to the backfield last weekend against the Seattle Seahawks, where he lit up the number one rushing defence in the league for 106 yards and two touchdowns.
Why the Panthers will lose
The Panthers have a tendency to loosen up with big leads. In week 15, the Panthers surrendered 28 points to the New York Giants, who came back tie the Panthers with a score of 35-35 after trailing all game. The Panthers squeaked out with a 43-yard field goal by Graham Gano as time expired and escaped to move on to 14¬–0. But several weeks later versus the Seahawks, the Panthers allowed 24 straight points in the second half, setting up another nail-biter in what should've been a blowout win.
Charles Tillman and Josh Norman formed one of the best cornerback duos in the league, but Tillman tore his ACL in the Panthers' regular season finale versus the Tampa Bay Buccaneers. Robert McClain allowed seven catches for 63 yards and a touchdown in Tillman's absence versus the Seahawks. The Arizona Cardinals should exploit the Panthers' recent woes in coverage with their big three of Larry Fitzgerand, Michael Floyd and John Brown.
Also joining Tillman on the injured list will be defensive end Jared Allen. Allen, the NFL's active sack leader (136) suffered a fractured foot in last weekend's win, and will be sorely missed by the Panthers. The Panthers are thin at defensive end without Allen, rostering only Charles Johnson, Ryan Delaire, Kony Ealy and Mario Addison for this weekend.
Panthers key players — Kawann Short, DT and Luke Kuechly, LB
Short has been a staple on the league's sixth best defence in the league. He's posted 11 sacks and can control the line of scrimmage from the middle. He's a formidable pass-rusher, and should provide a decent matchup to one of the best guards in the league, Mike Iupati. Short doesn't get the press that Kuechly garners on a weekly basis, but it's hard to overlook Kuechly's presence on run defence. Kuechly's pick-six on the Seattle's first drive of the game last weekend shows he's a threat on the ground and in coverage.
Arizona Cardinals (13-3)
Why the Cardinals will win
Much like his opposing quarterback, Carson Palmer took awhile before he lived up to his number one draft pick status, although it took him 12 seasons — seven more seasons than Newton — to do so. No matter, as Palmer is primed to cap off the best season of his career.
He'll have a lot to work with, as the three-headed wide receiver machine in Larry Fitzgerald, Michael Floyd and John Brown can be torturous to cover.
The rejuvenated Larry Fitzgerald had one of the most memorable playoff performances last weekend. The 32-year-old wideout blazed past the Packers defence en route to a 75-yard run in overtime. That eventually set up his three-yard score to win the game. Prior to this season, Fitz averaged 845 receiving yards per season with 16 total touchdowns over a three-year span, the worst of his career.
Aside from his rookie season, Fitz eclipsed the 1,000-yard mark in seven of his eight seasons prior to 2012. His starting quarterbacks from 2012 to 2014 included the likes of Kevin Kolb, John Skelton, Ryan Lindley, Drew Stanton and an oft-injured Carson Palmer. Fitz and Palmer are magic together, and should give the Panthers' struggling corners problems in containment. Even if Fitz is well-defended, Floyd and Brown should be able to pick up the slack.
The Cardinals also own a slight edge over the Panthers defensively. The Cardinals were this season's fifth best defence, ahead of Carolina, who finished sixth. They could take away Jonathan Stewart from the Panthers offence, as they allowed just 53 yards off 19 attempts versus the Packers (not including Eddie Lacy's big 61-yard gain). Defensive tackle Calais Campbell and linebacker Deone Bucannon command one of the best run stop units in the league, who have allowed just 91.3 rushing yards per game in 2015.
Why the Cardinals will lose
Rookie sensation David Johnson has struggled as of late. After Chris Johnson and Andre Ellington were sidelined due to injury, David Johnson rattled off 99-, 92- and 187-yard games on the ground, including a three-touchdown performance versus the Philadelphia Eagles in week 15. Since then Johnson, has rushed for just 99 yards total. Granted, one of those games came against the NFL's best run defence in the Seahawks, but the other two came versus the Packers, who rank in the bottom third in the league. The Cardinals offensive line struggled to give their running backs good blocking last game, and that could spell trouble this week versus the Panthers.
Last week versus the Packers, the Cardinals blitzed 36 per cent of the time, but finished with just one sack on Aaron Rodgers. The Cardinals have sent five or more pass-rushers 45.1 per cent of the time this season, easily the highest in the league. Newton is one of the league's best at recognizing and evading blitzes, and has thrown an NFL-best 19 touchdown passes against the blitz, as per ESPN Stats & Information.
The Panthers have had success against leading NFL quarterbacks, with victories over Aaron Rodgers (twice), Russell Wilson, Andrew Luck and Drew Brees in 2015. Palmer could be next.
Cardinals key player — Patrick Peterson, CB
It was as close call between Larry Fitzgerald and Patrick Peterson, but the trio of wide receivers makes Fitzgerald's potential absence a little easier to reduce than Peterson's. Since big-play corner Tyrann Mathieu tore his ACL in week 15, Peterson has stepped up, as he allowed just two receptions in last weekend's win in Green Bay.