Volley Bears keep rolling, move to 18-0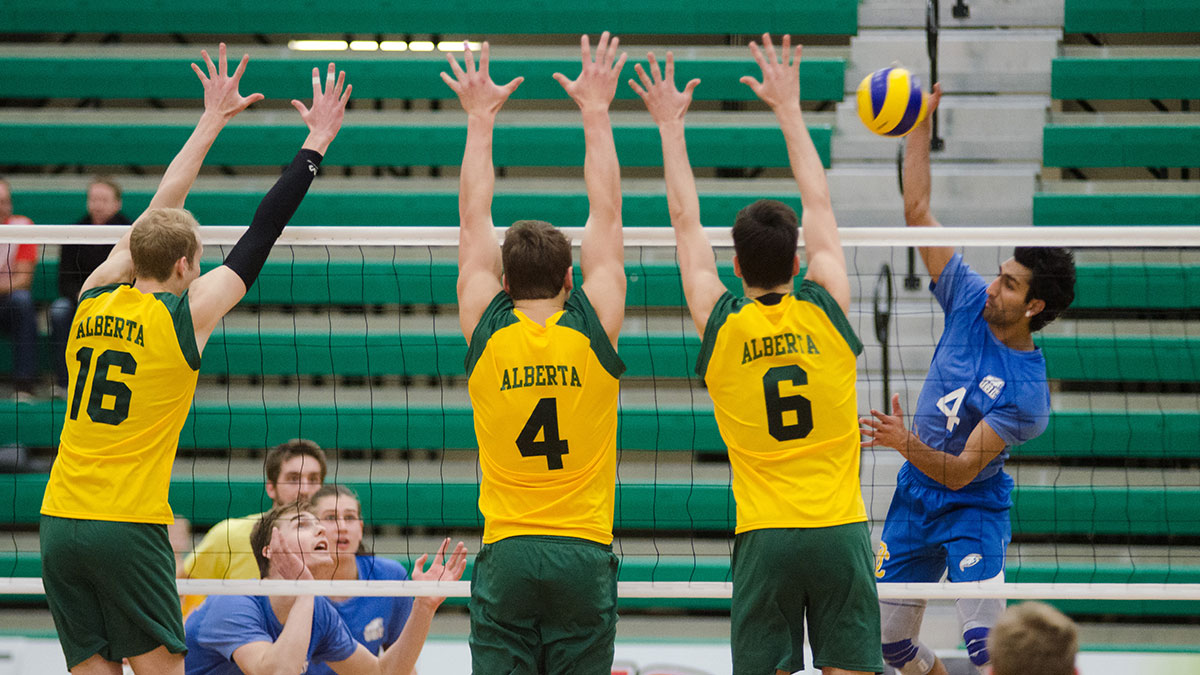 In what has arguably been their most dominant season ever, the Golden Bears volleyball team was looking to maintain their perfect record against the UBC Thunderbirds last weekend.
Friday's match was described as "odd" by Bears head coach Terry Danyluk, and that might have been an understatement. The Thunderbirds committed 45 errors and the Bears were not far behind with 30 of their own, both uncharacteristically high numbers. With neither offence really getting going throughout the match, Alberta was able to pull out a fairly dominant win, although they only hit .207 as a team.
"Our setter (Brett Walsh), who's normally getting 10 assists per set, only got four in the first because we didn't have to do anything," Danyluk said. "Those times can be good and bad, but I thought we did okay."
Though there were also several instances of players jawing at each other through the net, Danyluk said he was pleased with the way his players responded.
"I think if someone is pushing the buttons, I like to see a response, but to keep it focused and controlled," Danyluk said.
Expecting a more composed opponent in Saturday's rematch, the Bears got just that. Led by the 13.0 points and eight digs posted by third-year outside hitter Irvan Brar, UBC seemed more together and in sync on the court.
Despite UBC's effort, the Bears bested the Thunderbirds in every significant statistical category, whilst also committing fewer errors. Fifth-year middle John Goranson exemplified this with an .889 kill percentage to go with one service ace, four blocks, and three digs. Danyluk said this well-roundedness is something that the coaching staff stressed to the team.
"We're a big team, but one of the things we're trying to pursue is being a great defensive team," Danyluk said. "It's nice to have that push, it's important for us to keep getting better."
With Brett Walsh continuing his torrid pace and registering 68 assists on the weekend, fifth-year outside Ryley Barnes chipped in another 29 kills. With continued, steady production from the 6'6" Goranson and 6'8" Taylor Arnett, the Bears' middles are a tough defensive matchup for any opponent.
Additional wing support comes from Aussie outside Alex McMullin, who is currently fourth in the CIS in service aces per set. Fourth-year opposite and Sherwood Park native Ryan Nickifor adds to the firepower, as he is 10th in CIS in kills. With so many weapons around the court, the Bears still seem like the team to beat in Canada West.
Next week, the Bears are on the road to face the Regina Cougars, who currently sit last in Canada West with a 1-17 record.