Golden Bears and Pandas hoops drop season finale to Calgary Dinos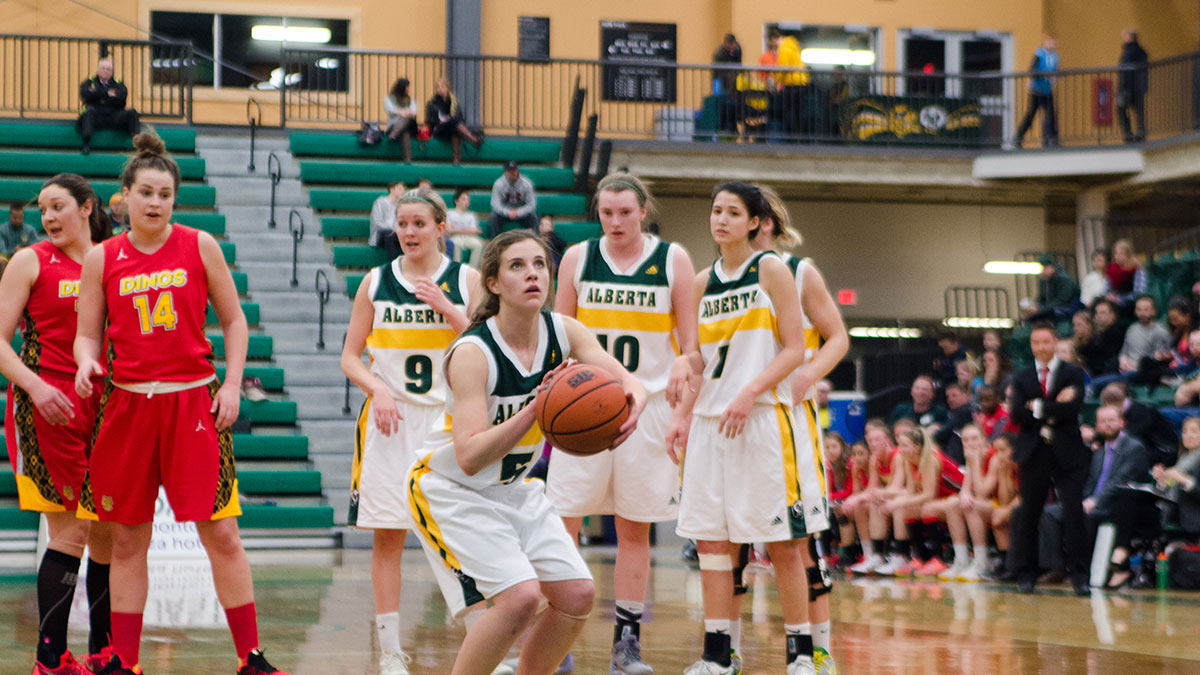 The Golden Bears and Pandas basketball teams are limping into the playoffs after losses to the University of Calgary Dinos on Saturday Night.
Despite the loss, the Pandas still finished the season with a 17-3 record, good for third best in Canada West, and as a result, will host a quarterfinal playoff series beginning March 3. The Bears, on the other hand, barely clawed their way into the playoffs and will be forced to play in a play-in series next weekend to advance to the Canada West quarterfinals.
The Pandas came into their final game of the season with their first-round bye secured, but also facing opportunity to tie the Saskatchewan Huskies for the top record in the conference. Calgary and Alberta battled neck-and-neck in the first quarter before the Dinos eventually began to pull ahead in the second, eventually finishing the half with a 32-24 lead. The Pandas were able to make it interesting in the fourth quarter, pulling together a late rally, but the Dinos pulled away with the victory after the Pandas unravelled with last-minute fouls and turnovers.
The loss was the Pandas third on the season, and after splitting a series with the Huskies last weekend, it represents the team's only back-to-back losses of the season. Previously, the only game the Pandas had surrendered came  back on Nov. 27 against the Regina Cougars.
After the game, head coach Scott Edwards honoured Jessilyn Fairbanks, Megan Wickstrom, and Renee Byrne, the team's fifth year players who had played in their final regular season game in a Pandas uniform.
Now it's time for @rbyrne10 at senior night. One of @pandasbball best all-time shooters. pic.twitter.com/8xCSTuVCmE

— Doug McLean (@dougmclean15) February 21, 2016
Now, the Pandas will await the winner of the Canada West first round play-in series next weekend to determine who they'll face in the quarterfinals the following weekend at the Saville Centre.
Like the Pandas, the Bears took part in a back-and-forth battle in the first half of their game against the Dinos Saturday. The Dinos grabbed a 33-32 lead after hitting a buzzer-beating three-pointer to close the half. With that momentum, the Dinos began to gain the edge in the third quarter before finally pulling away in the fourth, eventually earning a commanding 79-66 win.
The Bears, who finish the season with a 10-10 record, will now have to win a three-game play-in series next weekend in order to advance to the Canada West quarterfinals.
Follow #UAlberta teams through the #CWplayoffs16 season and on to CIS Championships. Image will update regularly. pic.twitter.com/0QXYYCEwCa

— UAlberta Golden Bears & Pandas (@BearsandPandas) February 17, 2016