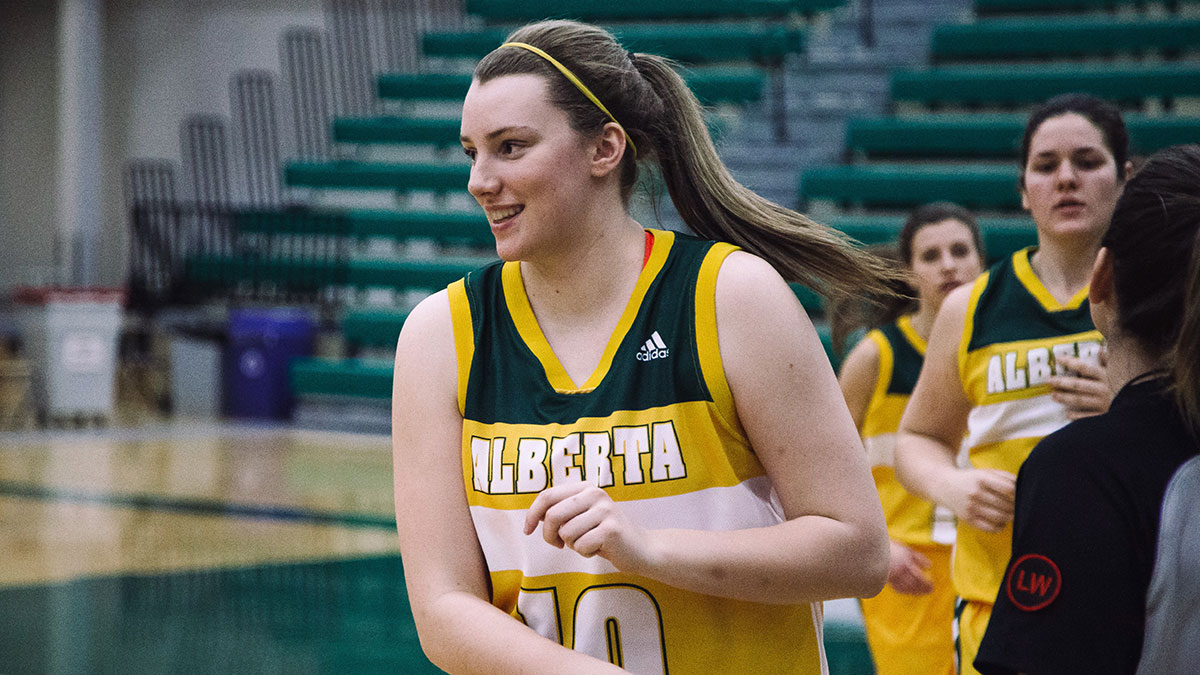 The Pandas basketball team continued their winning ways this past weekend, sweeping away the Trinity Western Spartans and pushing their current win streak to 10 games in the process.
It was a close game heading into the second half on Friday night, with the Spartans still within striking distance, trailing by only nine points. The Pandas quickly squashed any thoughts of a comeback however, outscoring Trinity Western 21-9 in the third quarter. From that point on, the game was never in doubt, as the green and gold rolled to a convincing 83-63 win.
The catalyst for the Pandas third quarter run, according to head coach Scott Edwards, was their more consistent defensive play.
"The key for us was getting multiple defensive stops in a row," Edwards said. "That seemed to slow (Trinity Western) down a little bit, and the offence kept rolling, which was nice to see."
Jessilyn Fairbanks carried the load offensively for the green and gold on Friday, scoring a season high 33 points. She became the first Panda to score over 30 points at home since Michelle Smith in 2007.
"(Jessilyn) was just hitting the shots that were available to her, which was great to watch," Edwards said. "She's not a shoot first type of guard, but given the opportunity, she will."
Elle Hendershot had a solid game as well, finishing with 12 points and seven rebounds, while Megan Wickstrom chipped in 10 points and six boards. Kayla Gordon led the Spartans in scoring with 18 points.
Saturday night saw an even more dominant performance from the Pandas, as they rode a 25-11 first quarter to an 81-46 win. It was defence that reigned supreme in the second game of the weekend, as the Pandas held the Spartans to 23 per cent shooting on the night.
Edwards credited his team's preparation for the standout defensive performance, especially in regards to eliminating the Spartans' threats from behind the three-point line.
"We spent a lot of time going through their sets, and defending what they do well," he said. "Our girls were really disciplined in how they guarded them… they didn't give them a lot of room to get a shot off, and when they did, it was usually contested."
Maddie Rogers led the Pandas on the offensive end, nearly recording a triple-double, pouring in 19 points, pulling down 11 rebounds, and dishing out eight assists. Fairbanks had a good offensive night once again, adding 16 points in the victory.
The Pandas now enter the biggest matchup of their season, as they travel to Saskatchewan to take on the undefeated and CIS No. 1 ranked Huskies.
"It's certainly a heavyweight battle," Edwards said. "I think we're ready for it, our girls are excited for the opportunity.
"We're certainly going in there confident, we know we can play against them, and we've had success against them in the past."
The Pandas defence, which has played very well in recent weeks, will have their hands full with a Huskies team that is averaging over 80 points per game, the highest total in Canada West, while also giving up the fewest points per game, at just over 53 per contest.
The Pandas will travel to Saskatchewan and look to end the Huskies' bid for a perfect season this upcoming weekend, with games on Friday, Feb. 12, and Saturday, Feb. 13.