Bears soccer bikes for mental health awareness initiatives
Kate McInnes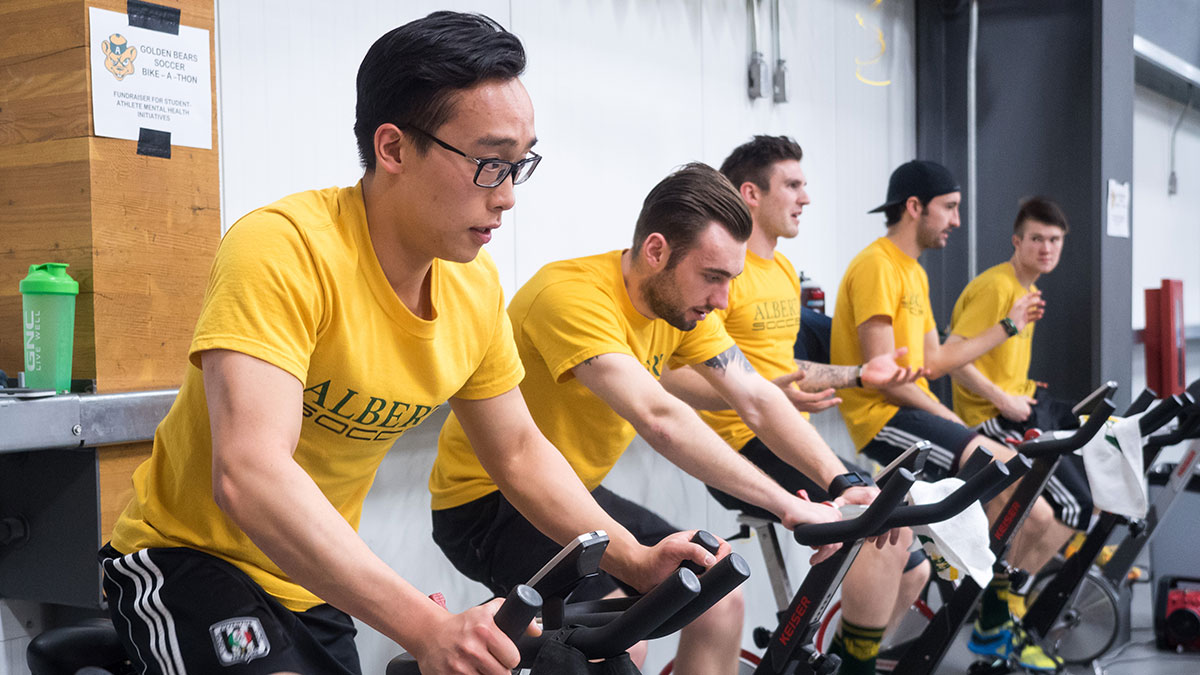 At 2 a.m. on Saturday morning, Tim Hickson, the captain of the Golden Bears soccer team, could be found biking with his teammates in the northwest corner of the Saville Sports Centre. Though they were committed to cycling for 24 hours, this test of physical endurance was, at its root, about something mental.
"I'm sure people look at me off the bat and see me as smiley and happy," Hickson said. "But when you start seeing the stress people go through … you know there's so much more to it than they're just stressed over school, and you never know the degree to which they're effected by it."
From March 4-5, 35 members of the Golden Bears soccer team participated in a 24-hour bike-a-thon at the Saville Sports Centre. The fundraiser aimed to increase mental health awareness among the U of A's varsity athletes and raise funds for the Student-Athlete Mental Health Initiative.
The inspiration behind the fundraiser came from a very personal place. In a video posted on Facebook to promote the event, Hickson described the depression, substance abuse and self-harm he experienced four years ago when he faced an identity crisis regarding his role outside of sport.
"We just wanted to get the word out," he said. "I by no means wanted my story to take over and make this the headline of the project — it was just a way of hitting people on a personal level."
24 Hour Bike-a-thon – Golden Bears SoccerGolden Bears Soccer is biking for 24 hours this weekend to raise awareness of mental health initiatives. Join and support them this Friday and Saturday at the Saville Community Sports Centre.GBS member Tim Hickson tells his story on his battle with mental health. YouTube link: https://youtu.be/R03_zE0WqLIDonate to the Bike-a-thon: https://secure-ualberta.imodules.com/s/1664/phase2/index.aspx?sid=1664&gid=1&pgid=489&cid=1235&dids=260&bledit=1&sort=1&appealcode=04881

Posted by University of Alberta Golden Bears and Pandas on Tuesday, March 1, 2016
According to the Student-Athlete Mental Health Initiative, Hickson isn't alone. One in five Canadians are affected by mental health issues, and student athletes experience these concerns at the same rate as their peers. The competitive nature of varsity sport, however, can exacerbate issues, and deter individuals from seeking help and lead to crisis situations.
The fundraiser comes at a time when the U of A's volleyball and basketball teams are in playoffs. According to Hickson, this is the time of year when mental health among athletes is at its worst.
"There's such a massive emphasis on the physical health of an athlete, and very rarely do we take care of the mental side," he said. "I want people to come out and discuss it and say it's OK to talk about it."
Though Hickson himself never used a mental health service provided by the U of A, he recalled the support he received from his coaches when he finally disclosed his health battles. Today, his coaches at the U of A — including Golden Bears soccer head coach Len Vickery — voice their pride in Hickson for opening up to the campus as whole.
"I am extremely proud of Tim and his initiative to draw attention to mental health issues," Vickery said. "(We) appreciate the great courage it took to share his story and experiences. We hope that Tim's example encourages all students who are suffering mental anguish to seek help and support in their community."
Though Hickson hopes more varsity athletes will become involved in the fundraiser next year — and spoke of it becoming a schoolwide event in the next few years — his ultimate goal is to spread awareness and let students know "it's OK to not be OK."
"For me, I was always so quiet. I kept to myself, and I was so reserved," Hickson said. "There are two sides to the coin: if you don't want to seek help, you aren't going to get any help, but if you put yourself out there, you will find it. Unfortunately, that's the scariest part."