Deconstructing Kapital — Japan's best-kept fashion secret
Mergim Binakaj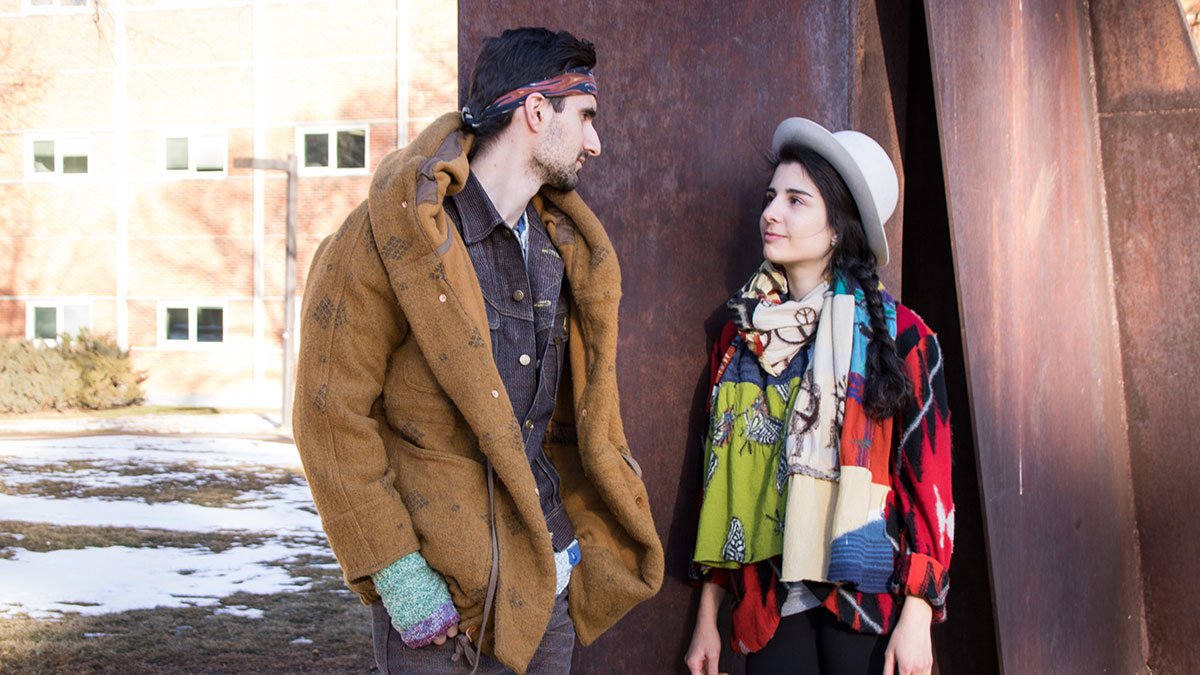 In Tokyo, the shop's name is nowhere to be found — but that's precisely how Kapital likes it. No identifier but a couple of horseshoes nailed to a weathered wooden door. A second door is open, inviting customers with the soothing vocals of Ella Fitzgerald, and the smell of sandalwood incense.
Non-Japanese customers would have never discovered Kapital if it wasn't for The Bandanna Almanac — a blog that covers Japanese textiles, and fashion. Jonathan Lukacek, the blog's creator, often profiles the collections of Kapital, an Okayama-based denim company, and brainchild of father-son duo Toshikiyo and Kazuhiro (Kiro) Hirata. Lukacek himself had met Kiro more than five years ago, and has been involved with the designs, innovation, and sales of the company ever since.
Lukacek chuckles when asked to describe Kapital to customers unfamiliar with the company.
"People often try to put it into a genre like Japanese hippies or Japanese farmers. Some kind of stupid …. I call it stupid because it's not very intelligent. It's just using words you already know, and I think Kapital is something that you can't really put in words very easily."
Instead, Lukacek prefers to compare the company to revered film director Quentin Tarantino.
"Tarantino's base — his bread-and-butter — is violence," he says. The genre of his films change, but the foundation doesn't. The same is true for Kapital: "Kapital's bread-and-butter is denim, basically. Twill fabric."
While each season has its own genre, the genres themselves are unpredictable. Kapital stays away from formulaic, archetypical designs, unlike most companies. Whether it's the vibrant, garish mufflers, or the spasmodic patchwork shirts — everything carries the pungency of unhinged, hedonistic improvisation.
"They don't have any concrete ideology," Lukacek says, "it's not really a fashion brand. It's more of a clothes-making company; they go with whatever is going on." It might be something taken from current events. It might be something from pop culture, whether historical or contemporary.
Kapital's lifeblood is its sporadicity. While the company has been selling clothing to Japanese customers since the 1990s, international interest in Kapital has exploded in recent years — largely due to its Century Denim line, which people largely learned about through Lukacek's blog. Using a Japanese embroidery technique known as sashiko (traditionally used for repairs and reinforcements) Kapital weaves vertical indigo threads throughout the jeans, and offers two colours — kakashibu (traditional Japanese dye made from persimmons) and sumi (Japanese charcoal) — in a variety of cuts.
Kapital has attracted the likes of John Mayer, Johnny Depp, and Pharrell Williams, but the growing international reputation hasn't changed how the company is run. Kapital has 13 stores, but all of them are found within Japan and according to Lukacek there is no desire to open one elsewhere. While many stores across the globe continue to stock small collections of Kapital, the selection is very limited and the price is usually double. One never gets the 'entrepreneurial' vibe around any of Kapital's employees, and much of it has to do with where the company is based.
While most Japanese denim is assembled in Kojima, a seaside district in Okayama that makes 40 per cent of Japan's denim, companies are almost never based here. In stark contrast to the suffocating urban jungle of Tokyo, Okayama is largely dominated by green farmland, and relaxed lifestyles, punctuated with old farmhouses non-descript denim factories. Almost every Japanese clothing company has their head office in Tokyo, where all of the designing, and marketing decisions take place. Kapital, on the other hand, has its headquarters and flagship store in Kojima, Okayama.
"The atmosphere is completely different", Lukacek says, consequently. In Kojima clothing designers consider themselves craftsmen, not artists.
The fuss-free relaxed vibe of Okayama permeates the company from top to bottom, from its absence of capitalistic focus, to its whimsically-chosen design themes from season to season. Despite the distance from Tokyo, that's not to say that the company closes itself off from outside influence. Political statements can be seen in recent seasonal launches, including references to the Kuril Islands dispute, as well as the recurring swastikas on everything from jewelry to jackets.
"The designs are [still] original and unique but in comparison to five or six years ago things have definitely quieted down visually," Lukacek says. "But in other regards it's become more provocative. A lot more dark humour. Things that might bother some people."
Accessibility for Western customers has also increased, as Kapital continues to run with the "East-meets-West" theme, to great success. Lukacek and his coworkers pride themselves on their originality — which is growingly rare in the fashion industry today. The copying of designs is rampant across every fashion community, and Kapital has noticed this first hand. Companies like GAP and Forever 21 have launched products with startling similarity to products made by Kapital, according to Lukacek. The fashion industry is incredibly profitable; consequently, opportunism runs rampant, and imitation continues uninhibited. But if you ask Lukacek, he isn't concerned.
"I think Kapital is the only company in the world that can make the clothes that it makes. Other companies couldn't do it. They wouldn't do it right."
While other companies focus on detail during the manufacturing process, Kapital takes another approach. There is no fuss over era-accurate buttonholes, or shirts that are flawlessly snug across the shoulders. In fact, this is probably where Kapital deviates most from other brands: the obsession with a precise fit.
When customers tell Lukacek that nothing at Kapital fits them, he says "it's because you're not supposed to care how it fits. If you can fit into it and it's comfortable, then you should buy it."
Consequently, much of Kapital's clothing is truly unisex. This asexuality fits seamlessly with the rest of Kapital's Okayama-vibe, a vibe likely responsible for spearheading Kapital's fanbase explosion.
It's quite clear that Okayama's illusory, laid-back aura juxtaposes both the rest of the Japanese fashion scene, as well as the very foundations of fashion worldwide. While other companies look to expand, Kapital doesn't. While other companies erect creative boundaries, Kapital doesn't. Kapital doesn't care to carve out a discrete niche, instead relentlessly sacrificing branding in order to nurture its own folkore.
What is this folkore, exactly? The photography, the narrative and the designs — Lukacek says it all works together.
"Everything combines to form this really weird, almost mythological type of clothing brand."