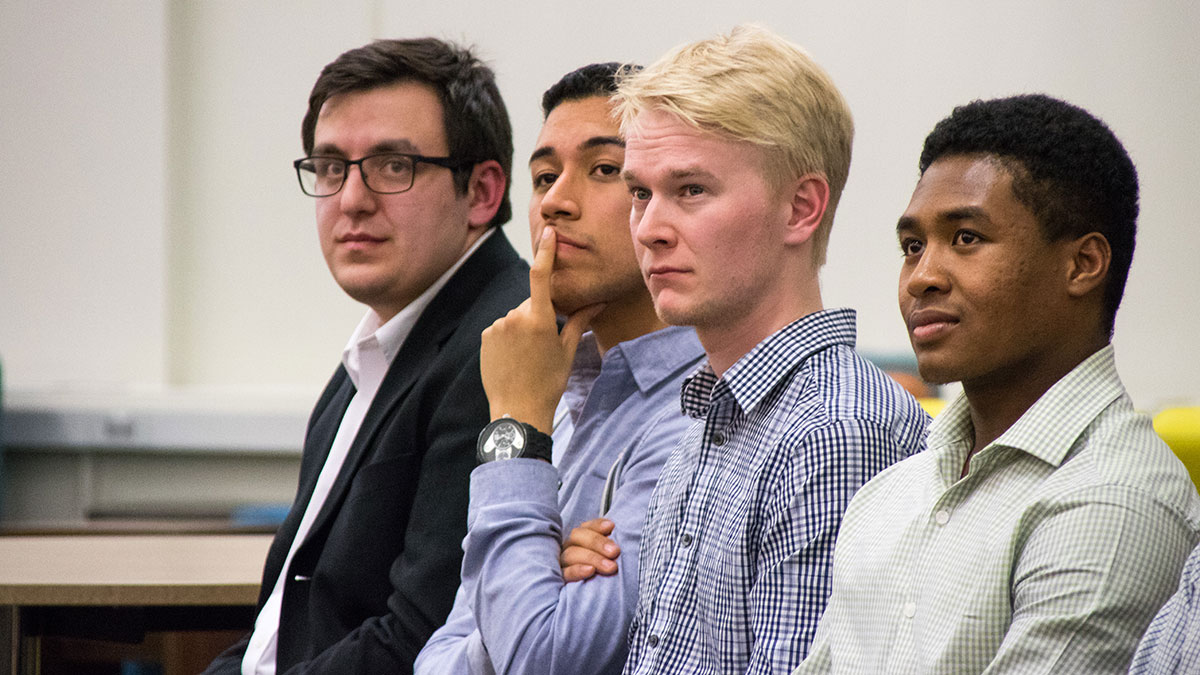 Unquestionably the worst part of election season is the class talk.
As a third-year student, most of my classes have around 20 to 30 students, making it simply not worth the candidates' time. My psychology class is different. With 171 students in the basement of Tory Lecture Theatres, it is an ideal target for candidates.
Last Thursday, one of the VP (Ops-Fi) candidates entered my class and (presumably) asked my professor whether he could make his pitch. I watched my prof say no, and the candidate left the room. After silently thanking the prof, I began to wonder why we allow class talks in the first place.
I'm not sure why anybody whose message is not directly relevant to the course (i.e. not a lecturer) would be allowed to speak in a class. Often, these speakers are cutting into lecture time, with pitches lasting up to a full five minutes into class. This is an unacceptable waste of student time, or, if you want to be more pragmatic, tuition.
That five wasted minutes represents a significant number of student dollars. If average tuition is $500 per class, and you spend 150 minutes per week in a 15-week semester, lectures will take around 2,250 minutes per semester. That means you spend around $0.22 per minute in lectures.
Though the $1.10 a five-minute intrusion costs you might not seem like much, if this is scaled up to the size of a 450-person intro level, that candidate just wasted $495 in student collective time. Multiply that by however many hundreds of classes are presented to in election season, and the waste increases exponentially.
It's mind-boggling that this practice is deemed acceptable by the university. Though the Chief Returning Officer instructs candidates to speak to every prof before they do class talks, many do not follow this rule. This is especially true in the last days of the campaign, and a last push for votes. Compounded with the fact that candidates target entry-levels with (usually) more inexperienced professors, they are more likely to say "yes" to having candidates speak.
Though they can be a distraction, SU candidates represent the best-intentioned of presenters. Undoubtedly bringing more votes to the elections, hearing perspectives on student issues and being told to cast a ballot is much more palatable than other presentations I have heard in class.
We've all heard how we can make oodles of cash painting houses for the summer or ride elephants in Bali in class talks. Companies with essentially no interest in student well-being are allowed to market directly to a captive audience of hundreds of students, mostly first years who don't know the difference between a summer job and a pyramid scheme.
For the life of me, I can't figure out why the university allows this kind of policy to exist. Time in front of instructors is paid for by student tuition and government subsidy, and students deserve to not be interrupted in this period.
Taking all this into consideration, a blanket ban on pre-class talks is necessary. Though there are conventions in place surrounding them, those rules are broken so often the university cannot stand for the continuation of this practice. If the candidates who included "maximizing student value" in the platforms really believe in that, prohibiting class talks is a great place to start.