Rostam Batmanglij, formerly Vampire Weekends 5'7" secret weapon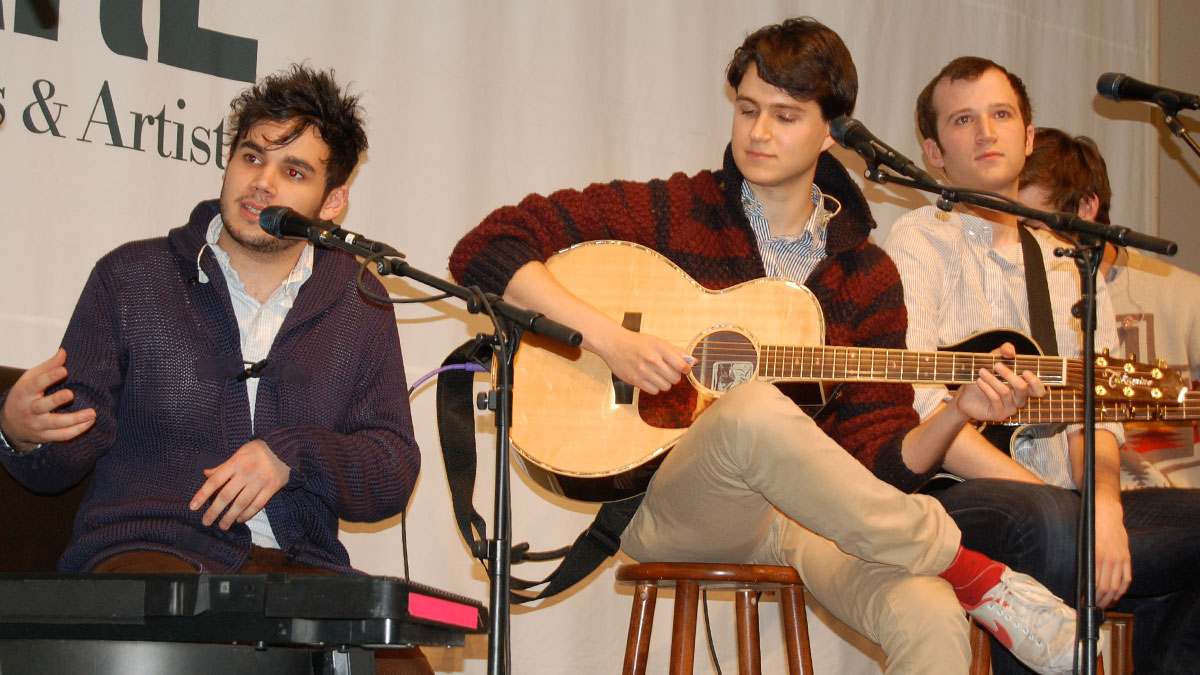 My identity as a songwriter and producer, I realized, needs to stand on it's own" writes Rostam Batmanglij on his twitter this past Janurary, as he announces his departure from Grammy winning band Vampire Weekend. Rostam's statement was met with the upmost support from ex-band members Ezra Koenig and Chris Baio, regarding Batmanglij as "one of the best artists on the planet."
For those who are unfamiliar with Rostam, he is largely responsible for many of Vampire Weekend's most successful tracks, holding production credits on "A-Punk," "Obvious Bicycle," "Ya Hey" and "Campus" to name a handful, and I do mean a handful. In addition to his wildly diverse resume of production credits, ranging from Santigold to Ra Ra Riot, among his on paper contributions, he also boasts a wide range of talents, ranging from prominent lyricist, to visual designer to name a few.
Although one can count the entirety of Rostam's official solo releases on one hand, having only released four tracks since 2011 (two in 2011 and two 2016). What he has given us thus far is nothing short of spectacular. Each song seems to utilize an entirely different subset of instruments and melodies, which are simultaneously connected through Rostam's profound lyrics and drowsy vocals.
2016's "EOS" is particularly exemplary of Rostam's capacity as a multi-instrumentalist, songwriter and vocalist. The intro features a beautifully unorthodox staccato choral section and stiff, almost pounding percussion hits on the second and fourth beats. This intro section breaks off into a quick rolling piano melody that separates the beginning and middle sections. The middle section is stripped down and lonely, featuring nothing more than Rostam's drowsy vocals and the quiet single note sustains from a petite sounding synth. The lyrics, although deeply personal, seem to engrave themselves in the mind of the listener as they apply Rostam's lapidary words to specific moments in their lives. Rostam's voice swells "along the coast we could see time and space / and across the water it was all emptiness" creating a sensation of time-lapsed isolation as we watch the coast push and pull. Immediately following this, he contrasts isolation with "but I held you close, my cheek pressed up against yours" as if, although deeply self-reflective, Rostam is anchored to the memory of this moment through whomever he shared it with. His vocal performance on this track, at least for this writer, can be described as nothing but astounding.
Each element of "EOS" – from the production, to the lyrics, to the self-designed cover and the self-directed music video — combine seamlessly to create what I would describe as a "listening experience", in that it exists as much more than just a song on your computer. Individually, these various elements remind me that "EOS" is just the very tip of the Rostam iceberg, or perhaps more accurately, one of the many Rostam "icebergs" the future has in store.