In remembering Gordie Howe, we remember what it means to be Canadian
Jeremiah Ellis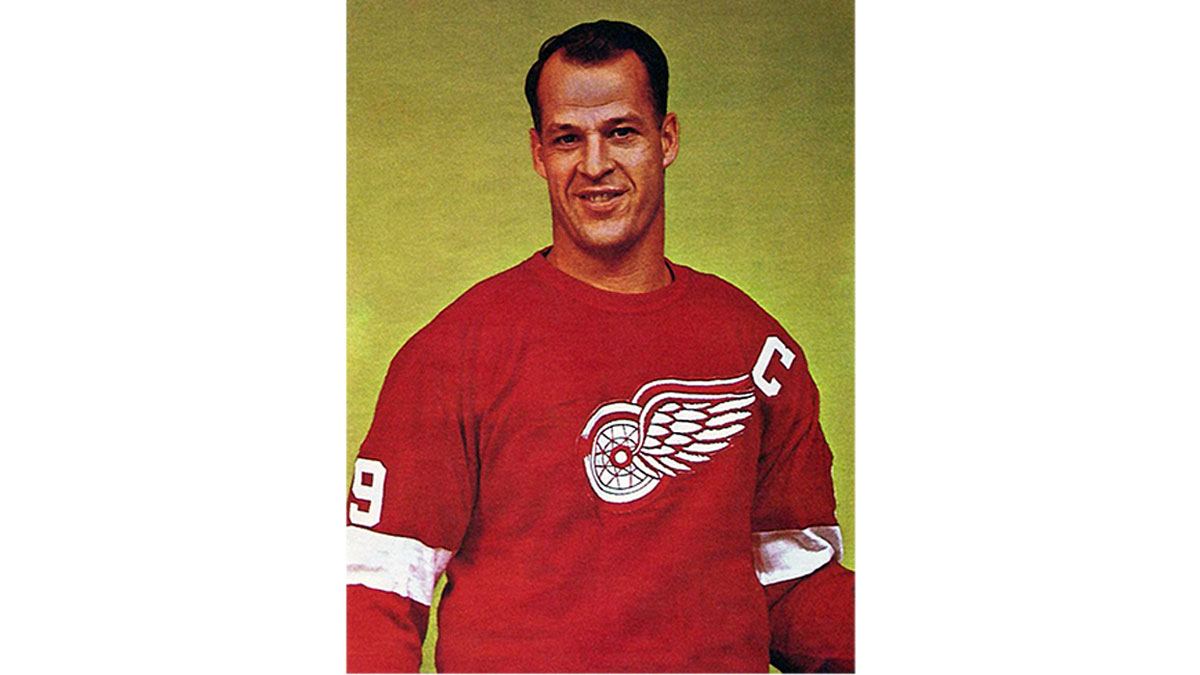 #9. Howe. Whether it's proudly donned by a youngster in a game of outdoor shinny or iconically worn by Cameron Frye in Ferris Bueller's Day Off, this name and number — in Detroit Red Wings red and white — never fails to evoke the dream, in Canadians nation-wide, that anyone can follow their passions and live like Gordie Howe played hockey: with heart.
Gordie Howe famously said, "You've got to love what you're doing. If you love it, you can overcome any handicap or the soreness or all the aches and pains, and continue to play for a long time." Howe played through 300 stitches, damaged knee cartilage, broken ribs, a broken wrist, broken toes, dislocated shoulders, an assortment of scalp wounds, a severe skull fracture and a near brush with death over an unmatched 32 year career. Howe went from being an ordinary boy from the Canadian prairies to a man widely known as "Mr. Hockey" and play through all the damage to his body for nearly 5 decades because of his love of the game. Perhaps the reason he was able to connect with so many fans and players is because he truly understood how much hockey meant to each and every person he came across.
Although only a small number of hockey players will ever make it and live out the dream of playing professional hockey, everyone who's ever stepped on the ice possesses that deep and unequivocal love for the game that burned the brightest in Howe. It's this unconditional love for the sport that enables us to lace up those old skates and return to the outdoor rink or the pond and is what pushes us to join pick-up leagues long after our minor hockey careers have reached their bittersweet ends.
This lifelong love of the game is also what inspires parents — despite rarely being on the ice themselves — to have a undying commitment to their son's or daughter's hockey team. Gordie Howe himself exemplified this commitment to the extreme when he began playing pro again with his sons Mark and Marty in 1973, returning from his retirement 2 years prior. Howe described these years as the best of his career. Mr. Hockey's last goal was set up by his son on April 9, 1980 against the Montreal Canadiens. Hockey truly is a family game.
My father told me that to this day when he hears Howe's name, he's taken back to his youthful dreams of becoming a professional hockey player. On driveways, rinks, and frozen ponds any kid from coast to coast who has laced up a pair of skates and stepped onto the ice has shared the same dream as my father. Howe grew up in Saskatoon and lived a simple but hard-working life. Out on the ponds with limited or no equipment, on bad outdoor ice and through frostbite, cuts and bruises, Gordie Howe still got up every day to play. Howe recalled that as a kid, he "would have been happy to play just one season." With his drive, dedication and desire to do so, Howe was able to live out his dream, inspiring generations of kids who have dreamed the same dream before and since.
This idea that an ordinary kid from an ordinary place is capable of achieving what Gordie Howe did, is what the Canadian Dream is all about. It drives us Canadians to the outdoor rink at unreasonable hours and bitter temperatures long after the streetlights have gone out. It motivates us to brave vicious snow storms and travel hundreds of kilometres a year to play three short periods. And it's a dream that inspires Canadians to believe that no matter your birthplace, education, ethnicity or social status, nothing can hold you back if you have the work-ethic, willingness to go the extra mile and desire to pursue what you love. Hockey is a sport that is woven tightly into what it means to be Canadian and is a sport that will forever be represented by the humble legend who never stopped loving it.
Thank you Mr.Hockey.