Edmonton LARP community gathers for a weekend of solving mysteries and cosplay
Sofia Osborne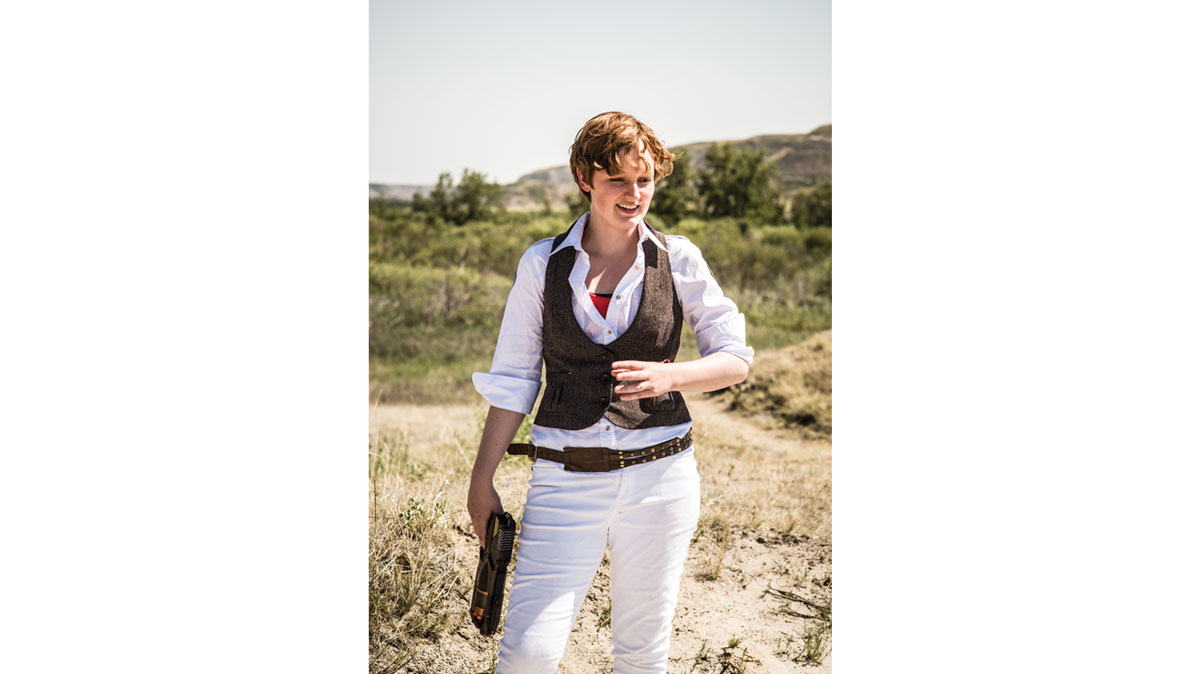 When she's not on intergalactic adventures, Lisa Clare is a Master's student of mechanical engineering at the University of Alberta.
Clare participates in live action role play (LARP), where characters' actions are physically acted out in games that often include costumes, props, and sets. She's seen LARPs that revolve around themes including murder mysteries, alien tombs, zombie outbreaks, "the complete life cycle of a delicate blind creature," and kraken battles.
Clare is one player attending LARGEcon, a live action role-playing convention in Edmonton running from July 22 to 24. LARGEcon consists of five LARP games, including one in the U of A's Fine Arts Building and another in Rutherford House. This weekend's scenarios range from a masquerade mystery to a werewolf alternate reality. Clare is participating in four games to learn more about the Edmonton LARP community.
"I want to see the different styles of things that people are doing," Clare said. "There are so many things going on and if you limit yourself to one (style) you don't get to see the whole picture."
In high school, Clare cosplayed, creating costumes and roleplaying specific characters. After spending a year in Switzerland for an internship, she found she missed costuming and wanted to socialize with others. Clare's interests were then directed to LARPing — now, six years later, she even runs her own game: "Star Fall."
Clare describes Star Fall as a "military space opera" where players act as low-level military personnel in an intergalactic alliance. Action takes place on a spaceship or planet brought to life in camping spots or community halls just outside Edmonton.
Once per month, between 15 and 30 Star Fall players meet for a full weekend of adventures and problem solving. Combat in the game is simulated with NERF or other symbolic guns used by players to battle space pirates, stage escapes and facilitate rescue operations. Players must also negotiate with dangerous characters and treat fictional diseases.
Because LARPers react to problems in real time, improvisation is a major component of the game. Though this may intimidate newcomers, Clare stresses that it shouldn't dissuade anyone.
"No one's expecting every moment to be movie-worthy," she said. "Everyone just does their best and you end up with some really cool moments and that's good enough."
While some LARPs cost hundreds of dollars to attend, such as the Battlestar Galactica LARP Monitor Celestra, others can be as cheap as $10 for an evening. Costumes also range widely in cost — some use only thrift store materials while higher-tech costumes can cost hundreds of dollars.
Now at the U of A, Clare is one of many role players on campus. In the fall, she and some friends hope to create a role-players' society which would unite LARPers, players of tabletop games such as Dungeon and Dragons, and online forums.
"We're trying to make it broader so that includes things like tabletop games, and even forum role play," she said. "Broad enough to include all role playing games, so you can mix-and-match and learn from the different disciplines."
Clare values being able to use LARPing to learn about herself and others.
"I think exploring characters … can help you understand yourself and other people a little bit better," she said.