A night in Sylvan Lake, or small-town smackdown
Jonah Kondro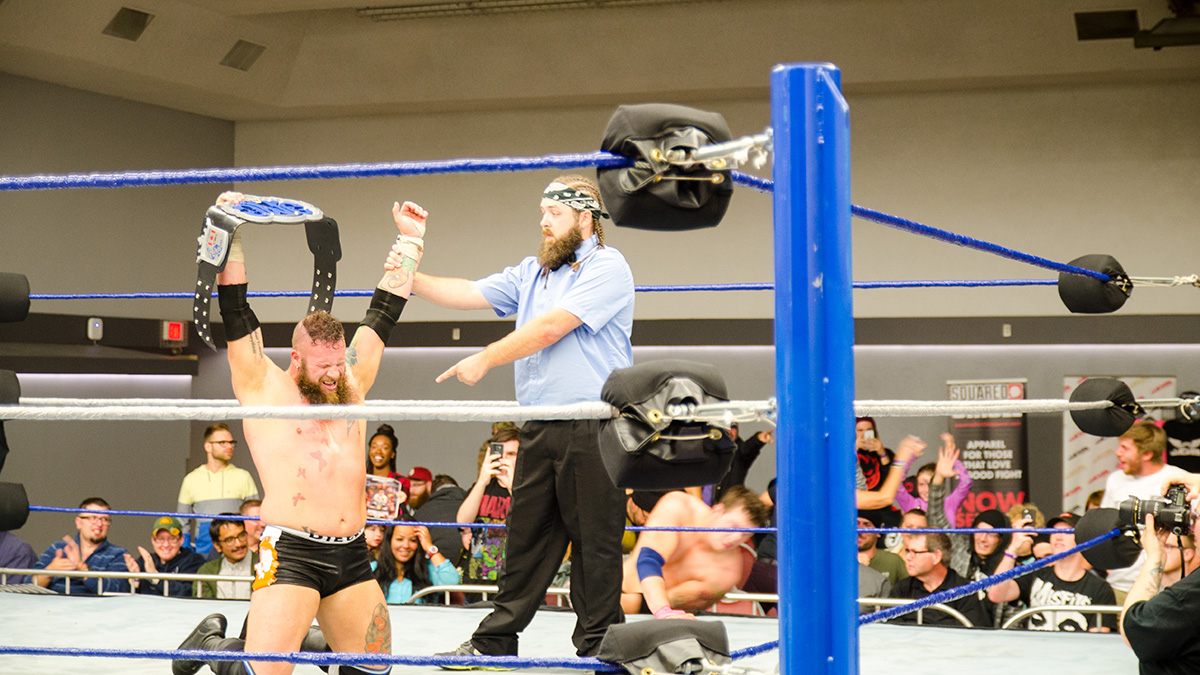 Unlike the career of Hulk Hogan, the pulse of stampede wrestling is alive and well. Last Saturday, I had the chance to witness the culmination of homosocial male cos-play: spandex costumes, fake 'n' bake tans, theme music, and top-rope aerial madness. It was well worth the ticket price at the door of the Sylvan Lake Community Centre to watch the Canadian Wrestling Coalition (CWC) present their all-ages event "The Game of Throws."
Members of Edmonton's own Monster Pro Wrestling (MPW) were present at the show, and they added a flare of oddity to the already-absurd line up of CWC wrestlers on Saturday night's the undercard. Colonial Austin, manager of the MPW stud stable, brought along Stray Cat Kato and Chris Parish to wrestle Johnny Kick Ass and Jack Pride of CWC in their respective bouts.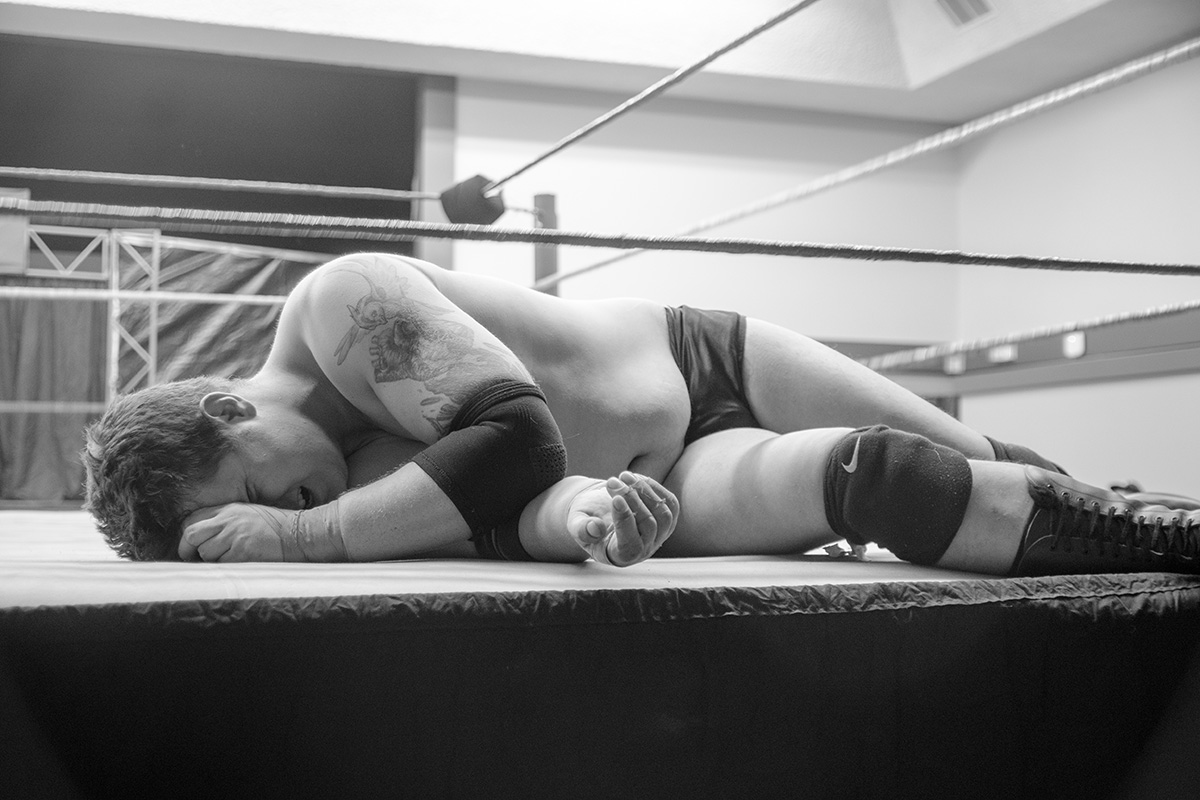 Unfortunately for Jack Pride, he lost his match to Chris Parish. Pride's contract, owned by fellow CWC wrestler Dylon Stone, was ripped up in a melodramatic display of disappointment and disgust for Pride's loss. Pride's future in the CWC was left up for question at the end of the show.
Pride's loss churned up the spectators. Wrestling commissioner and event announcer Bob Gordon took heat from the fans as they chanted "bring Jack back!" immediately after Parish and Pride's bout. During the intermission, the younger fans accosted commissioner Gordon and demanded legal action be taken to restore Jack Pride's CWC contract.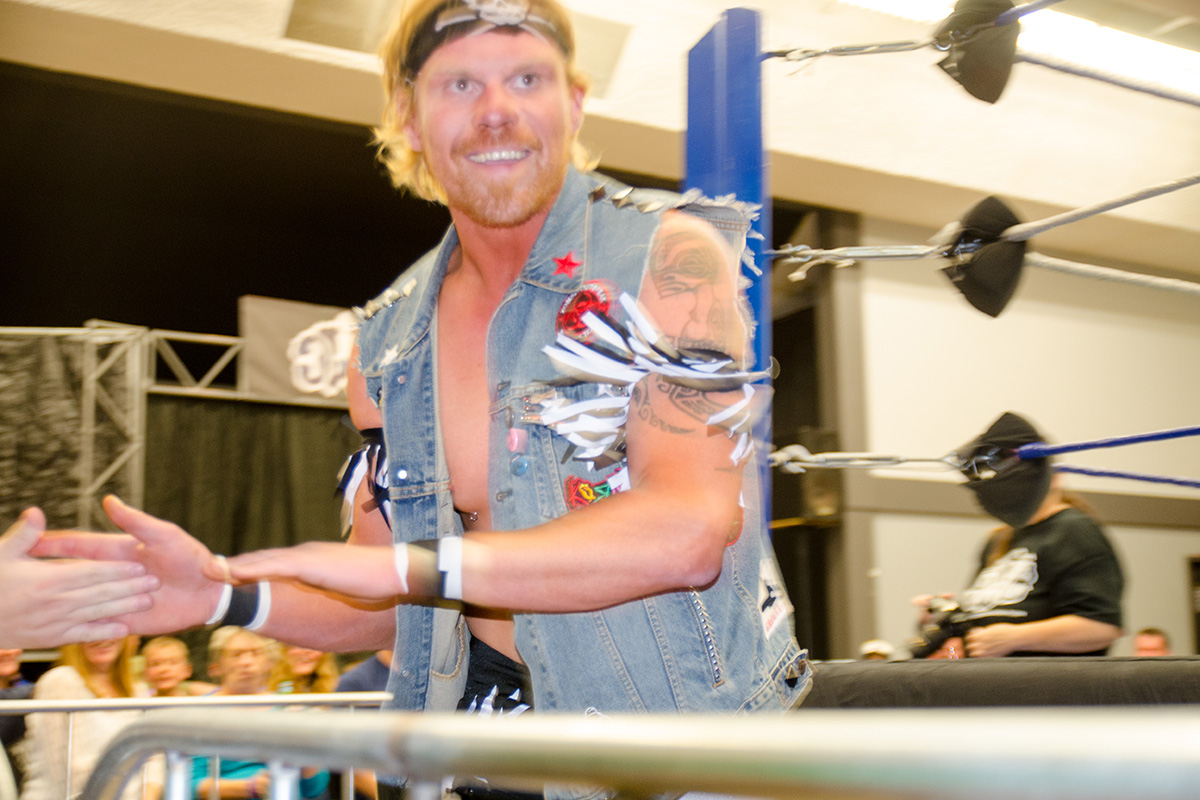 Stampede wrestling has always grappled with accusations like "wrestling is fake," but there was a real performance unfolding for the spectators and fans. The show wasn't a sophisticated Shakespearean tragedy. But there was undeniable technique and physicality that the wrestlers exhibited in their performance. This became very apparent during the show's main event.
Dylon Stone, Shaun Martens, and Jude "the Cheetahbear" Dawkins all wrestled simultaneously in the every-man-for-himself style for the new Canadian Wrestling Coalition Championship Belt. The three contenders are built as if a Bowflex machine put on spandex costumes and started walking around acting macho dripping machismo.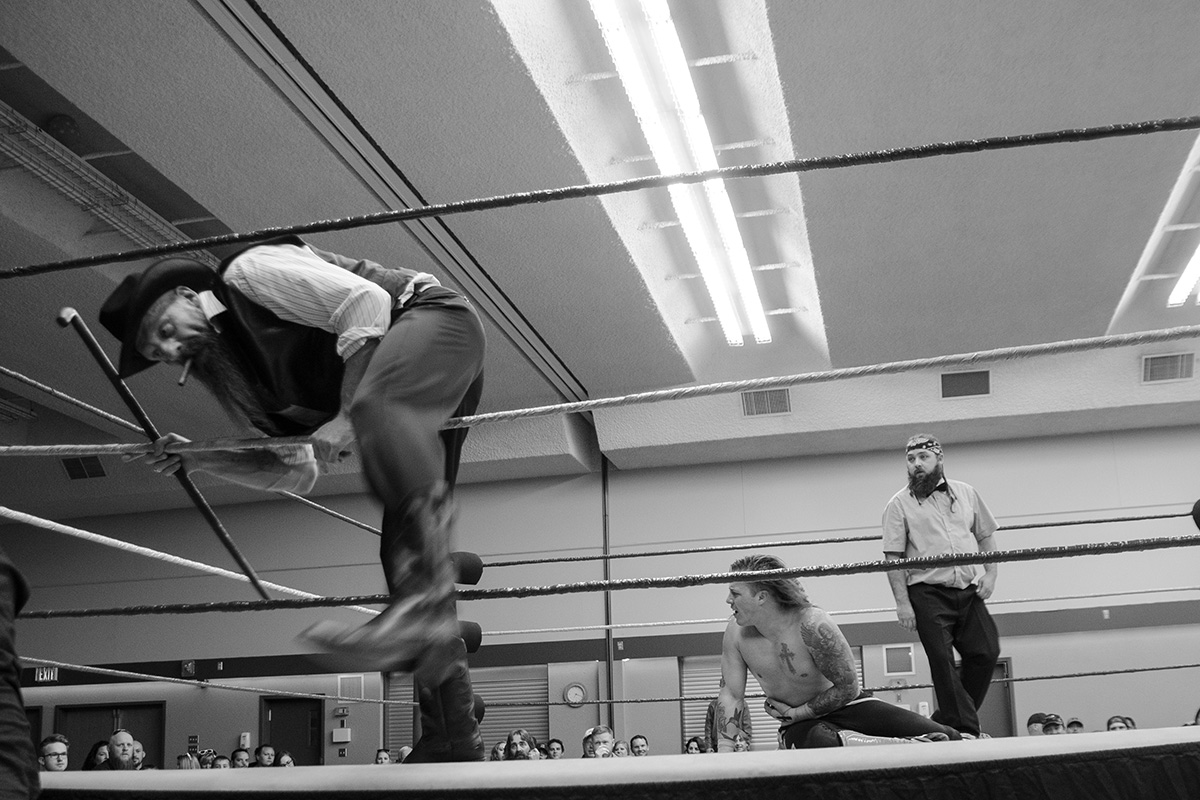 Nonetheless, their match featured acts of strength that could only occur within the ring and aerial displays only capable from the top rope. The crashes, take downs, flips, hits, and kicks sent shocks of percussion throughout the Sylvan Lake Community Centre. I feared the two-dollar cans of cream soda at the concession table would explode from the unleashed energy.
The Cheetahbear took the win and the championship belt after a bout that was second only to Thunderdome's "Mad Max-vs-Blaster" arena fight in Barter Town.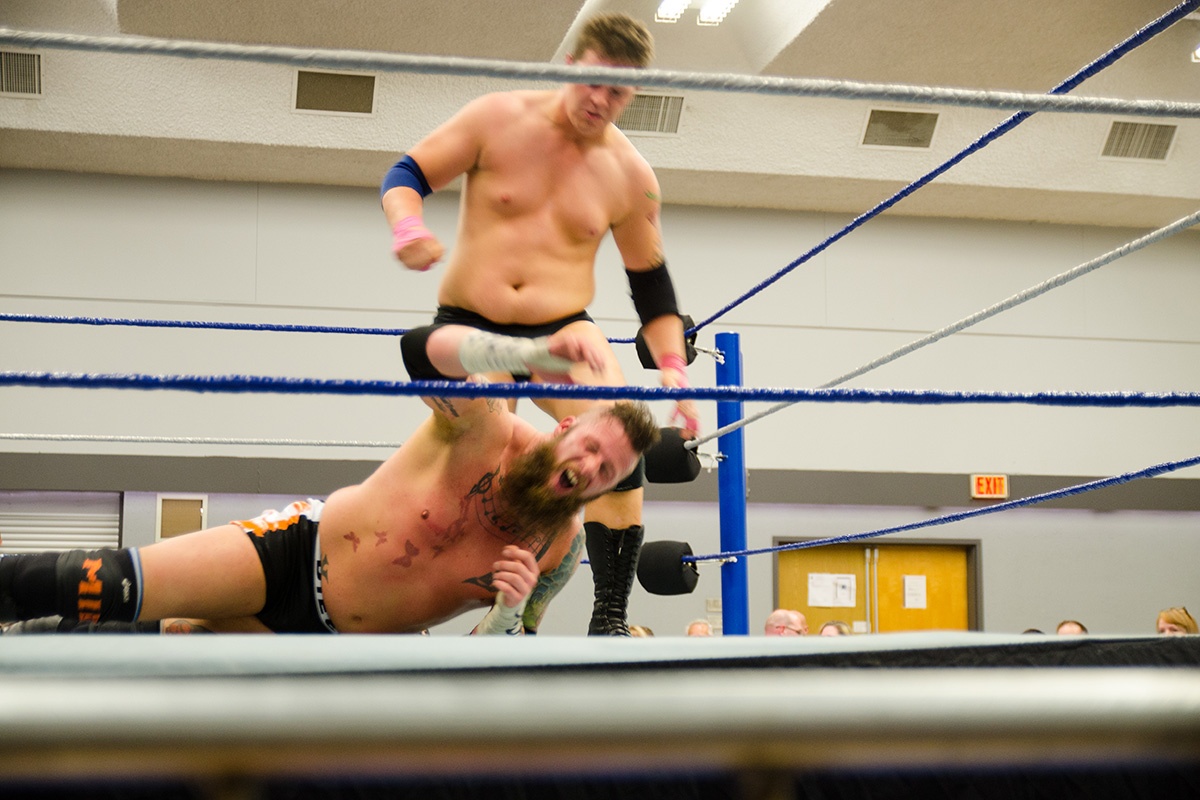 After the event ran its narrative and the fans gathered enough signatures and selfies from the wrestlers, I spoke with Dylon Featherstone, owner and operator of the CWC.
"Is there a connection the CWC has with Monster Pro Wrestling in Edmonton?"
"Monster Pro primarily works out of Edmonton and now out of Calgary, they don't do Central Alberta, so we want to work together to build something more. And (add) something we are missing from stampede wrestling (in our own) territory. Working (together), more heads are better than one."
What's the next event you've got coming up?
"We have The Headlock of Horrors October, 29th. Same place, same time at the Sylvan Lake Community Center. You can get those tickets on our website, cwcwrestling.ca. Check us out on our Facebook page and follow us to get free tickets and giveaways."
Why should people check out the next CWC show?
"Because we're bringing back pro wrestling to your town. We're bringing you the greatest show on earth for $15. You're getting super heroes battling 5 feet in front of your face. This isn't just a show, this is an experience of a lifetime."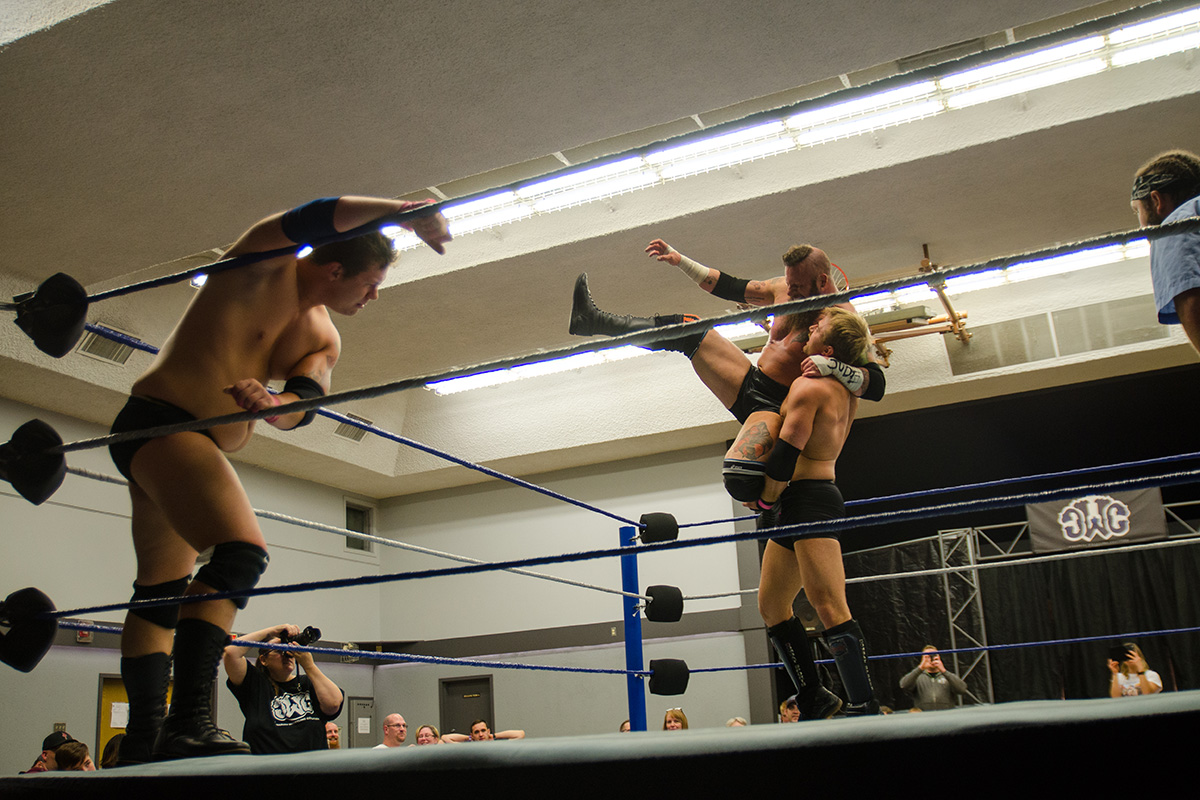 If you haven't experienced a stampede wrestling show, I recommend it. You can enjoy a beer out of the trunk of your car in the parking lot during the intermission; holler, heckle, and harass the bad guys; and appreciate an ambience that supports ridiculousness and absurdity.